I PREDICT A RIOT
greetings all ye blinking children of the neverending electrochemical expanse and welcome to yet another one of SPOZ's gonzo psychedelic weekends thru the flailing terror and grinning stupidity that is the Adelaide music scene.. as you may well know by now, any and all attempts to simply explain away such madness contained within the psychedelic confines of this story, using such literary devices as the clumsily written introductory preamble, would be quite like attempting to explain the subtle nuances of quantum string theory using nothing but sock puppets, an exciteable hamster and an oversized tub of expired mayonaise whilst an over zealous drill seargent screams abuse at you in hungarian..
so, fuckit.. this time I ain't giving you no warning.. just dive on in and experience the insanity for y'self :)
THURSDAY NIGHT
tonight I once again find myself out and about in this fair stench of a city on a cold cold Thursday night with a surprising amount of options on offer.. I could either choose option (A) DAY ON FIRE, SOFT WHITE MACHINE and MERE THEORY playing at the ENIGMA, option (B) KEMP BROTHERS and EMILY SMART playing a gig at the PRINCE ALBERT, or option (C) BLOW UP BETTY and a bunch of fuckarse idiotic UNI bands playing the NATIONAL CAMPUS BAND COMPETITION at ADELAIDE UNI BAR.. so, for my night's entertainment.. I decided to pick a little from column A and a little from column C.. as I arrived first at ADELAIDE UNIVERSITY to catch BLOW UP BETTY at 8PM..
now, obviously.. this would usually be the time for me to be out the front taking photo's of wot'ever arsehat bands that have been provided for our amusement tonight (being a uni band competition n all) but, since it's only thursday, I'm feeling particularly lethargic this early in the proceedings and this was a last minute call (cheers CHELSEA) I'm much more content to sit here and construct a selection of idiotic towers of glasses and other such rubbish instead, than pay ANY attention to the bands.. HA!
anyhoo, for the brief rundown.. I saw BLOW UP BETTY provide yet another comical gnashing 30 minute set of howlingly discordant midget punkrock.. which was then followed by a fucked up novelty hiphop / electro act featuring a bunch of idiots dressed in various uniforms fresh out've the former communist russia (including this one chick with a tall fuzzy hat doing the bump n grind on stage whilst she rapped like you'd imagine PARIS HILTON would rap) doing what could best be described as the sounds of MACHINE GUN FELATIO as performed by pretensious uni students doing a political science major.. yeah.. they were utterly shite.. yet comically shite.. so it wuz all still quite entertaining either way.. hmmmm ;)
after 2 beers and 1 hour of this nonsense tho', I'd clearly had enough.. so I fled the scene of the crime in search of furthering musical stupidity to be found at the ENIGMA..
SOFT WHITE MACHINE
arriving just in time for SOFT WHITE MACHINE..
who are playing to a packed out room tonight to witness the first in a series of live gigs to be filmed for a new tv show on C31 called "NIGHT LIVE" (9:30PM SUNDAYS / 10:30PM TUESDAYS)
and when I say "packed out", I ain't just talking shit out've me arse, there's like 300 idiots all squished into every available space to gagging point here tonight..
there's 5-6 still photographers forming a shooting gallery out the front, one video camera on a low tripod to the left of stage, one video camera on a higher tripod to the right of the stage and one video camera situated at the back next to the drum kit capturing the audience (which is an insane amount of coverage considering it's just a local rock gig on a Thursday in the dead of winter)
yup, it's a bristling forest of camera lens out there tonight.. and here's little 'ol me.. one lone gunman writing for some pissant gonzo website with a shitty 3 megapixel happy snap camera.. outnumbered, outgunned and seriously outclassed.. I'm feeling about 2 inches tall and I dunno how the fuck I'm gonna get out've this alive.. but dammit, I can't back down now.. not when the entertainment of my loyal audience of worldwide fans is at stake (hi mum!) so, fuckit I'm going in *gulp*..
and so, for the next 45 minutes or so, I'm running a fucking obstacle course out there.. ducking weaving and crawling my way thru a mess of spilling beer bottles, tangled electrical cables and hooting audience members under an epilepsy of ever spinning dark lights flying this way and that (and fucking up all my camera settings) just so I can get a few lousy shots for this site..
*duck* "oops didn't see ya hiding there, am I in yer way?" *dive* *flail* *spin* "crap there goes that beer!!" *crawl* "shit my shoe's caught, help!!" *twitch* "aaauauagghhh leg cramp!" *borrow* *crouch* (takes a shot) *dodge* *spin* "crap! caught in the crossfire!!" *duck* *roll* "FLEEEEEE!!"
and yet despite almost getting killed out there by the firing squad, it was damn good to see all this interest for local music for a change (even if 90% of this crowd were probably just here for the tv show.. you dodgy fuckas!) oh, and a damn fine gig by SOFT WHITE MACHINE too.. you crazy twin guitar hammering doom rockers can fuck up my ear drums to ringing point aanytiiiime.. ROCK! :)
MERE THEORY
with the band now done I duck downstairs, grab a beer and wait for the pounding in my head to stop.. only to dive back into the minefield for round 2 with MERE THEORY..
this second venture in the monkey cage is somewhat short lived however.. when, after 5-10 minutes of enduring this set, the ringing sound of my "WTF IS THIS EMO SHIT!?" alarm soon becomes too much to bare.. so, I come to my senses and duck downstairs again.. for continuing beer fueled hilarity with my fellow drinking fools around the pool tables.. but.. um.. yeah.. if EMO is yer thing (and you haven't been offended by all manner of EMO jokes made on this site already over the years) then check out MERE THEORY.. they'd be right up yer orifice ;)
after ENIGMA, about 6 of us all pile into SALLYCAT's tiny hatchback (including one stuffed into the boot) and we drive on down to the CRANKA to piss on for the rest of the night..
much beer and mindless merriment continues and I'm home at 2AM.. aaah :)
FRIDAY NIGHT
if you weren't lucky enough to be at the GOVERNOR HINDMARSH seeing THE BUTTERFLY EFFECT play tonight.. then there wuz pretty much fuckall else on offer as most of ADELAIDE had decided to sit the night out and stay home instead.. or at least most SANE people did.. as I still headed out regardless, making my way down the CRANKA at 9:30PM to see a funny little band called KAMIKAZE..
KAMIKAZE
and sure, I'd never seen these monkeys play before, never heard any of their tunes and pretty much didn't know shit about 'em.. but I knew there'd be 2 damn good reasons why this would be one fucking HILARIOUS gig I couldn't afford to miss..
the first wuz to see this lunatic (their lead singer) do his shit.. a lunatic which I'd seen previously
a month or two ago
climbing the walls of the CRANKA dancefloor in a howlingly drunken stupour..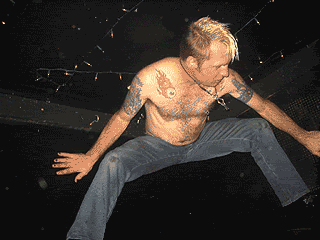 the second reason, wuz after I found this particular message scrawled on my myspace comments box from the same lunatic earlier this week whilst promoting his gig..
- "Dunno how many times I been thrown out of the Cranker but I payed off a light at the end of the frontbar from diving of the bar air guitaring. They love it! Gives the security goons jobs. Im creating employment. Will have to see what happens Friday. Been trying to drink myself to death for the last month but damnitt!! I keep waking up every morning... and I cant afford it."
yup.. you just KNOW this was gonna be one FUCKED UP rollercoaster ride :)
so, things start reasonably civilized enough, with DICK DALE on vocals..
STEVO (who also doubles as a bartender at the CRANKA) thrashing it up on guitar..
with YUKKIE (and his shit eating grin) stabbing it out on the bass and PAT-THE-SHARK GHOUL (professional midget) cutting it up on the drums (I think he's hiding out back there somewhere) as they crank out all the worst chaotic elements of IGGY AND THE STOOGES and all the gnashing intensity of THE SEX PISTOLS.. with a sound that's loud, stupid and dangerous as all fuck.. oooohyeaaah! :)
as predicted, things rapidly take a turn for the bizarre when DICK DALE produces what I believe to be a cows heart (???), holds it aloft and says to the audience..
"THIS IS MY HEART! I WANT YOU TO TAKE MY HEART!! I'M GIVING YOU MY HEAAART MAAAN!!"
*awkward pause in the audience*
"AAAARRRRR FUCK YOOOO GUYS!!!!".. as DICK DALE then proceeds to tear up the heart into the bleeding chunks, stomps it into on the stage floor.. before hurling what remained of it into a 1/2 full beer jug and a tower of pint glasses on the speaker stacks as it all comes crashing down to the ground in front of us..
*cough* um.. yeah.. riiiiight, on with the show then?
as the gig continues with his bewildering array of crazy handstands and somersaults, all the while punctuated by DICK's screaming and lunatic head butting of the drum cymbals.. until in one miss-aimed strike on the drumkit, he accidently manages to gash his head open, whilst a half horrified crowd either cheers him on or runs screaming for their lives to the bar..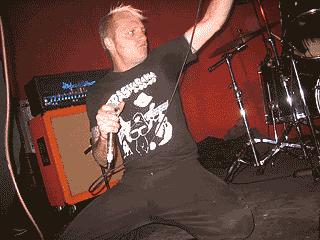 to stem the flow of blood now pissing out of his head, DICK finds a setlists lying around the stage, slaps it to his forehead as makeshift bandage and keeps on playing.. ROCK!
as the circus antics continue to spiral into ever weirder and dangerous territory, when he proceeds to climb up the speaker stacks, before jumping off and attacking the crowd.. yeeouch!
before jumping back on stage to continue the song like nothing's amiss..
only to fly off again to crawl up the walls spidermonkey style.. AAAAGH FLEE!!
yup.. even STEVO's finding this too much to handle, and is doing his best not to crack up laughing.. whilst the rest of the crowd starts making a wide berth around the stage lest they get pounced on..
but, obviously after 1/2 an hour of this insanity it's all getting a bit too much for DICK.. as the walls start spinning and everything goes blurry and confused around him..
"ERRRRR.. I THINK THIS SHOULD BE THE LAST SONG!"
going.. going..
and GONE!
and that kiddies, is KAMIKAZE - representing everything that punkrock SHOULD be.. it ain't about having baggy trousers, long wallet chains, baseball caps, skateparks, green hair and all that MTV sponsorship bollocks (or any of this shitty EMO crap that pretends to be "PUNK") it's all about doing really really stupid and loud shit that may quite possibly get you killed! OH YEAAAAAH! FUCKING CARNAGE!
but.. um, yeah.. if you DO go see these guys (and I do recommend 'em you see 'em at least once) I'd keep well AWAY from the stage.. just a tip ;)
*phew* after surviving that, I severly doubt any of the following bands could possibly have a hope in hell of topping THAT performance.. so with most of my usual crowd scattered to the 4 winds tonight, I make an early getaway into the swirling darkness of the night..
as I ring up ET on the public phone, hitch a ride with a passing UFO..
and I'm off home at the ridiculously early hour of 11PM, freaaaaaky..
(hmmmm.. sure sign of the apocalypse anyone?)
and yet, for all the 1 1/2 hours I wuz actually out tonight, to get the chance to witness such retarded insanity such as this makes it all worth the while ;)
SATURDAY NIGHT
again tonight I was faced with more than one option for my mindless entertainment.. I could either go witness the howling beserker sounds of ANGELIK, THE GELS and LEIGH STARDUST at the PRINCE ALBERT.. or I could've taken the road less travelled (in the venue most frequented) with the indie sounds of POLY & THE STATICS and RUNNING WITH HORSES playing at the CRANKA..
usually, my choice would've gone to the PRINCE ALBERT to see ANGELIK.. but since I'd been hearing good things about POLY & THE STATICS (and never actually got around to catch one of their sets yet) then fuckit, CRANKA it IS for the 3rd night in a row! weeeeeeeeee! :)
I arrive at 9PM.. but, nobody I know is here yet.. so, fuckit.. to kill some time, I decided to soak up some happy hour beers amongst a selection of paintings found upstairs as part of the SALA (SOUTH AUSTRALIAN LIVING ARTISTS) EXHIBITION..
the paintings I found in the BAR room upstairs were particularly appealing to my warped tastes..
if perhaps a little too disturbingly bizarre for most NORMAL people.. hmmmmmm, I dunno wot the fuck this kinda insane shit is meant to represent, but somehow it looks painful.. eeesh!
POLY & THE STATICS
with 30 minutes now effectively killed (and after reading both RIP IT UP and dB street presses cover to cover *yawn*) I drop back downstairs just in time for the 1st band of the night, POLY & THE STATICS as they hit the stage to much hooting fanfare when they're introduced by guest MC for the night, MATT (THE STEAK) HAYWARD from CENTRAL DELI BAND doing his best "CAN I GET AN AMEN BRUUUTHAH!!" drunken GOSPEL PRIEST style delivery..
the three piece band consists of twin gnashing guitarist / vocalists..
a funky drummer monkey cranking out the kinda stabbing indie style dancepunks grooves that cut up the air like precision sharp swirling blades of doom..
with occassional backup vocals by MATT from CENTRAL DELI BAND..
and sporadic little flourishes of bass keys triggered from this tiny KORG synth..
as overall they sounded like a 50/50 mix between the slacker lo-fi cool of THE STROKES, and the garage punkrock dementia of late 90's GERLING at their oldskool backpack wearing best..
and yeah.. they were a cool little gnashing indie act with a seriously a-grade mix off the PA, but their grooves wuz perhaps a little at odds with SOME of the crazier elements of the crowd tonight..
when in the middle of the set.. some howlingly drunk mulleted bogan who looked like he just arrived fresh from a NASCAR / INDIE 500 CAR RACE (quite possible stuck in suspended animation since late March) got all offended by some joke this guitarist made after one of their songs (during one of those mic banter breaks), storms the front of the stage.. yells something incomprehensible like "HEEEY MAAAATE!!!?? YOOOZ WANNA FUCKEENG SEZ THAT SHIT TOOO ME FEESS EEEEEH!!?? YARRRR YOOO FUKKAA!!" before slapping the microphone stand away looking all angry and belligerant..
guitarist stands his ground, there's a faint squeaking request from the stage, "errr.. security!?" before the offending lunatic vanishes off into the night..
which probably makes for the most out-of-place reaction you could ever aspire to from a live set of wacky lo-fi indie dancepunk grooves.. but hey, if it's gonna happen anywhere, you might as well have it happen at a colourful shithole like the CLOWN N SPANKA.. YEEEHAAA!!
still, besides the weirdness, POLY & THE STATICS proved to be a damn cool no-nonsense gnashing indie act, that for the most part got all the cool kids going spastic in the crowds.. w0000t :)
RUNNING WITH HORSES
and now, up next for our entertainment, we have the 2nd band for the night, RUNNING WITH HORSES..
a tiny little 2 piece act featuring the midget bespectacled chipmunk, SARAH MASTERS on guitar, and AIDAN MOYSE the bookish yet metronomically precise nerd rocker on drums..
as they crafted ever tiny, fluffy and ridiculously cutesy indie-pop songs..
coming of sounding like what you'd get if you managed to get two of the worlds most nervous and introspective mild mannered librarians to team together to fight crime by painstakingly fixing errors in the DEWEY DECIMEL SYSTEM (coz as we all know, petty criminals are utterly crap at knowing the order of their ABC's! NYAAAAGGGHHHHH!!!)
but all jokes aside they were kinda cool in their fluffy daisies and daffodils kinda paisely groove and they pulled off a seriously mean cover of SIA'S "BREATH ME" that got the crowd swaying all blissful with smiles on their faces.. aaaaaaaah feel the love kiddies, feeel the love :)
RUNNING WITH HORSES.. you may be nerdy as all fuck, but yer still cool with me :)
anyhoo.. with the bands now done for the night, it was high time for some serious drinking and thankfully a selection of fools arrived just in time for such an occassion..
and for something different tonight (besides all the usual BEER fueled alcohol abuse we'd normally be accustomed to) we decided to branch out a bit by ordering from a fine selection of shots available on this menu here.. ooooo may the angry snow demons have mercy on our spleens! :)
and obviously (as you shall shortly see) exact recollection of the events that follow are foggy at best, so I really don't remember which drink is which here..
but I do believe we tried pretty much everything on that menu at least ONCE, if not twice..
followed by this increasingly infamous (and as yet unnamed) concoction of TEQUILA SHOT followed by TOMATO JUICE and TOBASCO.. that for want of a better name (ie: better than "PISSING BLOOD") I shall christen henceforth as the "RED EYE"..
before we then decided to run thru the shots menu a 2nd time round.. all the while with me continuing to drink more beer on top of it all.. EEEYAYAYYAAAAAAGH! *headspins*
yup, it's all getting a bit much for some people.. and we do notice in the next hour or so that a LOT of people go missing under mysterious circumstances never to be seen the rest of the night ;)
"OH THE HUMANITY!! WAAAAAUUUAAUAUAUAAAGGHHHH!!"
(seriously, where DID SEAN go tonight? it's like you vanished off the face of the earth dude.. whoaaa!)
and yet, all the while, ME, JOE BLOGS and SIMONE still manage to soldier on thru ever crazier towers of SHOTS and BEERGLASSES that threatened to punch out the ceiling..
uh oh.. looks like JOE BLOG's gone down for the count..
SPOZ is looking much the worse for wear (and utterly clueless as to where he stole that hat from)
whilst SIMONE, in a super human display of alcoholic resiliance (and sartorial silliness) still powers on in style.. whooaaaa, I dunno HOW the hell she does it.. but duuuuude.. ROCK! ;)
other patrons at the CRANKA are now starting to fear for their lives as we run a screaming rampage for the CRANKA dancefloor like exciteable children fueled on a heady mix of piss and vinegar..
so apologies in advance to SALLYCAT, EMMA, LUKE, ANDREAS, RYAN, W SHANE FORSTER, LAKEN, SAM (or any of the other grinning lunatics I vaguely remembered bumping into that night) for any and all stupid and comically insane things I may've done under influence whilst I wuz there.. hahahahaha.. hmmmm.. shit.. I don't THINK I remembered doing anything stupid out there tonight.. or DID I? ;)
but then someone even more frightening than all of us and our alcoholic stupidity combined comes to terrorise the CRANKA, the unholy terror that is NICK from SOFT WHITE MACHINE.. AAAAUUUGH!!
in effort to escape all the escalating madness at the CRANKA, obviously there was only one place for it, SHOTZ.. unfortunately I dont remember much of ANYTHING that happened past this point (coz clearly I wuz quite happily destroyed by this time) but I do believe I got quite hairy in there :)
I do however distinctly remember one moment at SHOTZ as I was flailing around like a retarded idiot to some fucked up tune I've thankfully since forgotten (I seriously hope it wasn't 19 20 20 by THE GRATES.. hahahaha!) a girl came up to me on the dancefloor and asked me, "um, scuse me.. is this yours!?" to which she presented my somewhat dinged up looking digital camera (which I'd somehow managed to knock to the floor of SHOTZ again in a moment of drunken stupidity) yup.. it seriously amazes me how my camera manages to continually survive all the insanity I deliver it each and every week.. and yet still wants to return for more :)
anyhoo.. at 5AM or so, I believe we were finally kicked out as SHOTZ as it closed for the night at which point we then made our way over to FLOPPY CRACKS on PULTNEY ST..
as we savoured the fine dining, fine cuisine and fine ambience of the world's shittiest restuarant chain..
aaaah yes, yet another satisfied late night customer!
as FLOPPY CRACKS makes dribbling fools of us all..
and now with the time punching well past 6AM, it's time for us children to go as I say my goodbyes to the many grinning idiots at FLOPPY CRACKS and make my way down GRENFEL ST to my waiting taxi home.. hmmmm.. shit, I hope I didn't wear that hat ALL the way home? :)
and with the sun slowly climbing towards the horizon ready to burst forth heralding a sunday of skull fracturing hangovers and misplaced memories.. we bid farewell at 7AM as yet another one of SPOZ's fucked up weekends closes with this strangely familiar looking city skyline..
yup it's been an ecclectic, fluffy and spacious weekend.. and I'm awfully surprised I didn't wake up dead with a hangover the size and temperament of a stampeding bull elephant.. but, I spose them's be the benefits of being a frequent flyer in Adelaide's gonzo airlines.. YEEHAA! :)
Previously on Spoz's Rant:
Two-Timing Touch And Broken Bones