RED FLAGS AND LONG NIGHTS
recipe for one weekend out on the SPOZ..
combine into one human sized (quite possibly ironclad) stomach the following ingredients - 18 pints of coopers pale ale, 1 pint of coopers draught, 2 shots of tequila (combined with 2 shots tomato juice + 8 drops tobasco), 1 tall glass of unsweetened orange juice, 3 glasses of coke, 1 cheese burger with mushroom sauce value meal from "FLUNGRY SPLACKS" (burger king), 1 servo microwaved chicken roll (suspected bits of added sand optional), 1 dinner roll with butter, 1 chicken camembert wrapped in bacon served on an onion potato mash with a drizzel of cheese n herb sauce, 1 white chocolate mousse berry trifle, 2 slices toast with margarine and vegamite, 1-2 handfuls of pilfered onion rings, 1 large 12" pizzahaven "texa-roni" pizza, 2 coffee mugs of laksa with extra chili powder, 4 tablets of panadol (aspirin), 7-8 glasses of water.. stir vigorously in stomach to appromixate 5-6 hours of uncoordinated flailing on dancefloors at the CRANKA and SHOTS.. load into moshpit, set dB's for 100 plus and blast eardrums continuously for 4-5 hours till ears are ringing at 10kHz.. add retarded screaming, moshing, headbanging and season to taste.. serves up one exceedingly hungover SPOZ.. your results may vary..
(for best results perform all the above whilst amongst an audience of 50-200 of your equally retarded brethren during the hours of 9PM to 5AM)
symptoms may include - headache, sore throat, croaking voice, deafness in one ear, creaking joints, stiffness of neck, angry liver, frazzled hair, blocked sinuses, the constant need to urinate, tiny tiny rabbit poos, dry red eyes, the innability to focus thoughts or speak in fluent english, short term memory loss and the occassional need for sporadic fits of laughter..
such is this diabolical tale of this ere weekend of the SPOZ.. go forth if ye dare!
FRIDAY NIGHT
I am here tonight at JIVE (for KARL's 25th birthday party and progressive-doom-rock-imploding-llama extravaganza) to witness SOFT WHITE MACHINE, IMPARTIAL and REALIST FEW.. as they cook us up a ear bleeding brew of triple digit decibels guarenteed to microwave all our innards to a fine percolating liquid mush.. yup.. just like COURTNEY LOVE pointing a shotgun to KURT COBAIN's head.. we're gonna go off all over the walls and ceiling in a horrible mess tonight.. yeeeeHA!
SOFT WHITE MACHINE
SOFT WHITE MACHINE are first up on stage.. and to herald their arrival, we have ANDREAS and KARL hammering us to a dribbling submission with their dueling fuzz riffing guitars of twirling death..
here's KARL singing some crazyarse brooding harmonic shit.. coming out somewhat like wot A PERFECT CIRCLE would sound like if they decided to form a mexican sombrero act with FRANZ FERDINAND whilst they were both sharing the bill at a rock festival on a howling hangover..
(but, y'know.. much more freakingly cool.. ;)
ANDREAS whinces in pain when he realises the string on the guitar that he THOUGHT he broke wuz actually his hamstring instead (but hey, it's still ok if no-one notices.. right?)
JETT looks hypnotized as his bass guitar makes the floor vibrate like jelly..
whilst drummer NICK just looks happy to finally make an appearance in SPOZ's RANT for a change (yeah, that's wot happens when you hide out at the back of most of ya gigs you crafty baaaaastard!)
as their set progresses, KARL contemplates eating his microphone..
JETT looks worried at his glowing bass guitar.. coz as we all know, when JETT's bass starts glowing.. ORCS are likely near.. which then makes him freak even more when he realises there'll be ORCS swimming in jelly.. like whoaaaa.. triiiiippy!
(KARL however merely wonders wot they'd taste like)
ANDREAS is now momentarily distracted by all the stars painted on the ceiling and gets even more disturbed when he swears he sees one "moving"..
NICK is now drumming by telepathic thought alone..
ANDREAS pauses momentarily as he spots ORCS swimming in the floor below him.. but plays along regardless hoping they'll ignore him and head towards ENIGMA BAR to eat some emo kids instead..
KARL chews on his microphone and realises it's not made of beef jerky.. audience looks confused but cheers on regardless.. such is the mysterious way of the KARL..
and finally the set finishes when JETT hits the brown note.. lets out a huge fart.. only to realise to his embarassment that it came out in three dimensions.. the audience witnesses the horror that is the dreaded SHART (the shit masquarading as a fart) and everyone flees in terror towards the bar..
SPOZ is now highly amused at his highly fictionalised account of SOFT WHITE MACHINE's set.. but realises the band may now wanna kill him for the shit he just wrote.. so, in effort to save himself.. he wishes to highly recommend everyone else goes see them (if they haven't already) coz they're actually really freaking damn good.. SPOZ also hopes this may guarentee that he wont be killed and eaten by KARL at their next gig.. or failing that.. perhaps a posthumous beer or two from their next beer rider ;)
meanwhile.. as the next band is setting up.. we all head to the bar to drink ourselves stupid with beer.. at which point, I catch MEL in an exceedingly rare moment of sobriety..
IMPARTIAL
1/2 an hour and a beer or two later.. we then find the second band of the night, IMPARTIAL up on stage.. now, I could go on to describe wot these guys sound like and make some witty (translation: cheap and retarded) jokes to go along with all this.. but, since I wuzn't really paying any attention to the band (I think they sounded like some kinda SCREAMO band) I'll just suffice with writing a bunch of obscure artistic captions to all the photo's instead.. so here goes nuthin'.. as I present..
"leaning tower of wheeze"
"four fingers flipping off the floor birds"
"flicking the switch"
"strumming the fret bored"
"sneezing in red"
and THAT kiddies.. was IMPARTIAL.. and um.. yeah.. coz I've realised I've got nothing more intelligent to say here (damn my hangover) lets move on shall we?
back at the bar, it looks like MEL's getting into the swing of things and has started drawing victims into her flailing storm of shrieking drunkeness..
(such is the legendary drunken blackhole that is the MEL, where no sobriety can escape!)
REALIST FEW
and as MEL's swirling vortex sucks in everyone and everything around the bar to their untimely doom.. the venue dims to a creepy red nightmare glow to herald the arrival of the next and final act on stage for tonight, the REALIST FEW..
now, the best way to describe the REALIST few for all of you unfamiliar to their sound.. is to think of it as being somewhat like witnessing an episode of REN N STIMPY with the volume turned way up during the WW2 DRESDEN bombings whilst you're suffering a violent heroin withdrawal.. only funky..
yup, if you can picture all the cartoon violence, the gnashing and screaming, all those exploding bomb shells and baby's crawling on the ceiling with their head's spinning (like in that TRAINSPOTTING "detox scene") then you're 1/2 way there..
watch as lead vocalist and bass player "REN" tears it up like a deranged chihuahua..
whilst guitarist and co-vocalist "STIMPY" brings forth the soul destroying fury..
and by the time these lunatics are done with us.. there's nothing left but a mess of flailing bodies splattered all over the walls.. freaaaaaking caaaaarnaaaage :)
with all the bands now finished for the night, we decided to leave JIVE and wander east down HINDLEY ST to seek further means in dribbling self destruction..
our first stop.. was an abortive attempt to gatecrash PALACE NIGHTCLUB with SOFT WHITE MACHINE in search of strippers to help celebrate KARL's 25th.. but unfortunately, due to their bizarre policy of "collared shirts only" we were refused entry (why exactly a stripjoint would enforce such a "fanciful" dress-code is anyone's guess.. but hey, who's gonna argue with a bunch of gorilla bouncers who could have us killed if we but looked at them the wrong way?) and so, deciding on our emergency PLAN-B instead, we trek down RUNDLE MALL, to wipe ourselves out at the CRANKA.. (as you do)
upon arrival.. much drinking and flailingly stupid merriment was in order.. including this wacky new concoction we cooked up for tonight - featuring the unlikely mix of one shot of tequila chased by one shot of tomato juice with 4 drops of tobasco.. a shot I'd like to call "pissing blood" ;)
(sure it may sound insane, but not only did the tomato juice make the tequila go down really smooth, but you get a nifty buzzing heat from the tobasco as well.. SPOZ recommends it.. it's some dang tasty mind melting vitamin C fueled shit yo :)
as per usual after this, and after many more beer.. we then found ourselves making utter twats of ourselves on the CRANKA dancefloor for many furthering hours of hooting, hollaring, flailing and bouncing around the walls like retarded chickens (such is the tradition 'round these parts)
finally at about 3:30AM, and nearing the point of total dribbling incoherance.. I decide to call it a night and throw meself into the final late-night bus home.. where I'm greeted with spinning walls and dribbling unconsciousness.. thus ending my friday night out on the piss.. aaaaaah :)
SATURDAY NIGHT
tonight started off in a weirdly civilized place, as I began the night at the LEICESTER for an extended family restaurant dinner.. spending the hours of 7PM to 10PM attempting (badly) to make witty, intelligent and refined conversation with my various aunts, uncles, cousins whilst suffering an A-GRADE brain fuzzing meltdown from all the alcohol poisoning I'd inflicted upon it the night before.. and when you consider my group thus consisted of - uni lecturers, accountants, prize winning theoretical mathematicians and highschool teachers and all I could possibly manage tonight in polite conversation wuz 2-3 mumbled monosyllabic words without spitting out an expletive or two, then you just know yer in for a great night..
the food however wuz exceptionally good (and I gotta say this coz I actually know the chef who works there.. so, HEY TYSON YA BAAASTARD!! if ya reading this, niiice one! thanks for not poisoning me :) but after 3 hours of this refined lunacy, I knew I had to escape all the rampaging intellectualism and find me something cheerfully retarded.. so I threw myself into the next city bus and headed into the CRANKA..
THE GELS
as I arrived at about 10:15PM, THE GELS were already 1/2 way thru their set, cooking up a shambolic mess of RAMONE's inspired punk rock to a packed out crowd of hooting baboons..
and these guys tonight, to put it mildly were an absolute freaking mess..
as their entire set consisted of song after song of scruffy "OI OI OI" hollaring 2-3 minute punk anthems..
with dribblingly incoherant lyrics and gnashing sing-along comical stupidity..
followed by 2-3 minutes of awkward silence between each and every song whilst the band attempted to figured out wot the hell to play next..
they were sweaty, confused, hungover, an absolute mess of misplaced guitar chords and they would swap drummers between every damn freaking song (I think they had a rotating roster of upto 5-6 drummers filling in for the night from wot peeps were telling me..)
but DAMN did the crowd go absolutely mental to this shit..
and come to think of it.. as dyslexic as this all was.. I wouldn't have it any other way.. THE GELS may be an absolute freaking disaster to watch live.. and it may look like they've never rehearsed a gig in their entire life.. but DAMN did they rock out like a flaming dog's bollocks.. ;)
anyhoo.. after the 5-6 songs that I caught of these guys, and after running over 20 minutes overtime (which considering I wuz running late to get here suited me just fine) THE GELS finally left the stage to howling applause as the way wuz made clear for the next band of the night, ANGELIK.. who were set to kill every damn freakin' mofo in the room with their balls out shredding garage rock fury.. w0000t!
ANGELIK
and as an extra weird coincidence it turns out tonight wuz also the birthday party for LAKEN, the lead vocalist.. which is weird when you consider the lead singer KARL from SOFT WHITE MACHINE had just celebrated his birthday the night before.. hmmmmm.. coincidence? or grand conspiracy to get us all roaringly twatted out've our skulls this weekend? you be the judge..
so here we have SAM the DOOM GUITARIST (aka: "THE BULLET") chugging out his signature rapid fire riffage and face swallowing gimp expressions (and you know he really means business during a song if his head goes missing altogether and all you see is 2 beady eyes poking out from his neck.. whoaaaaa!)
here's NICK PARKER with his bass guitar turned up so freakingly loud, people living on small INDONESIAN islands were seen running screaming into the hills expecting another TSUNAMI tidal wave to come crashing around their ears..
LAKEN's seen flapping about the stage like multi-octave spastic tree frog on acid..
whilst drummer NICK HADLEY nervous twitch reaches violent levels of percussive ferocity..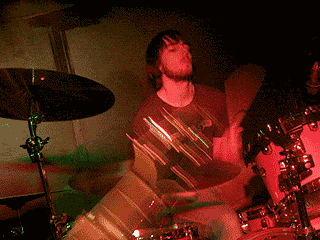 and sure.. it took maybe a few songs for these guys to really fire on up.. but once they did it wuz a freaking bloodbath in the joint with bodies flying freaking everywhere..
so here we are.. about 4-5 songs in, and the buzzing sound coming out've NICK PARKER's bass is starting to rival the tidal forces of the moon..
LAKEN's does some freakyarse warbling shit with her vocal chords that no human should ever attempt, and 6 dimensions of reality fold in on themselves like a pretzel..
"THE BULLET" attacks the crowd with his guitar like a cheese grater..
in response NICK HADLEY charges himself up like a human lightening rod, whilst LAKEN starts to panic at the growing electrical charge building up around the floor..
then lets loose a freak electrical storm that torches "THE BULLET" like a radioactive christmas tree.. thus sending large burning bits of SAM the DOOM GUITARIST flying in all directions and all over the audience..
by the end of the set, LAKEN is seen conjuring up foul spirits from the 9th plane of hell and before too long everyone (including myself) ends up on stage, all going psychotic and exploding about the joint like an IRAQI prison riot on a crystal meth binge gone horribly wrong..
with the venue now reduced to a smouldering ruin.. the band finishes one helluva fucked up party jam bloodbath.. LAKEN blacks out and 30-40 hell borne spirits are seen leaving her body to continue their path of destruction throughout the rest of the venue..
phew.. that wuz some seriously fucked up shit.. ROCK ON YOU FUCKEN MANIACS! :)
after spending the last 10 minutes or so going freaking apeshit on stage (and with no-one in sight with a camera to take any photo's of this.. grrrr.. dammit!) I obviously needed something to put the fires out and to stop the walls from spinning.. so I run upstairs and douse me head in this jug of ice water I find at the upstairs bar.. aaaah :)
somewhat resembling a drowned cat.. I stagger back downstairs.. only first to be kidnapped by SIMONE as she draws me into her bizarre puppet theatre performance.. featuring
TIMMY the MONKEY
,
DUCKY
.. and.. um.. apparently a smiling doorknob..?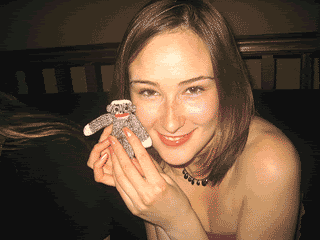 (yup, be afraid kiddies.. be VERY afraid.. this chick be kwaaaaazy ;)
obviously after THAT performance, I needed a beer (and perhaps an exorcist) so it's off to the bar to drown meself stupid in the finest array of alcoholic beverages that the CRANKA has to offer..
it's here that I bump into TIBOR, bass player for the infamous Melbourne band JIKA, who's hit Adelaide this weekend in search of all things carnage and rock n roll.. and seems to think I'M the person to show him where that is (gee wot would give anyone THAT impression!? ;)
meanwhile I decide to drop into LAKEN's birthday celebrations on the otherside of the bar to see how things are going.. hmmmmmm.. yup.. looks like she's having fun ;)
TIBOR is seen rocking it out on the dancefloor with this escaped zoo specimen..
but obviously doesn't wanna miss out on THIS action.. as LAKEN's party celebration at the bar rapidly spirals out've control.. (aaaaaaaaaah horray for boobies! ;)
yup.. the expression on BRENDAN's face says it all.. this shit's really gettin' out've hand..
as the entire venue erupts into a chaos of hooting and howling baboons.. SIMONE fears for the saftey of all the alcoholic beverages.. and attempts to kidnap most of them herself for safe keeping..
it is now 4AM as the sun slowly rises in the CRANKA.. and as the army is called to respond to the growing turmoil with a liberal dose of tear-gas grenades, stun guns, rubber bullets, and rubber chickens.. we flee in search of further venues of mass destruction..
so, it's down the road we go as we seek refuge at SHOTZ for the last few quiet drinks of the night..
aaaah, SHOTZ! just the place to let ya hair down after a hard night out on the piss ;)
much drinking and merriment continues.. most of it since wiped from my memory..
until by about 5AM, the venue is soon overrun by a hoard of
JOE BLOG's
deranged MYSPACE fans and everyone runs fleeing for their respective taxi's out've there.. AAUAUAUAAAGGHHH!!
I finally find myself home at 6AM after wandering the streets of Adelaide chasing parked cars and pissing on trees.. and with it, I find peace at last in blissful unconsciousness..
the hangover come Sunday (and well into Monday) wuz one helluva rough ride.. and I think I might've caught the freaking bird flu off someone (coz it feels like I'd been gargling red hot razorblades down me throat for the last 2 days).. but, damn wuz that one helluva kickarse fucked up rollercoaster of a weekend.. WOOOOOYAAAA!! :)
oh.. for all of you who are looking for even MORE insanity (or wondered why you didn't appear in THIS blog) stay tuned for two bonus installments of "deleted scenes" entitled - "DUMB FUN WITH THE BLARNEY HAT" and "THE FURTHER ADVENTURES OF TIBOR" coming later this week.. you'll laugh, you'll cry, you'll be violently ill.. then you'll laugh some more.. such is the madness to be found on the weekend of the SPOZ wooooOHAHahAhAhAhAHAHAhAhAHAHaHA! :)
Previously on Spoz's Rant:
CD#666 - The Destruction Of The Beast