ANTONY OF THE FUTURE + THE SCARLET IVES + STEERING BY STARS
"TRANSMISSION LIVE" @ THE ED CASTLE / Friday May 29th 2009
At some point just shy of winter, me and daylight simply part ways. The shadows lengthen, the clouds gather, it dips below that horizon in a blaze of glory and then its gone till September. The silliest thing is I don't even notice it's gone. Me and daylight are a theoretical concept at best. People have stories, they've laid claim to photos, footprints, hair fibres, the proverbial stool sample (fuck.. what!?) but there's still
no conclusive proof
we've ever met. At most I'm a fleeting blur, a trail of smoke and embers screaming into the nearest taxi cab with raised blanket over my head moments before dawn, I'm an act of "daylight robbery" on my weekly run-and-gun for supplies, I'm a candle burning both ends, I'm a figment of your collective imagination; I'm like
bigfoot
maaan! At worst it'll have me cornered in a game of "spot the windowlicker on the 8:15". Ever been deathly afraid of that
one drooling simpleton
on the morning commute with the shitcrazy hair pinballing down the isle on your way to work or school? and out of every available seat they'll pick YOURS to sit next to!? Yup, that's me! I know where I belong in this world and daylight just ain't it. Daylight is deadlines, deficits, dull meetings, menial drudgery, doom and gloom. Everyone hates their job, everyone's deathly afraid of losing it, there's rules within rules to comply with. I know, I've even held the occassional nine to five. But there's a reason why they call it the "harsh light of day"; nights are so much better! We break ALL the rules. Vitamin D deficiency be damned I'd spend my whole life here if I could. Here in the lunatic fringes where the lines blur I'll have my blank canvas to paint with while the rest of the world sleeps. Here is where I'll find my muse!
Which is why I love spending a late night at The Ed Castle. Sure we've had our
differences
(two months fleeing it from mid March to mid May, thanks to the worst ear raping excuse for an "
indie dance club
" this side of Melbourne, immediately springs to mind) but if there's one thing they get right time after time; is that they TAKE their time here. You never rush a
good gig
at The Ed Castle. It's like one of those vintage whiskey ads where two serene senior citizens watch all four seasons fly past over a single game of checkers. They don't play by a tight schedule, simply rock up whenever. Lounge about in the beer garden, soak up the moonbeams pint after pint with the
stoners and the freaks
, then when curiousity finally gets the better of you? poke your head into the band room, take a good look around, realise nobody's got their shit together yet, then go straight back to drinking again! They time it up perfectly around here: just shy of the witching hour is when the "magic" happens, between the third and forth pint. Live music appreciation at its finest!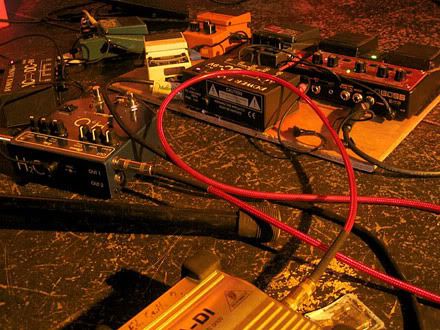 STEERING BY STARS
(****)
myspace
::
Our opening act tonight is the epitome of the nocturnal "nine to five", the name sums it up perfectly. In fact, short of a few well place mossy rocks, rotten logs, loose shrubbery, some glass fronting, the sounds of crickets chirping and a school excursion filing past with notebooks: you could easily stuff all four members of this band into an indoor enclosure at The Adelaide Zoo and nobody would be any the wiser. Steering By Stars. Species designation post punk, dream pop, art rock indie and tragically downcast shoegazer. Indigenous to places like The Wheatsheaf, The Metro, The Grace Emily, here at
The Ed Castle
or wherever there's a busted streetlight and a cloud of buzzing insects to feed upon. Easily recogniseable by their scruffily unkempt hairstyles, ill fitting cardigans and their inability to make eye contact in anything brighter than five lumens in a square metre or the luminosity of a lit match; they're the stuff of myths and legend, of dreams and nightmares. Their opening number especially: as Lachlan's muffled screams on keys, Tom and Adrian's angular abrasive rhythms and Rory's buzzing guitars conjures everything from A Place To Bury Strangers, that metallic gurgling Neo makes "
going down the rabbit hole
", to anything Chris Cunningham may have been responsible for (ie: see Aphex Twin's "
Come To Daddy
", his short film "
Rubber Johnny
" or his production work on the
second album
by The Horrors). Steering By Stars are full of volatile outbursts quite like these, intersperced with some of the most hauntingly beautiful, soothing, contemplative piano interludes you'd ever experience this side of a call waiting queue. It doesn't always go by an easy to follow narrative, sometimes it comes out all jumbled; but past their
shock and awe debut
at Producers Bar back in December, tonight was definitely one of their better ones. Imagine The Cure's "Disintegration" album, M83, Explosions In The Sky, Interpol's earliest demo recordings and the quieter moments of the Blade Runner soundtrack all rolled into one. Imagine a sensory deprivation tank (the lighting especially), eight hours of sleep, R.E.M. flickers and all, condensed into a forty five minute microburst. You don't just listen to this band, you absorb it by osmosis at a standstill as it all swirls about you. You wake from it as equally dishevelled as the band before you, drool pooling at your feet; it's magical stuff.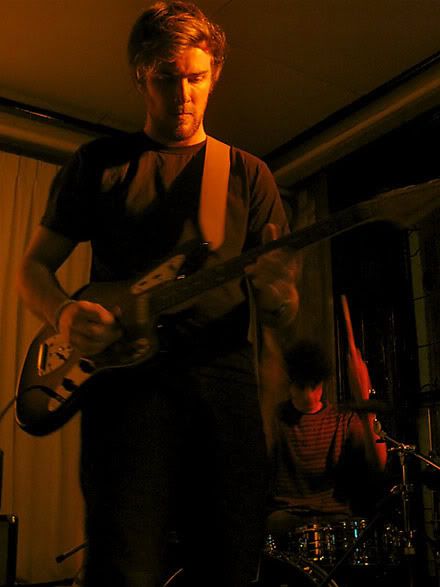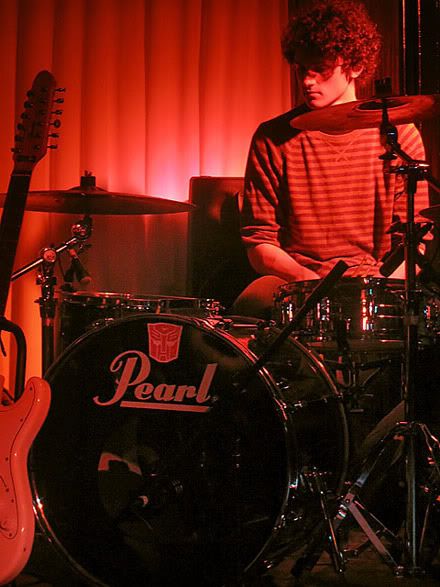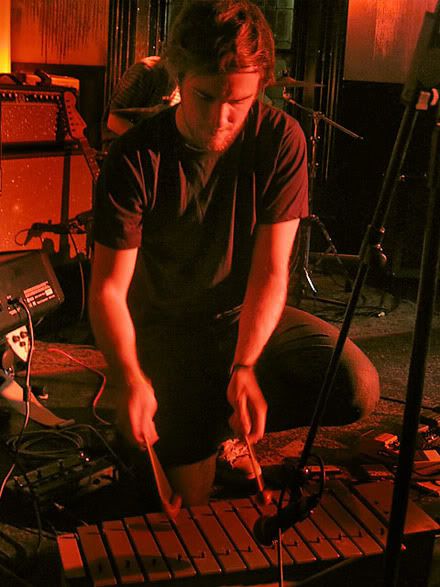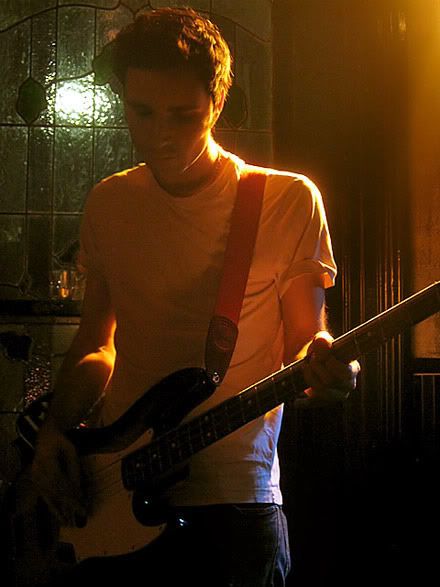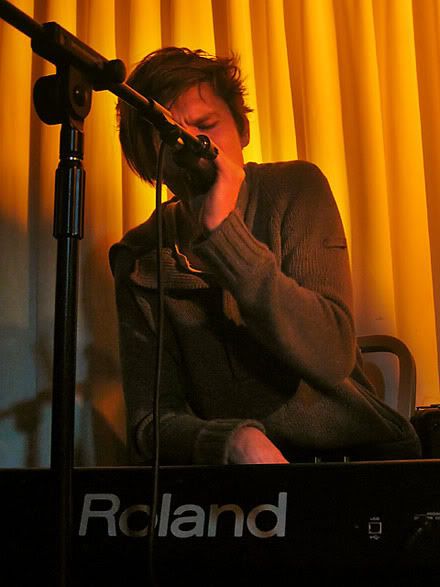 THE SCARLET IVES
(****)
myspace
::
And speaking of "dishevelled" here comes our second act, or more specifically their drummer Travis (who you may remember as this
laughable nitwit
fronting Tyger Tyger many moons ago.. fuck, what a legend!) looking altogether worse for wear thanks to miscalculating just how many pre-show cocktails to dive into, before diving headlong into the ugly sticks for this band tonight (and judging by his diminutive stature, general slurring demeanor, and the fact it's well past midnight: I'd say that number would be a LOT). Still, can't say I blame him really. Turns out The Scarlet Ives have had better shows than this. In fact Gavin their lead singer made frequent mention of this fact throughout the night: once by sheepishly admitting before their finale that it's all coming out like a "dogs breakfast" (ie: moments after Travis lost his drumsticks on stage for the upteenth time), secondly when he remarks to me after the gig that I've had this annoying habit of always catching them at their worst. Still that being said, if THIS is them at their "worse"!? (and I'm told they barely even rehearsed for this) then fuck DAMN they must be one shit hot band; and I'm not even kidding! The way I see it, there's two types of bands in this world: either you're a
circus
or a
symphony
. Granted you can often be
both
, but this band definitely belongs to the latter. They're one of those bands you could spend a lifetime studying and appreciating. It's Gavin's guitarwork, first and foremost, that draws you in: the way those chords and riffs interweave through each other, painting oh so many intricate and articulate patterns in the air before you. It's Rick and Travis's off kilter rhythm section, how every song tumbles to its inevitable conclusion like a stack of dominoes. Finished off with Gavin's vocal delivery: midway between a Jeff Buckley, a Daniel Johns and
Kermit The Frog
and it's an infectious concoction (especially in their song "Venison Woods" off their
myspace
). No matter how loose they perform it you can still join the dots. No matter how many tripped out texture you get lost in you can still find way your home. I like to think of them as Interpol's "Turn On The Bright Lights" mixed with Bloc Party's "Silent Alarm", Radiohead's "Pablo Honey" and Muse's "Showbiz". I like to think of them as the perfect soundtrack to romanticise any city at night. And if I was really looking to fuck up their nascent career I'd even think of them as worthy heirs to the hysterical hyperbole overload I
jinxed
Lumonics with back in 2008. No shit, go see this band! They may have been "shit" tonight, but they'll still win you over all the same!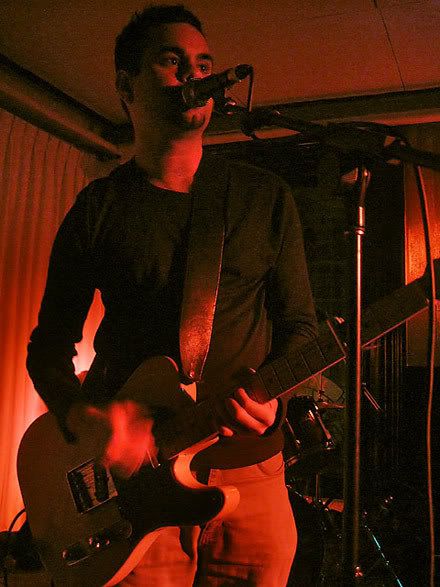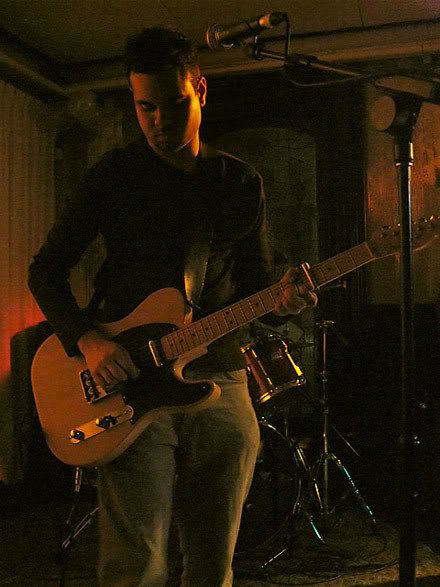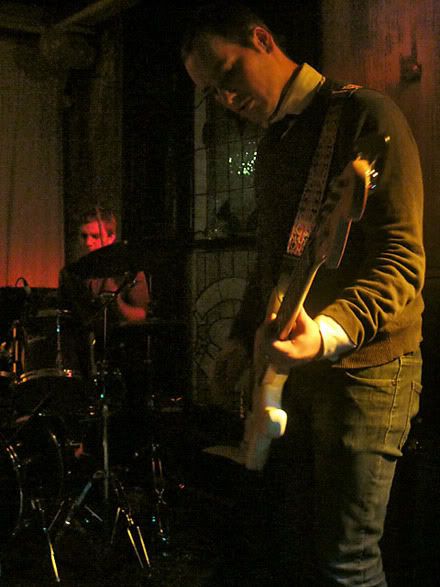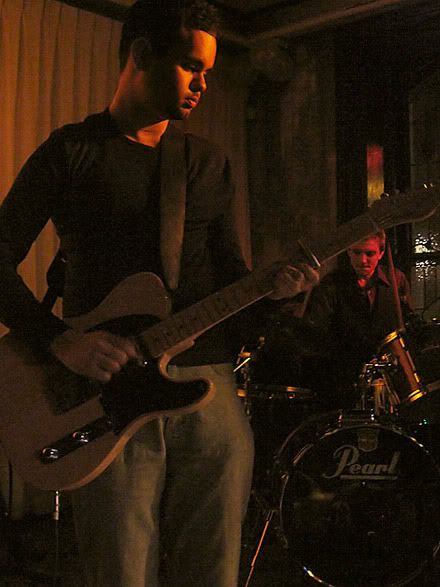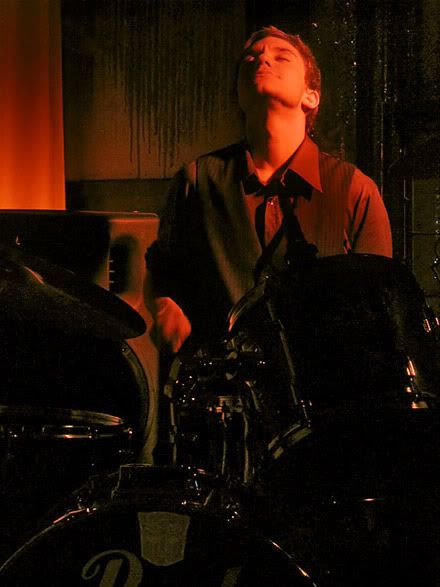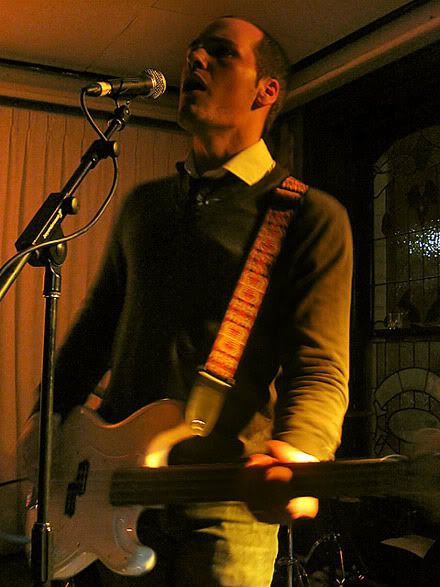 ANTONY OF THE FUTURE
(****)
myspace
::
When it comes to hyperbole, a band quite like our headliner is well overdue for it. They've spent almost an eternity in the darkest corners of the Adelaide scene trying to win it back (and playing "headlining" shows at The Exeter no less) ever since
winning
an all too brief moment in the Triple J "sun", losing their original drummer and promptly vanishing without a trace: all in the space of six months back in 2007. Fucked I know! And as much as you like to think they could've simply replaced him with a new one: it took Anthony Of The Future a full eighteen months to crawl back from obscurity with their new drummer Luke Eygenraam from
The Waterslides
. No shit, Adelaide drummers are the rarest commodity of them all, right up there with
female lead vocalists
and
making it past your debut album
. Often you'll find the same ones servicing several bands at once.
Ryan Manolakis
from Like Leaves for one has laid claim to at least five of them.
Thomas Smeets
from Steering By Stars has two or three on the run. And I don't know what the fuck they bribed Luke with to bring THIS band back into action but I'm pretty sure it wasn't food. Antony Of The Future screams "starving artist" in every sense of the word. If they weren't playing on a live stage tonight, they'd likely be rifling through your garbage like wild animals, eyes shining in the torchlight with their teeth bared if you dared but approach them. They're a hessian sack fuck full of ferrets fighting it out. They're a setlist of songs that begin and end in the parking space of a morris mini. Buzzing riffs, barking vox, itchy trigger rhythms: like a can of redbull crushed into a bouillon cube and dropped into the event horizon of a double shot expresso; they should come with their own warning label. But it's also their biggest winning asset. Antony Of The Future channel the very best of 60's garage and 70's proto-punk and lace it with a whiplashing of 90's slacker guitar fuzz. Think Iggy & The Stooges meets The Saints. Think oldskool You Am I meets 90's Sonic Youth, Dinosaur Jnr and Pavement. Or for something slightly more recent: The Vines meets The Cribs. They're the swinging fists of a "flight or fight" response run riot. They're two charged electrodes fixed to the chargrilled nipples of a corpse doing the "Michael Jackson". They electrify any stage they play on. Bring them a bucket of KFC, fish heads; fuckit maybe even the
Uruguay Rugby team circa 1972
: step well back from all the spinning blades and enjoy the show!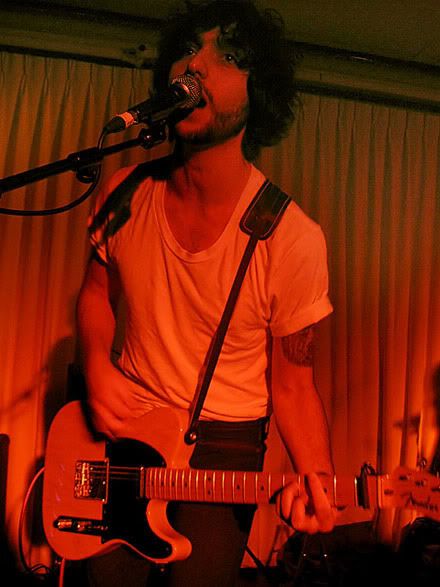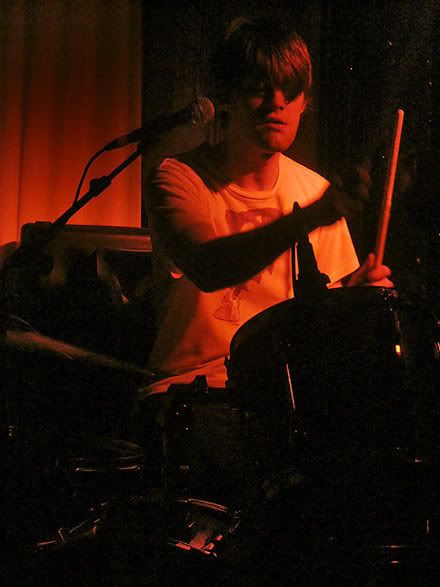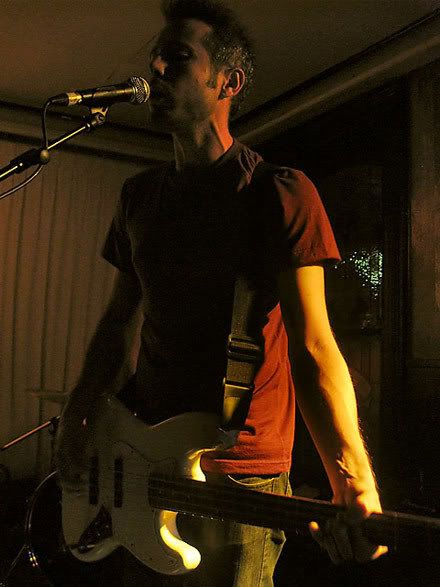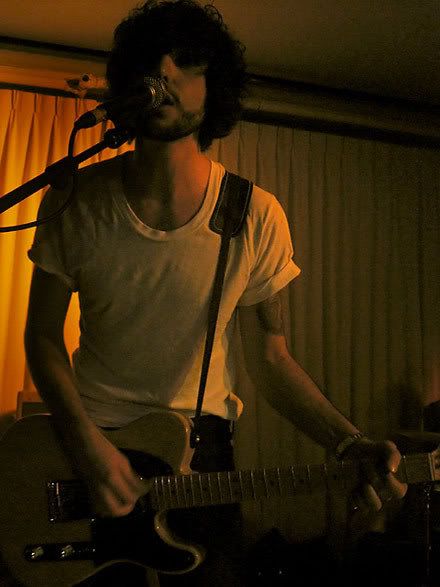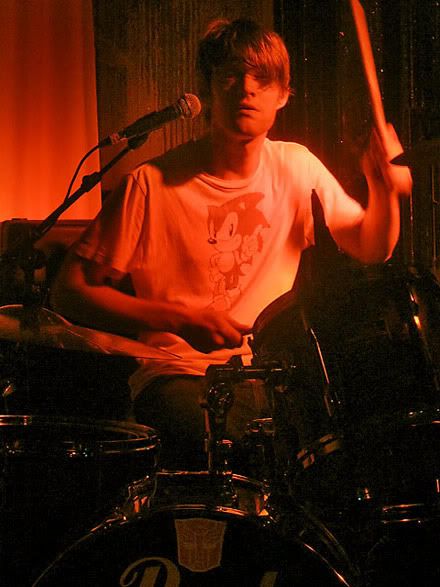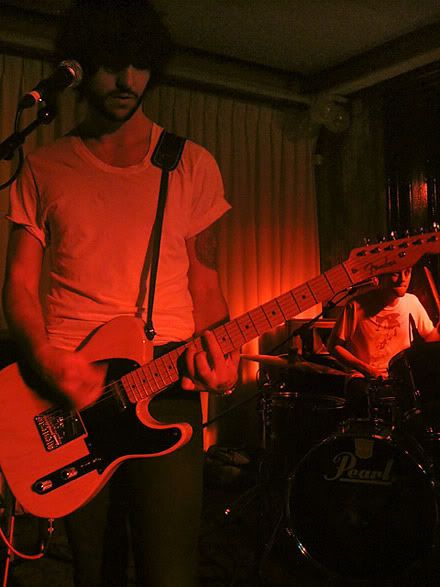 1:50AM
- Yup, it's been one helluva show. One of the best I've seen at The Ed Castle in a long while. I mean sure, their
first birthday celebration
was awesome and all: but that still needed a few pounds of C4 and a firehose for me to be truly "appreciate" its finer qualities. No, say what you will about my "undying love" for the indie dance club craze sweeping the Adelaide scene: raping eyes and ears to a gouging shitstorm of screaming neon, raging metrosexuality, bubblegum pop and gang banging electro (or in other words: "yipee!?");
Transmission Live
somehow makes up for all of that. I don't know how the fuck that leprecaun
Ross Osmon
pulls it off every month but for that brief shining moment: live bands and DJs actually coexist in peace and harmony! So much so I'm willing to forgive DJs Josh and Craig from
The Touch
for thrashing the Baywatch theme earlier tonight (amongst other crimes to humanity), and as for rest of those "blinking diodes" I've been making merciless fun of for all this time!? What the hell, just this once we'll bury the hatchet by giving one of them the run of things! I mean how bad could this shit be? As we present, for your dubious pleasure "The World According to Olivia Gregory: Indie Club Bunny Extraordinaire!"..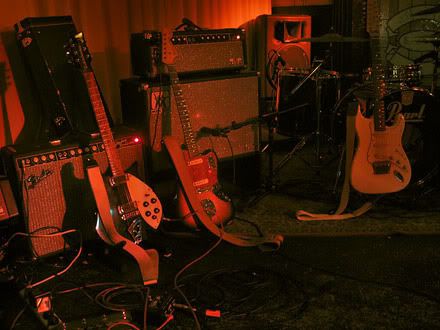 1:57AM
- Here's Olivia with.. yeah, let's just call him "random scene dweeb #1". His sole purpose for featuring in THIS particular photo is because (apparently) he has a passing resemblance to the
lead singer
of
Van She
: the "hottest damn band on the planet" (please no snickering). Yeah I know, I don't quite get it either, but according to our "resident expert" here (and many other
screaming fans
just like her) this shit is like: "ZOMG! LUZ! TEH AWESOMEST hTING EVER!!1!".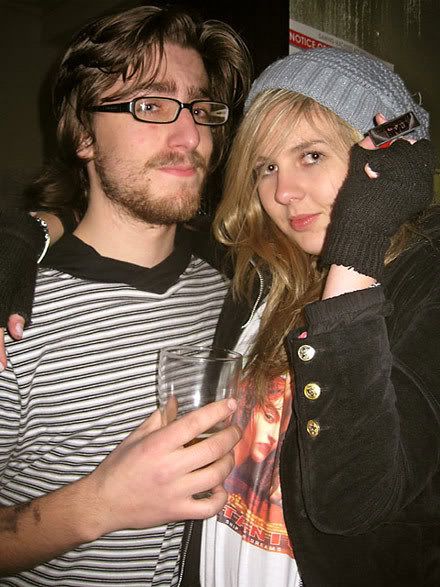 Of course, shit hot "indie sex appeal" like this (again no snickering) can only bested by "random scence dweeb #2", who's just about guarenteed to be raped to death by anyone with a double XX chromosome (before or after a few too many "vodka rasberries") thanks to HIS dubious resemblance to some douchebag by the name of "
Edward Cullen
" (as portrayed by English actor
Robert Pattinson
): featuring in a movie adaptation of an infamous Stephenie Meyer novel I've never seen, hopefully will never see and won't even mention by
name
; for fear it'll fry the server this site is hosted on and destroy what little credibility I have, or had since featuring that stupid "
Weeman died from eating a bag of salt
" conspiracy over three years ago (no shit.. THAT'S what gets all the fucking search hits!? DAMN YOU!!). Oh and before we leap to the obvious here: Olivia is simply acting as "protective detail". I mean really, why would you ever think otherwise!?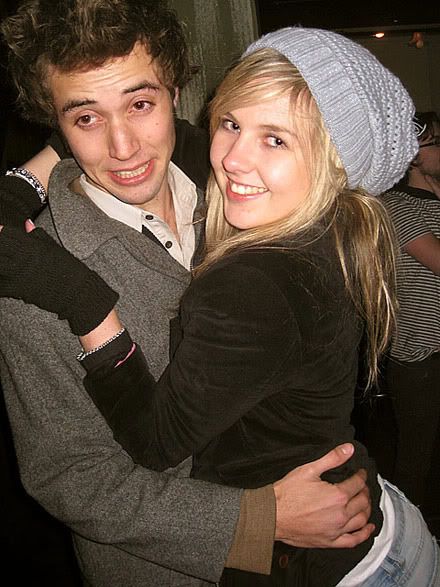 1:59AM
- So, just to recap: if you look like either (a) scruffy emaciated pencil neck with a two week growth, or (b) vitamin D deficient doofus with a spastically bouffant hairdo? come one, come all to Transmission, Transmission Live, Square One, Plus One, Sputnik, Gosh, Glitter.. or whatever else these lunatics will dream up next (seriously does anyone else keep up with this shit!?) and you'll be upto your nips in it no time! (or at the very least for the next five minutes before they find something else even
more ridiculous
to obsess over). And as for what any of this has got to do with Olivia attempting to pick up Eleanor just now!? No idea! but since she wanted me to take all these awesome photos (and since I'm clearly waaay too drunk) I'm more than happy to oblige!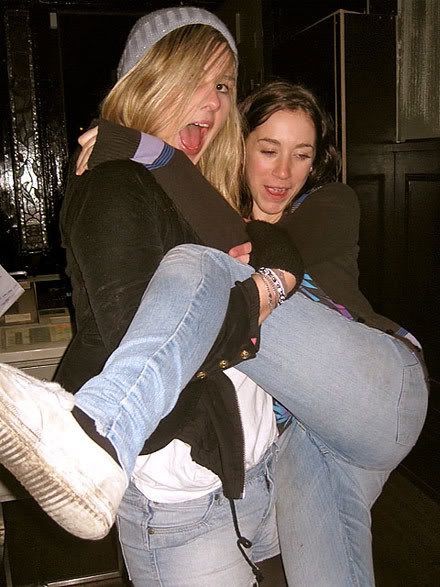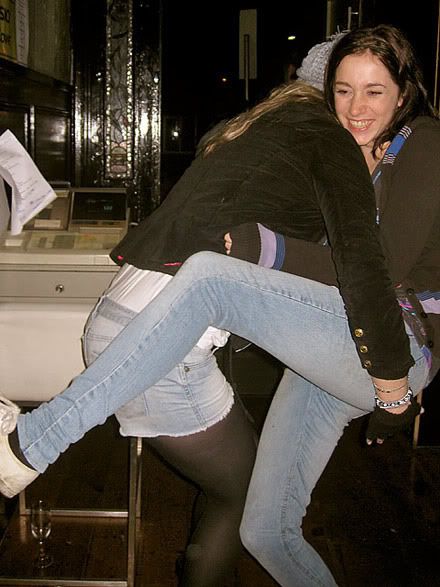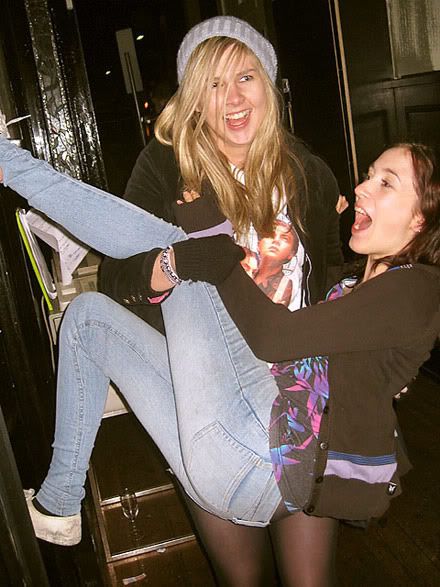 Aaaah Olivia, no shit.. isn't she awesome? isn't she the best!? come say hi sometime! She runs the door here at The Ed Castle with her sister
Lucinda
for "Transmission Live" every month (and every Saturday night for "Plus One"). Just be sure to trip over Eleanor on your way in as I'm pretty certain if you did she'll eviscerate you from neck to groin, douse you in flaming sambuca, stick a cocktail umbrella where the "sun don't shine", roll you out into the street like a
roman candle
, laughing hysterically all the while; before you get cleaned up by oncoming traffic (which has absolutely nothing to do with the fact she used to work at Rocket Bar *cough*). Yeah I know, I don't have a clue what I'm on about either.. she's the nicest person once you get to know her!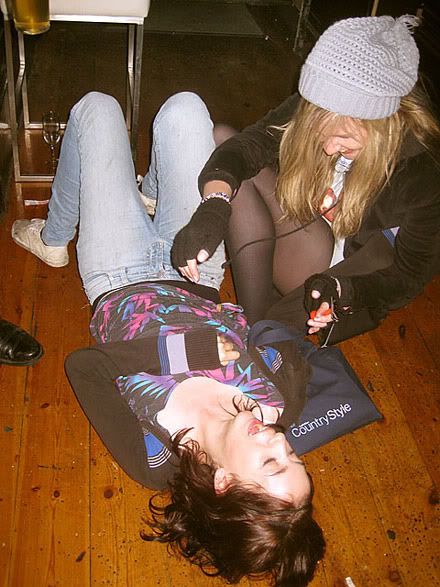 2:02AM
- Hmmm.. am I regretting my decision to let Olivia run riot with this shit? HELL NO!!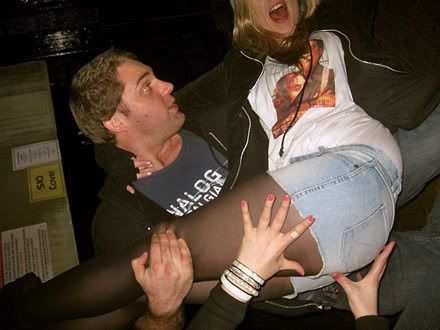 2:04AM
- Just like I don't have this recurring nightmare where I'm faced with hundreds, nay thousands of these insane photos thanks to every Friday and Saturday night I might choose to spend "drinking myself to oblivion"; only to spend all of Monday, Tuesday (and occassionally Wednesday) nights dreaming up ridiculous captions in effort to explain them all!? FUCK NO!!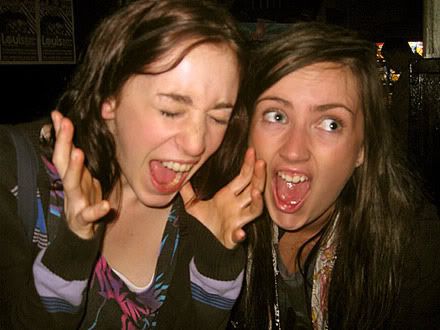 2:05AM
- Just like I'm clearly not way over my head just now, with no obvious exit strategy, and any minute now I'm gonna find myself strung up by my ankles in the beer garden as they all take turns to beat me black and blue with cricket bats; because clearly that NEVER happens! Nope, just play friendly, smile and wave for the camera and hope and pray you think of something fast..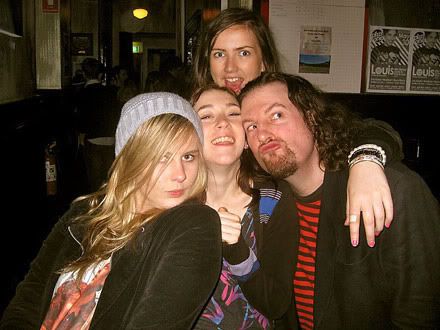 2:06AM
- Which may explain why I screamed: "ICEBERG STRAIGHT AHEAD!!" and fled this sinking ship (flapping my arms in the air shrieking like Kermit The Frog all the while) the minute their backs were turned. Or maybe it didn't as I could never be guilty of using a joke THAT exceptionally lame, especially when it only had "street cred" for all of
three weeks
back in December 1997..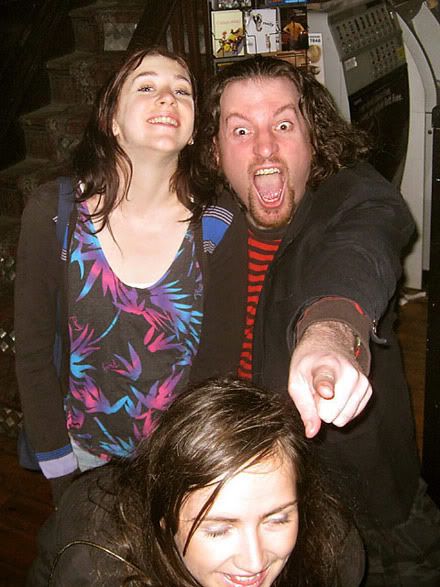 Surprisingly it still worked, as by a sheer coincidence everyone was utterly gobsmacked by what was written on Olivia's t-shirt: "WHOAAA NO WAY!?" that they didn't notice my disappearance. Yup, of all the dumb luck in the world huh? It's almost like it actually happened and I didn't just concoct this story afterwards just so I could find a way to write myself out of a hilarious dead end.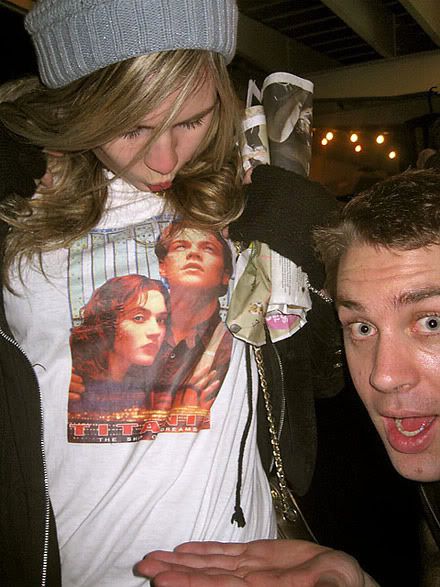 2:20AM
- Which brings me to Daniella here. Yeah I know, I don't quite get the segue either. I mean just how the fuck can I connect ANY of this shit, into any kind of narrative, every fucking week: when we all know it's just photo after ridiculous photo of the same drunks doing utterly nonsensical shit, and it's never any different, and I'm up all night screaming at my computer screen, at my keyboard here pulling my hair out, wracking my brain trying to come up with this shit and I'm all out of ideas like, what the fuck do I do Daniella!? WHAT THE FUCK DO I DOOO!?
Swift karate kick to the head? shit damn, Daniella you're a genius! why didn't I think of that!?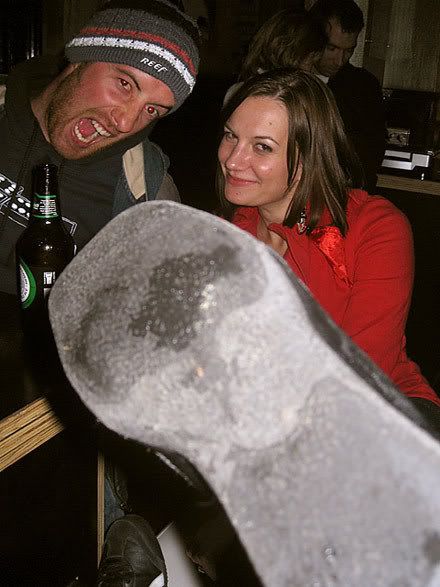 3:14AM
- And there I was blissfully unconscious and lost for a little less than an hour. Dreaming delerious dreams of a life spent far faaar away from these mindnumbing nocturnal pursuits and all the hell and hilarity that they always entail. I mean wouldn't it be grand?
basking in the nine to five
: where I can get a real job, get real paid, get out into the real world again where the sun shines ever so radiantly and I can get a real tan? I could spend all my nights out in the suburbs watching TV, spend all my weekends out in the garden growing trees of weed. Maybe I could keep a police commissioner in my back pocket and one under each sleeve. Maybe I could star in the third season of "Underbelly" and live out the Australian dream? Aaaah you can almost taste it can't you!? all five flavours and so much more, and wait *cough* what the fuck!? Yup, and that's when I woke up to THIS: or as Olivia would later explain to me, this is what apparently flew out of my skull moments before I hit the floor an hour ago. Weird huh? I mean I always suspected this would happen but I could never quite confirmed it. Whack me in the head and candy comes flying out!? Awesome! Let's just hope I never write this junk up in a blog or no shit, I'm a dead man!
Everybody else was already long gone by now (whether literally or figuratively) as I made my way out that door; my head still spinning thanks to Daniella's winning dose of blunt trauma and entirely unrelated to just how many beers I might have drunk. And so, shaking those mad visions loose from my mind as nothing but a fleeting fantasy (followed by a bag of Skittles, a Snickers bar and few loose M&Ms) I went in search of my next misadventure; for as much as I'd love a good night's sleep after all this, I knew I couldn't until this journey was well and truly laid to rest..
3:31AM
- Time was clearly meaningless at this point; I know I've have it written right there to the left of me but it's a figure of speech maaan.. and it's long since slurred. So much so, Supermild was already closed. Any hopes of one longneck and a hastily sought conclusion to this blog (no shit) had been dashed long before the lights went out. Instead what I found were three refugees huddled for warmth outside:
Alex and Henri Dubois
, and that
other chick
(who I think used to bartend at The Exeter!?) and one of them had any freaking clue where to go to next. I mean this shit was unprecedented, since WHEN does Supermild
close early
? Like fish out of water we entertained any option out of this stalemate: Elysium, Cuckoo, Rocket Bar, Mojo West (The Apothecary!?), anything as long as it didn't involve walking all the way to The Crown & Anchor; or worst still, the skull splitting hangover that only comes from
a night ending in The Strathmore
..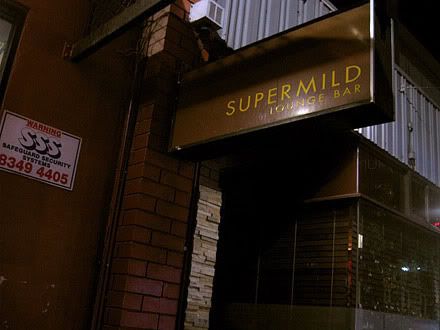 3:54AM
- Seizing the initiative I made a mad dash for Mojo West to investigate, only to discover a dead end, only to return empty handed outside of Supermild, when I realised everyone I was about to report this bad news to had long since left.. shit! Still all was not lost when moments later,
Griffy Griff
arrives on the scene with the most unlikely of solutions: let's all go to "Limbo"!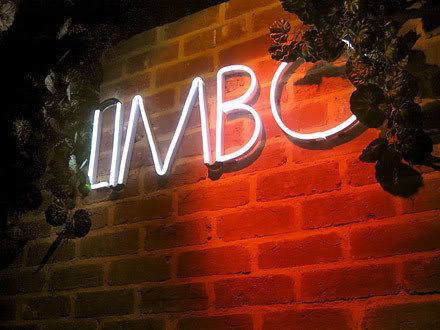 Yeah I know, I'd never fucking heard of this joint either and yet we are with photographic proof. Limbo lounge bar: situated midway between Rocket Bar and Electric Circus. Accessed via a back alleyway off of Morphett Street (near the intersection with Hindley, north east corner behind The Rosemont), or just like how you'd hit Electric Circus: only you go UP the stairs to the left, take a sharp right after one flight (maybe two?) and skip the full frontal lobotomy. There's probably more to it than that: a password perhaps or a secret handshake, or maybe Griffy Griff simply "melvinned" the bouncer and we did a runner for the door but WOW what a joint! This teeny tiny lounge bar no bigger than a Supermild with a window overlooking Hindley Street? four walls of bricks and wood pannelling, mural art, booth seat furnishings and deer heads stuffed, mounted and nailed to the walls? and if you look a bit further past the bar, the DJ decks and the dancefloor there's a unisex toilet and what I could've sworn was a *sniff* "powder room"!? FUCK YEAAAH!!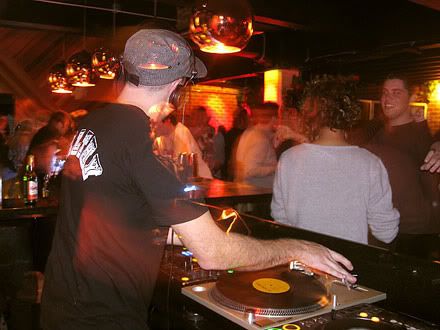 And yet despite picking the most unlikely destination for the end of my Friday night (so much so it's like telling someone the Jade Monkey has a second floor, Jive has a hidden basement, or The Crown & Anchor has actual indoor plumbing.. sheeiiit!) I still manage to bump into some strangely familiar faces all the same. Sure I couldn't remember who the FUCK they were (although I dimly recall meeting the one on the left at least
once
in Supermild over nine months ago!?) but they sure as shit knew who I was. Even weirder, they weren't at all surprised to find me in here either..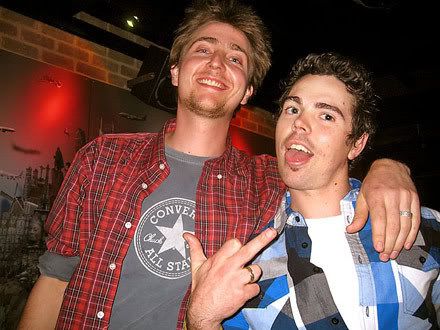 "Lemme guess: Daniella, karate kick to the head, packet of lifesavers!?". Yup that look on my face (halfway between munted, bewildered and a fiendish fifth dimensional spatial awareness) says it all. I suspect foul play, a mad conspiracy theory involving several key players at several key points during my night working me like a puppet on a string, like a mouse in a maze to this exact time and location; for reasons unknown. Olivia's behind all this, she MUST be, nobody's THAT blissfully naive! She's probably got a post doctorate in psychology, quantum mechanics or mathematics and she's running this whole operation from right under our noses! And if ever I make it out of here alive I swear I'll expose her web of lies, oh yes I will! Just as soon as I have another beer at the bar and perhaps another spastic boogie on the dancefloor.. shit damn!
It's only then that I realised "Griffy Griff" here was nothing but a cardboard cutout, an upright stand and a set of rollerskates operated by remote control, and that this "Limbo" actually operates as a meat packing plant on alternating Tuesdays. Wouldn't be the first time they pulled a stunt like this, it was just like how I discovered
Cuckoo
opposite Rocket Bar back in December (and I still haven't been able to find my way in there since). Either way, as long as you don't mind paying $7.50 for a stubbie of pale, don't mind the doped out hiphop ecclectic jams the DJs are spinning (that sound rather like an instrumental mix between everything from RJD2, Edan, Krush and DJ Shadow) and can decipher just what the fuck to say to that bouncer to be allowed in here in the first place; drop by some time! It's open late, has that laidback dope vibe, I recommend it!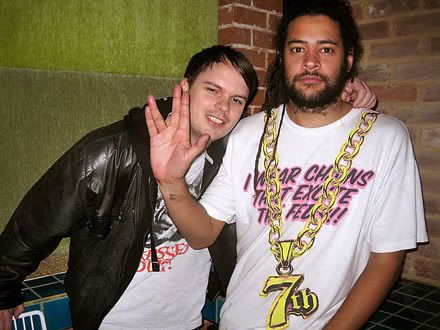 4:48AM
- It was only when I finally found my way back out again, that I discovered the real Griffy Griff: hiding by the dumpsters in the alleyway, doing a slightly unconvincing impersonation of a non descript
balding and overweight white man
in his mid 40's to 50's. He gestured me to a bright point of light floating in the night sky, motionless, above the EDS building. He said something about it being his personal geostationary orbiting ion cannon that he requisitioned from the US military (and all this time I simply thought it was the "Morning Star", the planet Venus rising into the night sky moments before dawn!? *pfft* what an idiot!). Clearly it wasn't time yet but soon we would strike! There would be a sign: encrypted, hidden in plain sight, scattered through newspapers and magazines that when decoded would send this whole shit and shebang crashing like a house of cards. Oh yes! and I did what anyone else would've done after hearing all this: I beat my head into a wall, handed him a Pollywaffle and I ran like hell to the nearest taxi home..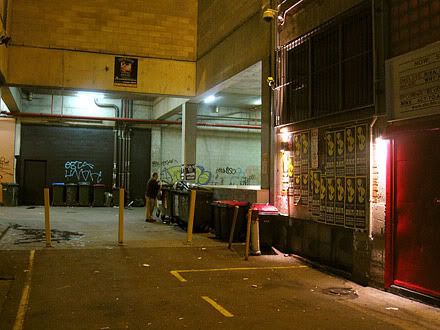 Yup, the night is a strange, deranged and infinitely intangible place. It doesn't behave by any set rules, the details often get lost in a blur; even more so if you appreciate a healthy drinking habit on the weekends and are prone to wild bouts of speculative fiction on the weekdays. No, you make or break your own rules here and hope like hell that you don't wake up to a head on collision, two tabs of panadol and a catholic priest screaming at you in Latin. Weirder still, civilised society for the most part is perfectly happy to leave it to its own devices: just as long as it can remove all evidence of its passing by daybreak. And hell, when everything else in life is a factory, a blast furnace, a fast lane, an endless string of facts and figures fucking you over and increasingly making you feel like a shaved monkey stuffed into a cage; where else would you want to be?
Previously on Spoz's Rant:
Booster + Willie McRae Band + Ambush Marketing