FIRE! SANTA ROSA FIRE! + ZETA + STEERING BY STARS
"TAKE" @ PRODUCERS BAR / Saturday December 13th 2008
It is often said that the meek shall inherit the earth, or more specifically it is often said in The Bible. It's mentioned in passing once in Psalm 28 (verses 8-13), again in Psalm 37 (verse 7-11) and finally in Matthew 5 (verse 5). I know this not because I actually ever read The Bible (for some weird reason it always bursts into flames everytime I picked one up) but because I looked this shit up in google once so clearly it must be true. The meek shall inherit the earth, wise words indeed and beyond all that other whacky hallucinogenic crap about seven headed beasts with ten horns rising from the ocean to eat us all (and pretty much the entire Book Of Genesis and y'know the whole "gay" thing) it's good to know The Bible, for all it's many faults (and glaring lack of ninjas) finally got something right! It's a phrase that's resonated throughout history. It inspired the French Revolution in 1789. It inspired Emma Lazarus in 1883 when she wrote: "Give us your poor, your tired, your huddled masses longing to be free..". It inspired Timothy Leary, Andy Warhol and Hunter S Thompson when they gave us LSD and rock & roll at its finest in the 60's and 70's. It's no less true of today. They're everywhere now, they overwhelmed us by force: nerds, geeks, dweebs and dorks, we fought them tooth and nail for dominance but when they gave us the internet, internet porn, illegal downloads and the ipod to take it with us everywhere we go; we've never looked back. The meek have inherited the earth indeed! In the twin guises of Gates and Jobs they rule us all, in the acting ability of Keanu Reeves and William Shatner they inspire us, in the works of wikipedia, youtube, facebook and myspace they utterly misguide us; and now nothing divides us. In the 21st century we are ALL freaks and geeks, we are all but one and the same!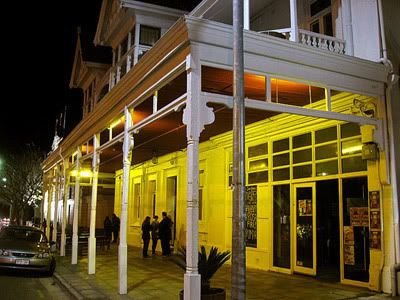 Still you may scoff at such an insane suggestion. You may boast of your cutting edge fashion, your raw sex appeal, your innate sense of balance, your personal hygeine, the ability to lift cars over your head with one hand and count with two all the social functions begging for your attendance; but you're full of it, you know it, we're all geeks, there's no escaping this shit now. We are all computer literate and specialised in our chosen fields. We don't see sunlight for days. Many of us don't get nearly as much sex as we should. If one were to pluck us out of our climate control coccoons and then dump us out in the elements, we wouldn't last a week: the freak combination of snarling beast, syphilis, chicken pox, malaria, the complete lack of toilet paper and mobile phone reception would nail us in a heart beat. If "Into The Wild" taught us one thing (and it sure as fuck taught us that Eddie Vedder knows how to sell a retarding scream better than the rest of us) it's the simple fact that NONE of us are fit for the real world. We the geek have inherited this earth and we've long since abandoned it for a World Of Warcraft. It's a fucked up future we've found ourselves in, none of it makes sense, but we're proud of this shit all the same!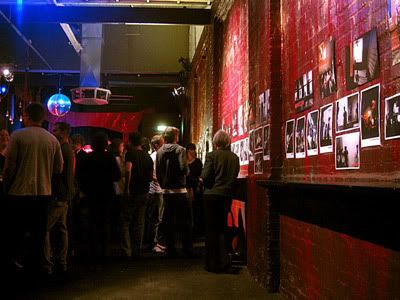 And tonight we're at Producers Bar to celebrate all that is awesome about being socially awkward, allergic and vitamin deficient with "Take" an exhibition by Sia Duff. She's devoted the last year or so to artfully capturing all manner of these talented freaks and geeks in photographic form. Many of whom you may recognise by name (and some you won't) with shots of Fire! Santa Rosa Fire!, Lumonics, Zeta, Mr Wednesday, Aviator Lane, Horse & Cart, Bing Goes To Monaco and Deja Entendu (who I've never heard of before but I'm pretty sure are not crap) as shown here in my photos (ie: really teeny tiny, blurry and way off in the distance); fuck yeah! By all accounts it was an awesome exhibition, it's all over, it's probably kinda pointless mentioning it to you now BUT you can still see a selection of her finest works here on her
website
. The way she arranges her shots, the attention to detail, the expression, the interplay between light and dark? simply brilliant!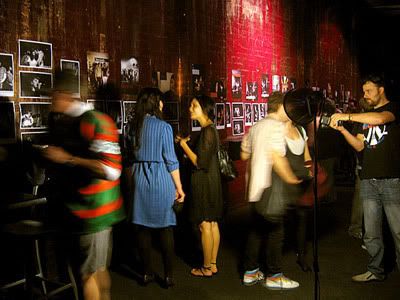 And of course for all the genius reasons to be here: for the simple fact that Sia Duff is all kinds of head explodingly awesome (I wouldn't know first hand but y'know, I've been told), for all the awesome photos she had on display, for the off chance that you may see yourself in one of her photos as conclusive proof that despite the gross lack of sunlight in your life and your ongoing vitamin D deficiency that: (a) you're real, (b) you're flesh and blood, (c) you're not a vampire, and (d) you haven't lost so much of your skin pigment that you're now effectively translucent; we all know the ONE dumb reason why I'm here tonight: live bands. It's the same reason I'm always here. Yes, I readily admit it, I'm a scene geek, I'm just as fucked up as the rest of you!
STEERING BY STARS
(****1/2)
myspace
::
There are very few bands that are immune to the intense scrutiny (read: totally unwarranted attack) that comes from being yet another victim of Spoz's Rant. There are even fewer bands that are immune after repeat visits. Eventually I wear them all down to my level, I find that weakness, I exploit it in full. I know, I'm a very small minded imbecile but I've got to have my fun somehow: isn't that right
Alex
from Lumonics with the freakingly oversized head? (he SO doesn't.. he's pencil thin maaan! he's like an arrowhead with an afro!). But of course there are exceptions to this rule, well actually there aren't, but there ARE bands I like to consider a "challenge". Adelaide is teaming with them. They're second to none anywhere else in the world. They're an incestuous pissing circle, a sudafed sorority, an esteemed elite of the shoegazer sisterhood (you may think I've got it wrong with the prominent gender there.. but I'm dead right!). Many are the illustrious names we can add to this list: Mr Wednesday, BrotherSister, Love Stereo, Lumonics, Aviator Lane, Billy Bishop Goes To War; brilliant every single one of them; there's many more I've failed to mention (and so many more I've failed to see). Every few months they swap drummers like jockeys, they coalesce into magical new forms and they kill me every damn time: THIS is what Adelaide does best! And tonight we're blessed with a brand new one: Steering By Stars. They're a supergroup or a sideproject (depending on who you talk to) that combines all the awesome talents of Lachlan on vocals and keys (ie: the sadsack cardigan casualty from Love Stereo, Mr Wednesday), Tom on drums (ie: the borderline psychotic from Zeta, Aviator Lane and Horse & Cart), that weirdly familiar guy from Triple J's breakfast show on bass (aka: Adrian from Lumonics), and some other sleepyhead doofus by the name of "Rory" on guitar. And yes they are quite simply THE most fuckoff amazing shit I've seen ALL weekend (up until this point); which granted isn't saying all that much, but I'm saying it anyways. Steering By Stars? fuuuck duuuude.. I'm SO not worthy!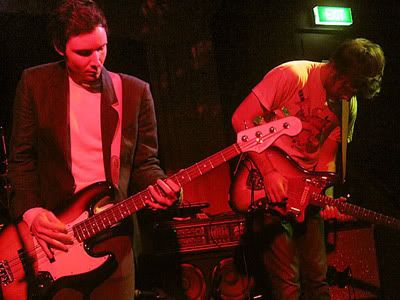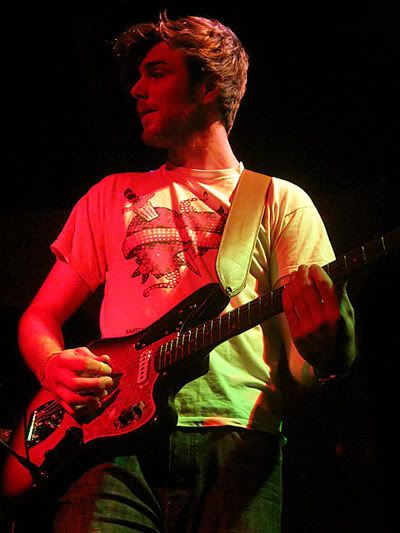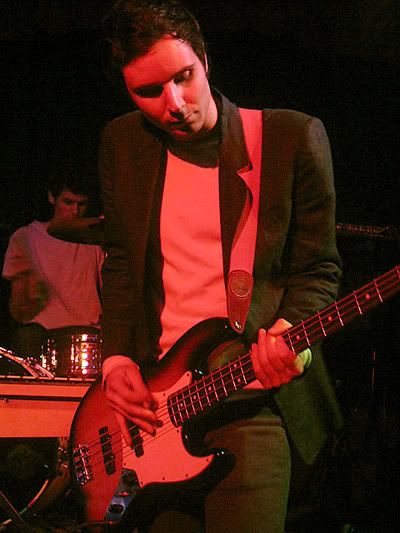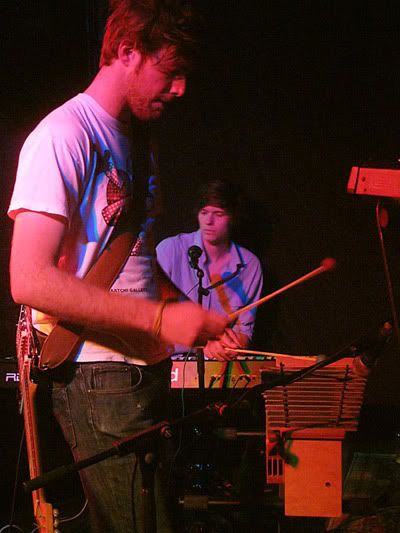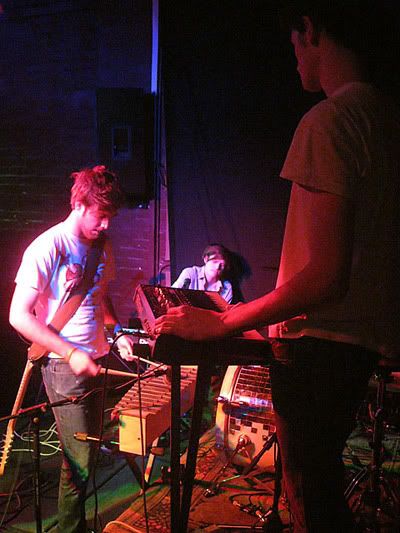 Steering By Stars are rather like what would happen if Steven Spielberg made a Hollywood blockbuster out've that sound Windows 95 used to make when it booted up. The twinkle of chimes, the symphony of lights, that alien mothership hovering inches over the desert whilst a team of scientists play pingpong with a five chord progression? it's all here (quite possibly more so if you took nearly as much acid as these guys would've surely needed to make that giant leap forward). It's an instrumental piece, orchestral, widescreen and cinematic, broken into a series of interflowing "movements" that treats Lachie's vocals more like an ensemble cast member, rather than an egomaniacal deathstar that obliterates planets. It's soothing, soaring, uplifting, epic and it's everything blending in seamlessly. It's The Cure's "Disintergration" crossfaded with that dream sequence out of Blade Runner with all the piano and the unicorns 'n shit, it's Unkle's "Psyence Fiction" shaking hands on fire with Pink Floyd at a joyeous epilogue and it's a smooth herbal brew of The Doves, Sigur Rós, M83 and Explosions In The Sky. It's melancholy meets fine art. It's every reason to shun sunlight for days, perfect your pasty white moon tan over a three week period programming Linux code and fantasising about Seven Of Nine hooking up with T'Pol whilst Jean-Michel Jarre foams off in a corner.. OOOOH SHIT YES! It's all this and so much more!
10:26PM
- So dumbstruck, flabbergasted and mindfucked are we by our opening act just now, that it's taking a full hour to recover before we can even hope to see a follow up act. Which is more than enough time to brush up on your Klingon, calculate Pi to another decimal point, finish working on that flux capacitor you've been dreaming of ever since you bumped your head in the toilet this morning, debate the many merits of Tom Bombadil (and why it was an absolute crime to leave him out of the Lord Of The Rings movies) ponder the exact size and potency of Stephen Hawking's testicles (and whether they constitute a revision of Einstein's "God doesn't play with dice" statement) and also gives me more than enough time to have my very own backwards speaking Twin Peaks dream sequence here in the lobby (wait are we talking the
original
? or the one Lisa
did
in the Simpsons with Chief Wiggum!?) *phew!* Why is there such a lengthy delay between chapters one and two here? who the fucks know!? but I guess we'll find out soon enough..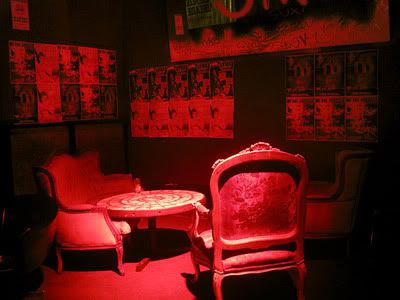 ZETA
(****)
myspace
::
Before you read any of the review that follows: I would like to point out that everything you're about to see is the work of hired actors, none of the REAL members of this band turned up tonight and this is a complete work of fiction. I would also like to point out that yes this IS the weirdest four star rating review you'll ever read. Yup, I've said it once, I've said it many times before, every band has one of those "nights". We've all been there: somebody flicks the wrong switch, wakes up on the wrong side of a hangover, raids the wrong medicine cabinet or inexplicably finds themselves in a band with
Craig Nicholls
. It happens to the best of us, there's no shame in it, you just gonna ride out that storm! Which clearly in no way applies to ANY of what you're about to witness with our second act tonight: oh no! this gig has EVERYTHING! (although if your name is "Sascha" you may want to shut your web browser down now). Yup, THIS is what we've waited a good hour for.. why!? because Tom their original drummer was in no mood for a second stint on the sticks tonight after bringing the roof down for Steering By Stars (and we all know it's best not to test his "patience"); so instead they've called in Luke Eygenraam from
The Waterslides
to fill in for them. Which he's more than happy to do: just as soon as he finishes playing a set with Antony Of The Future at the Exeter. Yeah I know, there's gotta be a logic fault in here somewhere, but either way heeere we are: the crowd has been madly anticipating their appearance all night and they sure as fuck don't disappoint! It all starts with Sascha leaping on stage in a hooded white boxing robe (or what appears to be a continuation of the Spielberg theme started by Steering By Stars with his 1982 classic: ET). We already know we're in for something special and he's playing it up for all it's worth, but it only gets better! Moments into their set, raging like bantamweight for blood and *OH SHIT!* he goes and breaks a guitar string!? duuude this is SO gonna be the best Zeta gig ever!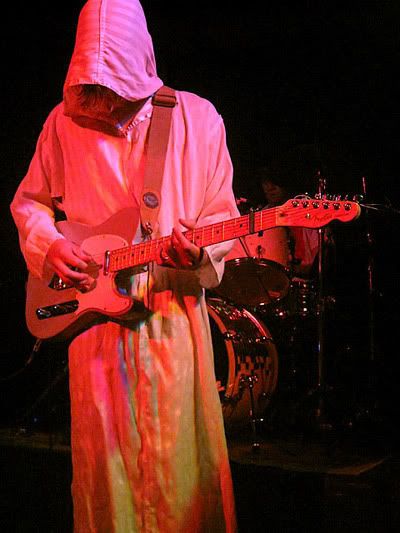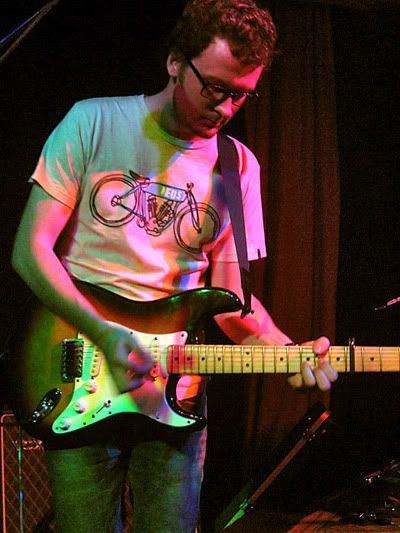 You'd think breaking a measly little guitar string would be nothing but a trivial detail at best: but it starts a chain reaction that's nothing short of diabolical in scope. With no time to spare in replacing the offending strings on 'ol "baby blue" (is it just me or has he finally cleaned the
blood
off that thing!?), Sascha makes a snap decision and borrows Rory's guitar from Steering By Stars instead. Which is a genius plan if ever he thought of one, except he blissfully forgets to retune it in passing. Apparently Rory had his mahogany moon unit tuned to D, and I'm no expert here but it appears this D tuning really aint synching in with anything Zeta has in their repetoire tonight (nor is it sinking in with Sascha here tearing into song after song as it erupting in howls of blissful dissonance); better still, there's an incomprehensible series of "switches" on Rory's guitar too, and he's triggering every single dud one of them in following to add to his sweet symphony..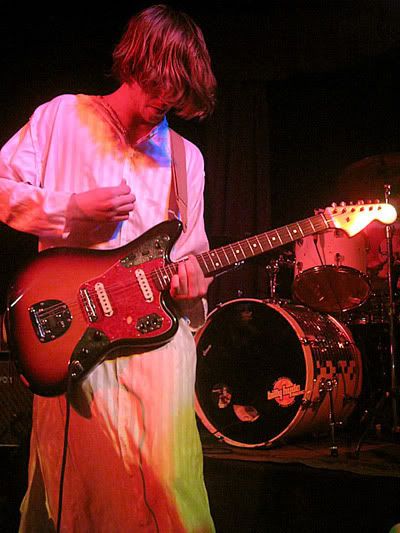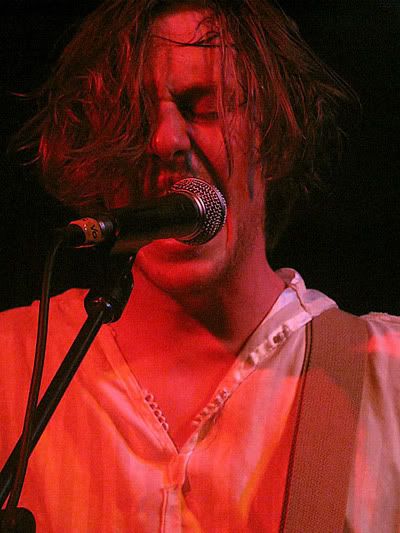 Finally, several songs in, Sascha disables the guitar completely, moments short of button combo that would've either triggered Sub Zero's fatality move in Mortal Kombat or a pre-emptive strike against North Korea; and the entire set grinds to a halt. The band grins nervously as he fumbles about attempting to bring the beast back to life again, a whole procession of people join him in furiously scratching their heads whilst the opening refrains of 2001 Space Odyssey soars into life around him (if only in my head), Matt Hills at the mixing desk grows increasingly impatient as he chimes in on the microphone with: "can someone please give Sascha a SIMPLER guitar to use!?"; before finally someone figures out what the fuck went wrong with it, plugs the guitar back in, and the set continues. Oh and I should note for the record: the guitar is STILL out of tune..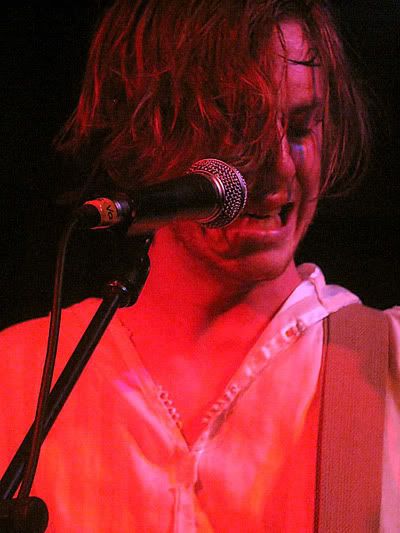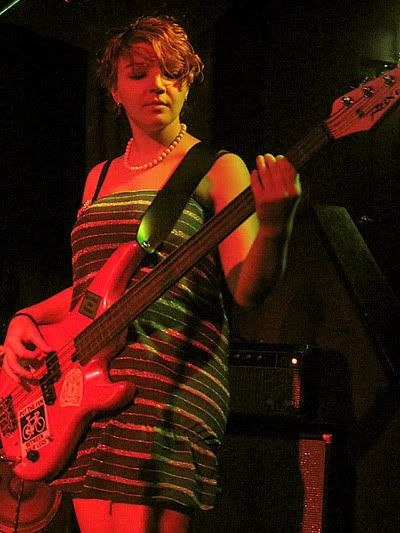 Yup, the look on Anthony's face says it all. It's gone beyond a tragedy and well into the realms of comedy here. This may very well be the most AWESOME thing I've ever seen go horribly wrong on a live stage this year (or y'know: short of anything It's Warsaw! would have otherwise made a
career
out of). Every band has had one of these nights: and Zeta's going above and beyond the call of duty with this one! Still, it's not a complete tragedy, far from it: once it finally dawns on Sascha that he's had his shit tuned wrong ALL this time, and the rest of the band follows suit in steering Zeta away from that proverbial iceberg? this shit actually ain't all that bad tonight..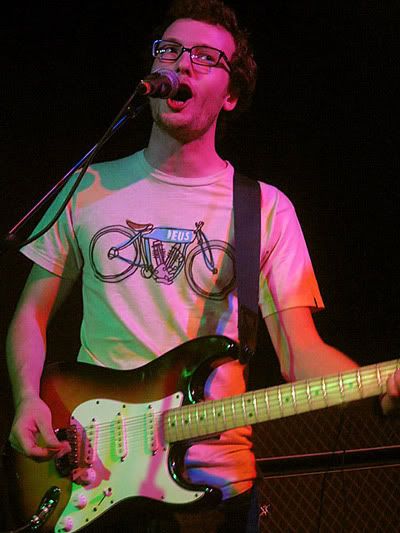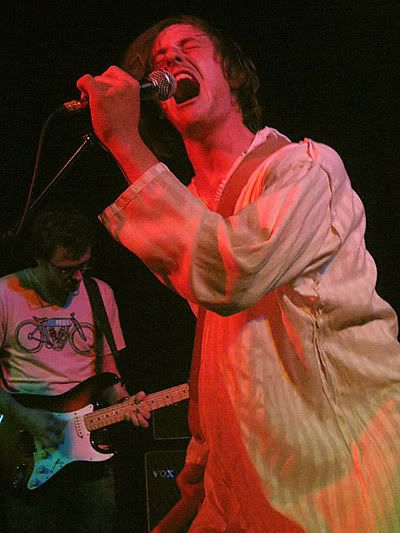 Weirder still, despite how aggressively shoddy it's sounding (and believe me I've seen my fair share of disasters): the crowd is loving every damn minute of it. They're going completely batshit insane: I kid you not, they're out of their fucking minds, screaming and begging for more! It's the worst damn gig I've ever seen them play and yet at the same time, with THIS crowd response: it's the best damn night of their lives. It's a seething monkey pit, it's a dancefloor burning up, it's a chorus of idiots chanting "Wignall! Wignall! Wignall!" to Anthony on second string as he powers them home. Awesome! This is what playing live is ALL about! This is winning against impossible odds! This is Clemi getting ridiculously drunk the minute she leaves the stage tonight in effort to forget she was even here! (and also why she must LOVE being reminded about it just now.. weeeee!). Such is the undeniable genius of Zeta. You may come for the shredding guitar, the masterful songwriting, the schizophrenic interplay between Sascha's "John Lennon" and Anthony's "Paul McCartney" (and that awesome self titled EP they released
earlier this year
which they're now giving away for free by the boxful.. damn!), but you stay for unbridled chaos quite like this. This is me on my knees, balls out laughing, saluting your insane brilliance! OOOH FUCK YEAAAH!!
FIRE! SANTA ROSA FIRE!
(*****)
myspace
::
Zeta were a hard act to follow, quite possibly for all the reasons they never originally intended (ooooh man they're SO gonna kill me for this shit); but if there was ever a band that could rise to the occassion and up the ante; it would be our headlining act, the one and only Fire! Santa Rosa Fire! You may already be more than familiar with them thanks to the Pavlovian response their latest smash hit "War Coward" elicits in your brain everytime you switch on the radio. You know what's like, you can't escape it, you hear it thrashed fifty times a day now on Triple J! and I just bet everytime it happens your eyes must be rolling back in your skull, then hours later you find yourself waking up in a Toys R Us laughing hysterically whilst re-enacting Spongebob Squarepants fucking the purple Teletubby in nothing but your novelty boxer shorts!? I understand, believe me, duuude I've been there! (wait.. that's just me then!? *cough* nevermind then!). Still, you can't deny it's awesome power, it's become this generation's answer to the Badger Badger Badger
song
and damnit it's TWICE as catchy! (and quite possibly about half as intelligent too!). Weirder still they actually have other equally as awesome songs too: they've released two EPs and they're working on an album too!? Wow, I know! I didn't believe it either and I've been covering this shit for well over two years now!? No wonder I'm having trouble recognising simple shapes and colours: thanks Fire! Santa Rosa Fire! no really, YOU'RE THE BEST!! *cough* But in all seriousness (or in my laughable approximation) this band HAS come a long way: and tonight fresh from their triumphant appearance at Homebake Festival just last week.. duuude they're at the top of their game!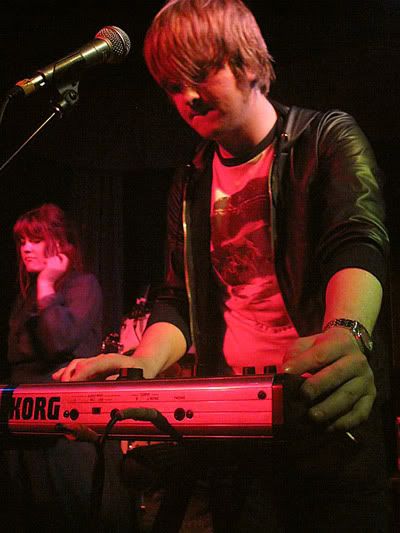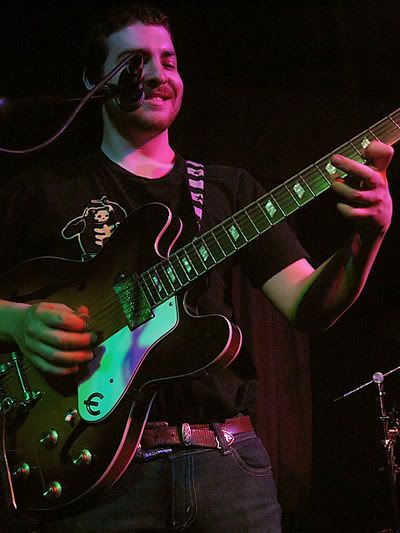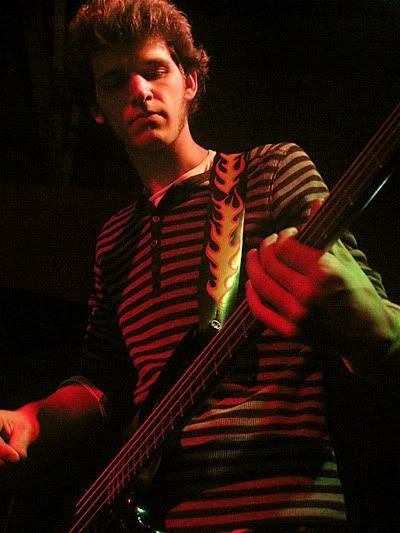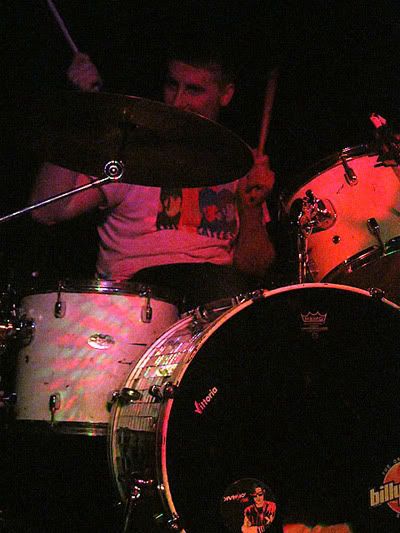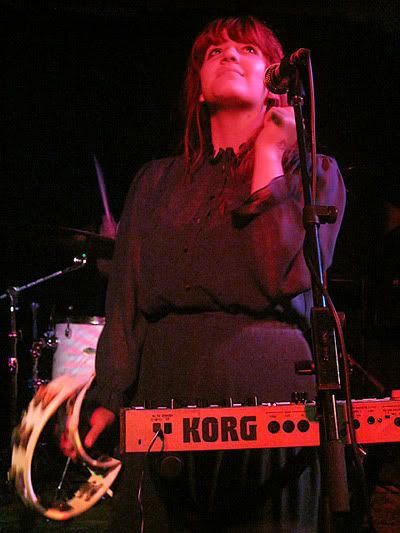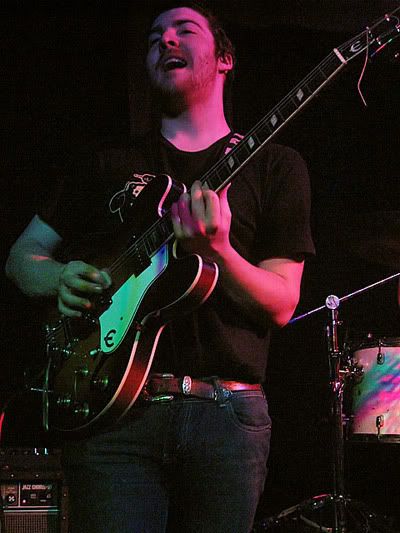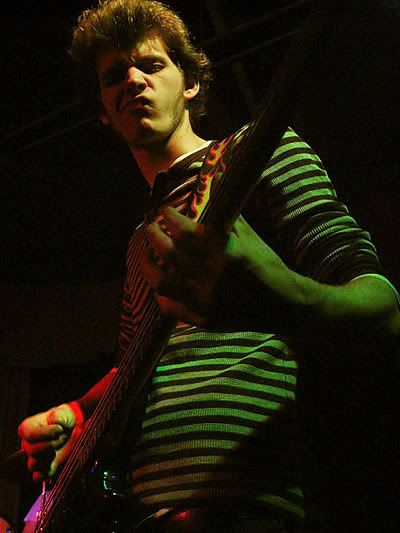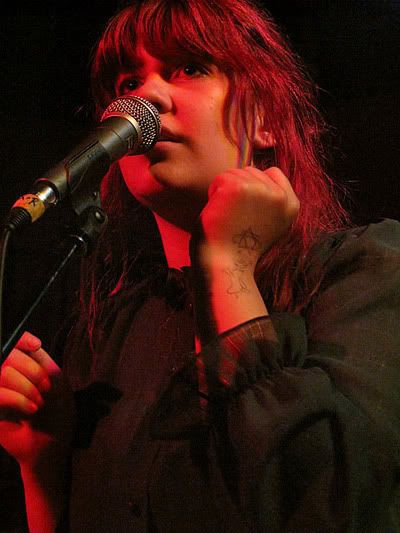 Granted I've made fun a LOT of this band in the past: and most of it totally unfounded, as let's face it they're easy targets and even when they're not? I make a lot of this shit up on the spot! (they probably still haven't forgiven me for what I wrote about them back in
March
) but some of it is more than deserving; and for those of you who HAVE seen them live, you know just what I'm on about: his name is Dave Williams. On most nights you can't miss him. He's Fire! Santa Rosa Fire!'s resident shit stirrer and bullshit artist extraordinaire. This isn't criticism per se (don't get me wrong) he's freaking
brilliant
at it! he's even taken ME
down for size
(as yes I totally deserved it too). And more often than not it is HIS dementing glee midway between a cheshire cat and a shit eating grin that steals the show again and again. But tonight it's not about him, it's not even about Caitlin rolling her eyes at every one of his innappropriate jokes, oh no! it's ALL about the real genius behind Fire! Santa Rosa Fire!: one Artyom Zinoviev, or "Art" for short, their much beloved yet utterly expendable fifth member (short of their sixth who thankfully made a "disappearing act" shortly before they made it "big" as he was next to impossible to photograph). Oh yes! this dude is why Fire! Santa Rosa Fire!'s set is the most awesome shit EVER! He's hammering it on the keys! He's rocking the SHIT out of that tambourine! He's the one that's killing it like nothing else! Just look at him out there cutting sick to War Coward tonight: go my son! rock that shit! YEAAAS!!
Oh crap! now I've gone and done it! he's looking this way! HEEEEEELLP!!
And it is thanks to this shit (and quite possibly to Dave for actually holding back between songs for a change) that elevates their set to a whole new level tonight. Watch as Art makes a complete dick of himself during "War Coward", watch as Art screams hysterical gibberish and plunges right into the middle of the crowd during "Stranglehold", Watch as the crowd welcomes Art as one of their own (only for that same crowd to devour him like a pirahna swarm and spit out nothing but gristle and bone). Right here is exactly what I'm talking about maaan! Right here is the future!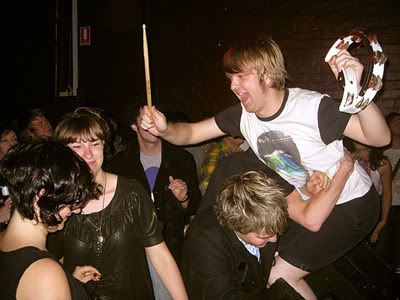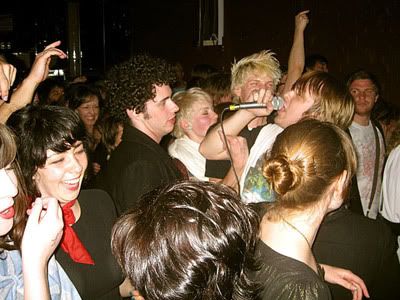 And it's for this and many other entirely ridiculous (and completely unfounded) reasons that Fire! Santa Rosa Fire! rocked the shit out of Producers Bar tonight. It's like they left for Homebake never to be seen again and an entirely different band came back. I can't quite place what's different, but it's there. Sure if we're gonna be devil's advocate here (shit, when am I not?) their songs still sound just as silly now as they ever have: they're little more than a teddy bear bass groove, angular eight bit guitars, spastic drums, spastic tambourines, a keyboard flourish and a few too many nursery rhyme lyrical hooks (prove me wrong people.. prove me wrong!) but tonight it just sounds so retardingly epic! They're like all the best bits of Mario, Tetris, Space Invaders, Pong and Pacman combined blasted out onto an IMAX screen! They're like all the best shit epilepsy enducing shit coming straight out of Japan. They're exploding pixels and polygons of itchy trigger carnage beyond all measure (and let's face it, they're self confessed video game nerds, so they should know!). It's why they're upto their pits and nips in this capacity crowd bouncing off the walls. It's why everyone's cheering them on as one and it's why Fire! Santa Rosa Fire! can do no wrong! They've found that mad fucking buzz and they're hammering it for all it's worth!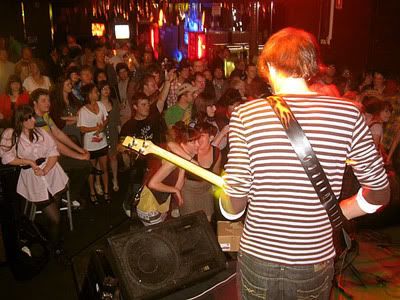 So for those of you out there still rocking back and forth, in a cold sweat everytime War Coward's on the radio, screaming for the pain to stop (oh you KNOW you love it!). Have no fear! there's more yet to come, oooooh crap yes.. this is only just the beginning! Take this new song for example, "Cold Star": it's like all the best bits of Pink Floyd's "Dark Side Of The Moon" at it's most languid and tripped out (and I seriously never thought they had a "slow song" in them quite like this). But with shit as blissfully ecclectic (and songs as annoyingly catchy as this other new
song
they played tonight, which I believe might be their next single?) and not only that but there's an entire album's worth on the horizon!? sheeeiiit! who knows what else they're capable of!?
12:57AM
- It's been a mad celebration of all things meek, geek, knock kneed, buck toothed, bowl cut, bespectacled and squinting into the light. They've had much to teach us, much to amuse us, amaze us and to inspire us. So much so in fact that I'm half surprised they're still out there partying hard (as most of them are clearly mixing up all their hayfever medication!).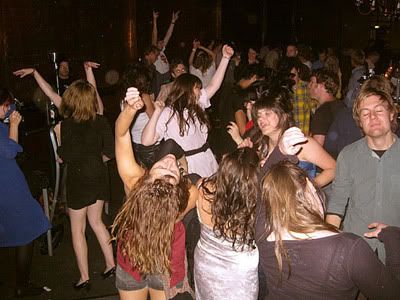 And short of a hundred emo kids joining a cult, drinking the "funny cordial" and collapsing dead here every Friday night (aaah I love Syke!) I don't think I've seen this enthusiastic a crowd response block all fire exits in Producers Bar since Children Collide ran the walls red with blood a
month ago
. Weirder still? I don't think there's any sign of this shit letting up any time too soon!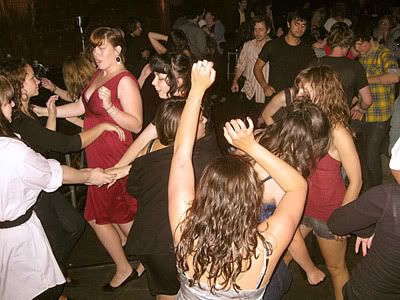 And it's all thanks to THIS idiot letting loose on the decks!? wow.. whodathunkit!? Clearly what we're witnessing here is a new world order, all the old rules don't apply, black is white, green is orange, chicken tastes like licorice and the moon is made entirely out of bird shit. It's an exciting time to be alive and anything is possible! Quite like it's very much possible that my brain (or what's left of it) has long since squirted out of both my ears and slithered the fuck away thanks to whatever Matt Hayward is currently thrashing (but as long as its Interpol's "Slow Hards" who cares, I'm way too spastically happy playing "collision detector" on the dancefloor anyways!).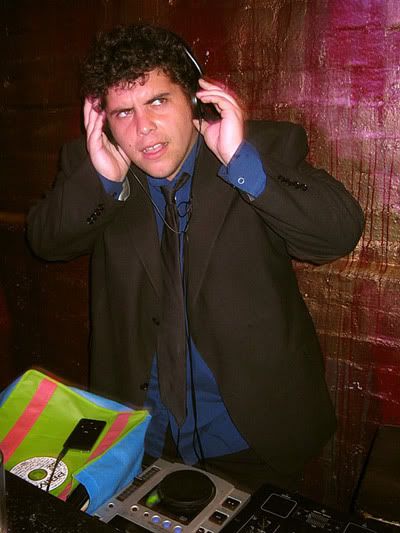 1:37AM
- And speaking of "pinheads", it doesn't take too long till everyone's favourite shoegazing dweeb: Alex from Lumonics (with a head that's in no way oversized), joins in on the celebration tonight and this party kicks into another high gear. And by "high gear" I totally mean a level of über intelligence, telepathy and telekenetics beyond that of any mere mortal understanding and not anything you'd otherwise find gracing a glass coffee table in Sugar at 3AM on a Sunday..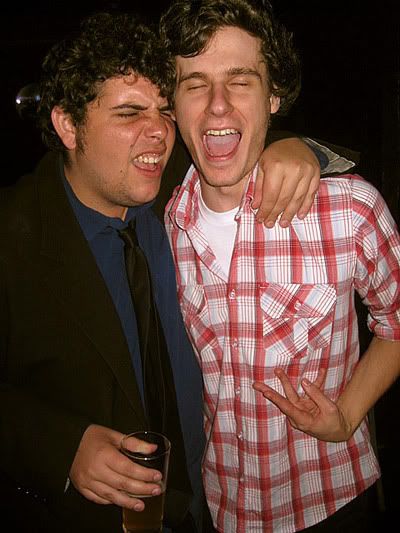 And no I don't quite understand where all these "oversized head" jokes are coming from either (as let's face it we all know I'm retarded!) as clearly compared to the size of THESE two other orbiting lunkheads on the left: Alex's teeny tiny compact cranium couldn't possibly hope to compare!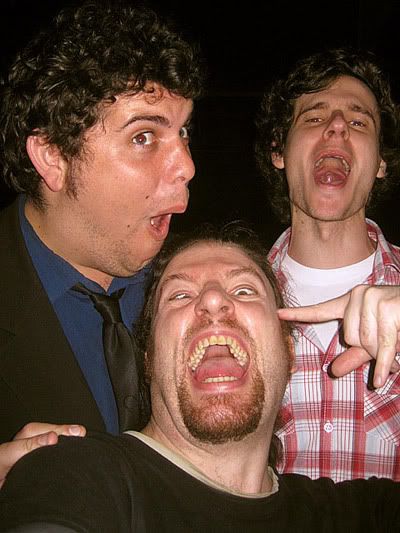 1:51AM
- And speaking of drunken photos that we all wish I would stop taking well before beers six, seven and consecutive (and believe me there's a whole lot more of this shit yet to come!) this awesome shot of Sia Duff on the shoulders of someone else who may or may not possibly also be a "Duff" (I've heard there's like.. I dunno.. a million of them out there and they own a fictional brewery of some sort?) is one of MANY reasons why I should never host an exhibition for as long as I live as chances are at least half the population of Adelaide would subsequently shoot me dead on sight (but only if more than three or four of them actually ever read my blog.. YEAAS!).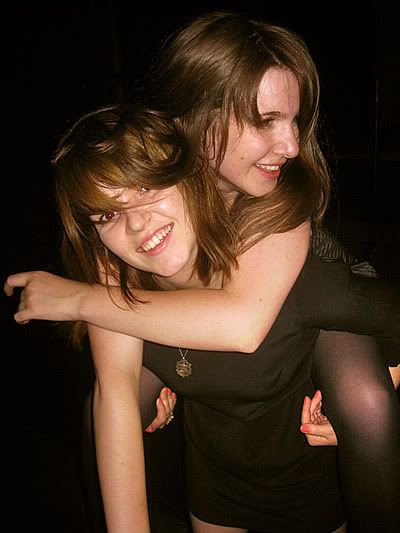 2:28AM
- Clearly I'm causing way too much carnage tonight and it's about time I made my hasty retreat (ie: well before Sascha catches up to all that insane gibberish I wrote about him in that "hilarious" Zeta review) which is why I ended up HERE at the last possible place anyone would ever think to find me: downstairs at Rhino Room and their freakingly awesome "Square One" party..
2:32AM
- Which in the history of cunning plans would rate THIS cunning plan as the most suicidally stupid way to "make like a tree and disappear" in this city: as within minutes, nay.. seconds of me stumbling drunk through that door I'm swamped by a swarm of munted punters, all mumbling and clawing at me like zombies for me to take their picture. Yup despite ALL
evidence
to the contrary, apparently making a total dick of yourself on my blog every week is still THE most freakingly awesome shit ever.. isn't that right
Nick Hadley
from Dead Popes Of The Vatican? (which we all know it clearly ISN'T). I mean, seriously, when the fuck will these freaks EVER learn!?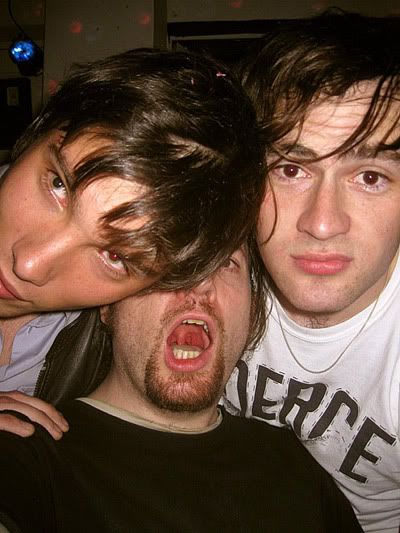 Hmmmm from the looks of this shit, not anytime too soon.. yeeeeouch!
2:48AM
- Scrambling for shelter, sanctuary, anywhere else I can get the fuck away from it all (why did I ever leave Producers Bar I ask ya!?). I momentarily seek refuge here at the infamous blue bug zapper (instead of say: a taxi the fuck out've here) because hey if all else fails? chances are they'll be so dumbfounded by the neon sign outside that they wouldn't even think to step inside! However, many hours (or possibly minutes) later I realise just how dumb THIS plan was, as apparently I'm just been caught in the exact same trap after spending all this time taking photos of this exact same sign instead of simply walking inside (ie: when I've already got an extensive archive of photos just like this). Oh and there's a good chance that thanks to this neon sign I've also demagnitized everything in my wallet and given myself a wickedarse radiation burn!? YEAAS! Fuck DAMN I love the Crown & Anchor! Seriously, why don't I come to this place more often?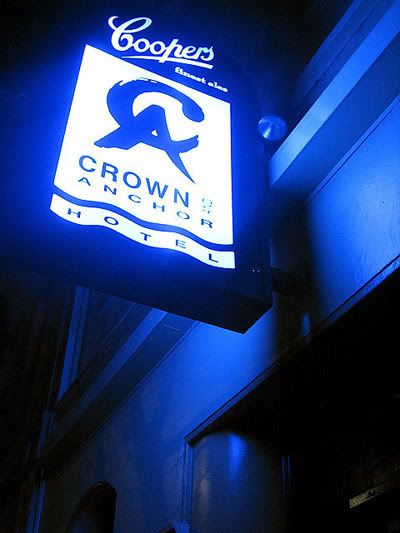 2:53AM
- So when all else fails, let's go to the Exeter.. everyone loves the Exeter right!?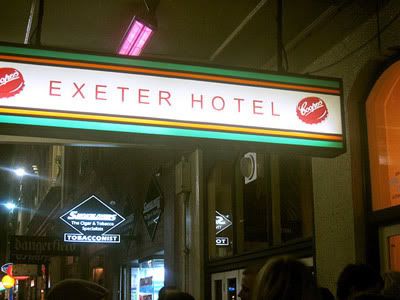 2:55AM
- Again let me redefine the concept of "fail" and the epic standards to which it applies to my life, when moments later I bump into THIS grinning specimen. Apparently he's one of the alleged "three to four" people who read my blog on a "regular basis" (or maybe he doesn't and I simply bribed him so he'd tell everyone that). Either way, he was all too ridiculously happy to see me and was more than happy to make a complete dick himself on camera while he was at it.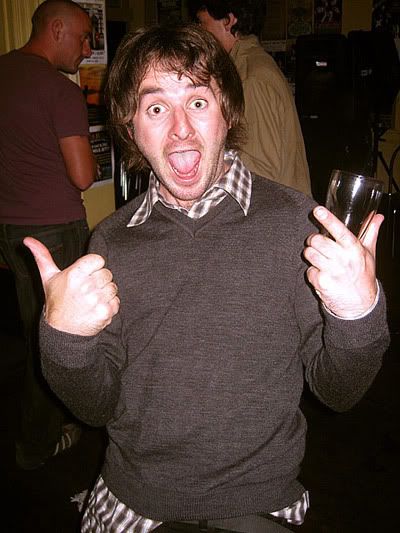 Asking where I'd been tonight and which bands I'd seen: this is the response he gave me the minute I mentioned Zeta was one of those lucky bands, and the awesome set they just played..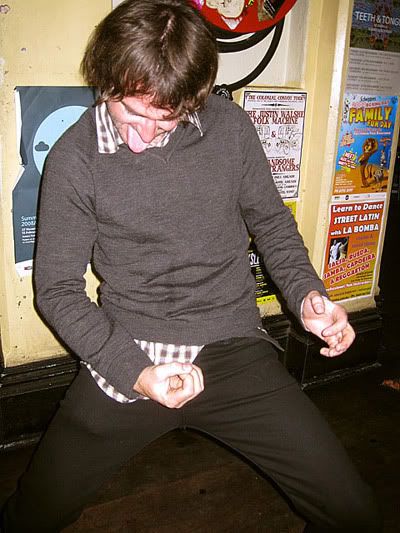 Upon clarification, he explained just what he meant by that gesture, as he went on to profess his undying love of all things Zeta in the most unnecessarily graphic way possible (and only more so when you consider just how much hell I've put them through already) as he presented me with THIS spot on accurate impersonation of how Sascha "acts" on a live stage. I don't quite know if his friend shared the same undying love as he did, or dare I say it "loved" Sascha even MORE; either way I was a little disturbed by this and after laughing for a good ten minutes I admonished them for everything BAD they ever said about them (I mean c'mon they're friends! would I ever do that to a friend? *cough* hell no!), and vowed vehemently that not only would I NEVER publish these photos for as long as I live, but I'd promptly delete them all the first chance I got!
3:13AM
- Which of course we all believe, just like we readily believe that returning to Rhino Room was the best idea ever; as not only did I promptly bump into Sascha again (and show him all those photos I just took which clearly I didn't delete, all the while laughing hysterically.. which clearly didn't help!), we also decided that we should go elsewhere to drink ourselves further retarded, and that ONE place would be Supermild. Genius! Briefly we thought of walking all the way there until a designated driver, who for the purposes of anomynity we'll simply call "Gavin", rather helpfully offered us a lift there (as clearly that isn't his real name just as this isn't his
photo
).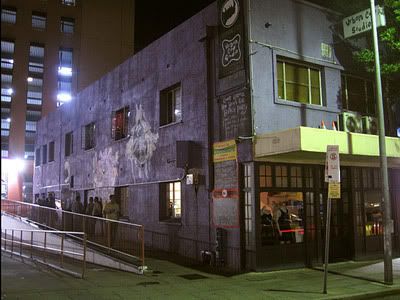 3:43AM
- Of course there was all seven of us who wanted this lift to Supermild, and Gavin's car had room for only four of us. Upon realising this it was quickly decided that someone should go in the boot. Sascha quickly volunteered himself, only for us to eventually realise that there was just too many of us, there was no way in hell we were going to fit six people in this car let alone seven and we should all quit while we're ahead. Of course I could go on to claim that we simply walked to Supermild instead, but I believe THIS photo speaks for itself. Bonus points to Sascha if he uses this as his facebook profile shot (duuuude you know you wanna!) and extra bonus points if I actually live to see the end of the day after I publish this shit. Sometimes some people get all the luck in this world and as far as this episode is concerned? Sascha just won himself the lottery!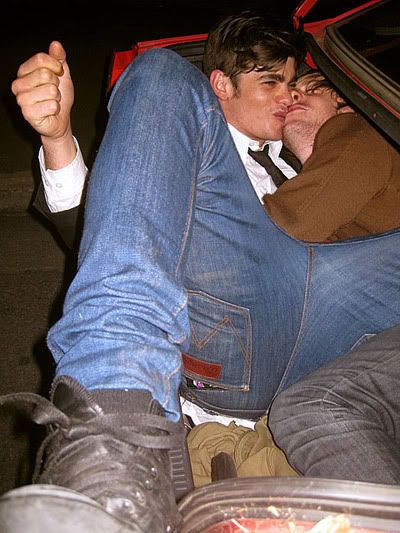 3:57AM
- Somehow we all made it here alive and in relatively one piece (although there's a good chance a few too many braincells were misplaced along the way), something also tells me that someone else will be writing this blog NEXT week, I think we know
who
, and it will involve about 50-100 photos of me cut up into teeny tiny pieces: "but duuuude I'm telling you the chicks will freaking love this shit!"; but either way here we are, we've finally made it: waiting in a ridiculously long lineup outside of Supermild for longer than is ever entirely necessary! YEAAAS!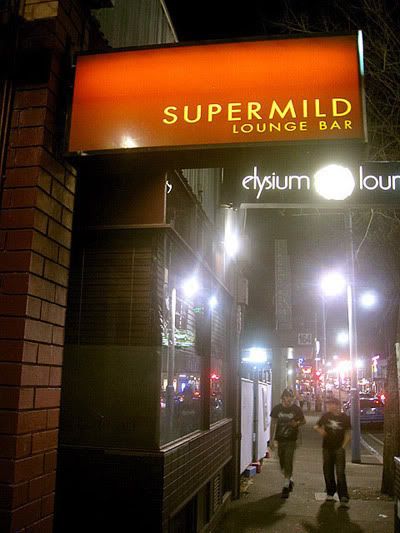 4:07AM
- It's anyone's guess how we made it inside. I assume we traded in our mortal souls for passage into this underworld, or quite possibly just the one (take one guess who we all volunteered) but aren't we so glad we DID! as Supermild is always SO full of surprises! I shit you not maaan! Everytime I come here, they provide me with so many NEW things to entertain me! Like Miranda on the right for instance (who could never be confused for her twin sister because clearly Eleanor hasn't forgiven me the
last time
she "won the lottery") everyone loves Miranda right? she's awesome! Or Steve, the drummer from Swords, who I've never seen here before in my entire life as clearly he's never snuck himself into every other
photo
every time I'm in here?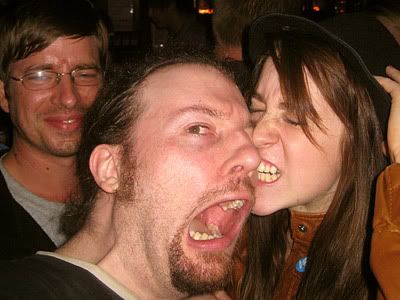 Just like I've never borrowed a hat to take a retarded photo of myself, no one's ever borrowed a pair of glasses to do exactly the same and what's this? we're drinking beer!? nooo it can't be!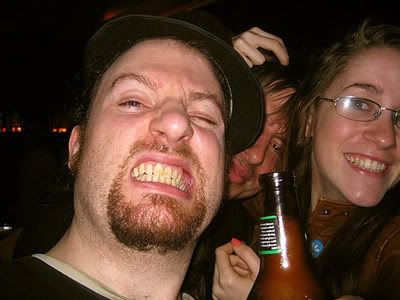 Yup, all we need for this cliche to be complete would be that hysterical
asian midget
who occassionally plays violin for Mona Lisa Overdrive, those freaks from
Lyla
that I see here every other weekend, and all those other idiots responsible for
Italian Spiderman
.. FUCK YES!!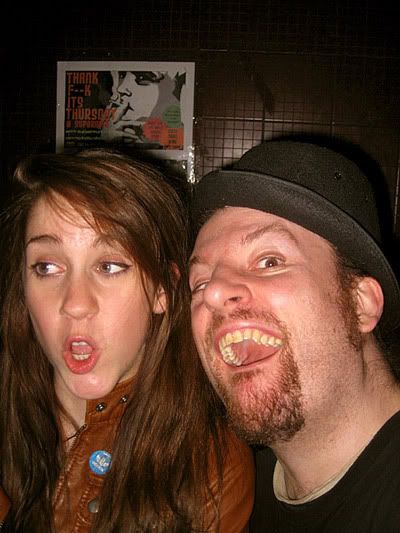 4:41AM
- Yup say no more, well actually I could say a whole lot more about this (as this segue is utterly imprehensible at best) but the last time THESE idiots got extensively involved in an episode of Spoz's Rant that didn't otherwise feature their band Lady Strangelove? Craig Nicholls from The Vines went totally
batshit insane
and cancelled their entire Australian tour. Enough said!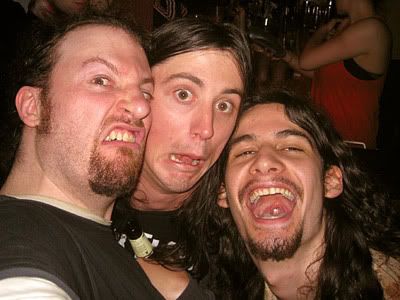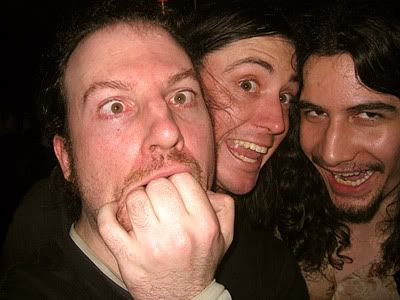 5:10AM
- I vaguely remember there was once a point to all this. I think it was originally something about "the meek shall inherit the earth", then some gibberish about geeks and how it relates to the Adelaide shoegaze scene (beats me!?), then it somehow involves all four members of Zeta not speaking to me EVER again (I swear I don't know how the hell that shit happened!?) only to somehow end up here with Jenna Hawkins outside of Supermild for reasons even I can't explain myself out of. You may remember her from the time she ended up in the
background
to one of my photos at the tail end of that blog about
My Disco
. Or quite possibly you don't as only a crazy person would ever remember shit like that. Either way, she thought it was the most head explodingly awesome thing ever, in quite the same way that she probably regrets ever telling me that as now she finds herself in the foreground to photos quite as head explodingly awesome as THIS one.. fuck yeah! Again I think there's a point to this, but I've since forgotten it..
5:15AM
- This is where the night ends when Jenna subsequently throws me into incoming traffic, or quite possibly moments later when I find myself in an ambulance, or quite possibly many hours after that (and well into the next day) when I wake up in a metal filing cabinet again with a tag on my toe AGAIN without the foggiest clue just how the fuck I even got there.. whooaaaa!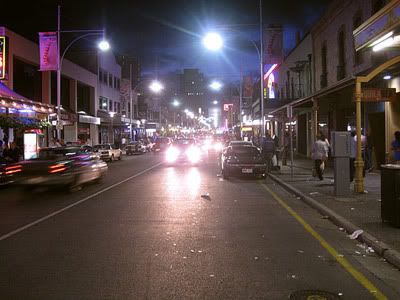 Which just goes to show that near killable freaks like me have no place in this world. We are a dying breed in every sense that I realised that's an oxymoron moments after I wrote it. We are an anachronism. We are the waking nightmare of myth and legend that takes nothing short of a wooden stake, a silver bullet, holy water, fire, decapitation, direct sunlight or a nine to five job to kill us. It's time people like me step aside. The world is theirs now. It belongs to the dweebs, dorks, nerds and geeks. The meek shall inherit the earth. Divided they are weak, all it takes is hayfever season to mow them down like freshly cut grass but united (as surely they will be after constantly making fun of them) they're a force to be reckoned with! I bow, kneel and scrape to their infinite mercy: spare me! if not to use me for soylent green, or as a lab rat to test your chemicals on, at least because I am a performing monkey and sometimes I make you laugh..
Previously on Spoz's Rant:
Leader Cheetah + No Through Road + Young Hearts Fail