WHITE RHINO + DIPLOMAT + SWORDS
"BONE MACHINE" @ URTEXT STUDIOS / Saturday July 26th 2008
There are many great mysteries in this world that science has yet to provide answers for: UFOs, crop circles, Bigfoot, Santa Claus, the Loch Ness Monster, all those disappearing bees, just what exactly they put into Burger Rings (I've heard it's an exotic mix of sulphurous ash, charcoal and saltpetre.. oh no waaiit, that's gunpowder!), but none is more utterly insignificant than the mystery behind the "master plan" that goes into picking all the gigs for Spoz's Rant each week. HOW do I choose one over the another? is it all determined by a single roll of the dice? a flip of the coin? some needlessly complex mathematical equation? ouiji boards? the flight pattern of birds? tea leaves? tuning into the white noise of my tv and bugging out for hours on end? Many of you may've also wondered if such a thing can be "bought". What IS the price of a Spoz's Rant? can it be coerced through bribery, blackmail, extortion, the offering of sexual favours? (*sigh* if only!) can it be quantified, measured or floated on the
stock exchange
? Indeed I've heard many a rumour, wild and improbable stories over the lengths some of you freak have gone to just to get noticed by this website. Yup, I bet you're reading this right now, waist deep in burning goat carcasses, walls to ceiling covered in arcane sigils written in your own blood, banging both fists on your keyboard and screaming "WHY HAVE YOU FORSAKEN ME!!!?". Regrettably I have no clear answers, sometimes this shit is a mystery EVEN to me! Out've all the ridiculously awesome choices I could've made tonight (and believe me I wish I could've made ALL of them): Children Collide, Spod and Skeletons at Jive? TZU and Poetikool Justice at Producers Bar? (or *cough* your pissy little gig?) what insane unseen force drove me to Urtext Studios instead!?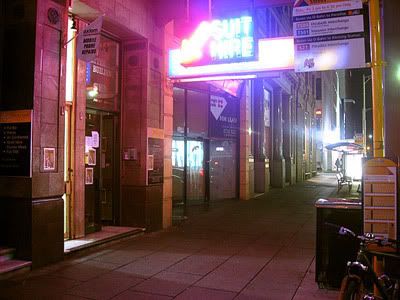 "WTF.. Urtext Studios!? I thought this rat infested hell hole got shut down yeeaars ago!?" yeah, I know!! I'm as shocked as you are! You need look no further than all my extensive coverage throughout 2007 to stop and wonder just
how
many
laws
of
physics
they
had
to
defy
to keep this place from collapsing in on itself poltergeist style. Urtext Studios: down Grenfell Street, just past the neon arrow that screams "SUIT HIRE!" and opposite the sushi train, where all house parties go to die! Urtext Studios: where beer bottles get thrown off balconies and cameras get dropped into plastic cups of pale ale! good times.. goooooood times! Yup, clearly they must be throwing one HELLUVA party tonight if I'm ditching everything else to go see it.. OOOOH YES!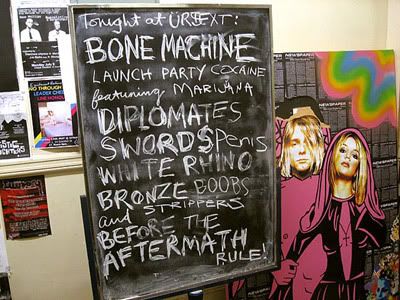 Yup, I blew off VIP doorlisting to both Spod/Children Collide aaand TZU/Poetikool Justice for "Bone Machine": a pissy little art exhibition opening at Urtext Studios featuring the select works of Jolan Lisle-Oakley, Adrienne Locke, Luke Davey, Ben Moss and the always exciteable Jack Wilde!!? woweeeee!! aren't you glad you tuned your browsers to Spoz's Rant for THIS one!!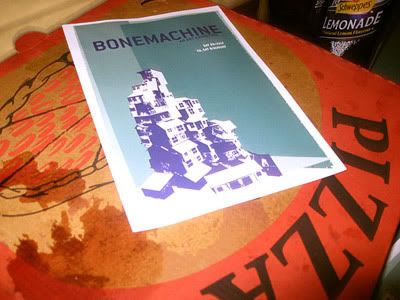 And why WOULDN'T you want to get a piece of this action tonight!? just LOOK at all these wild and wacky artworks on display! such wealth of culture and creativity from Adelaide's art scene! like this intricate tapestry design by Adrienne Locke: "life ain't pretty for a dog faced boy.."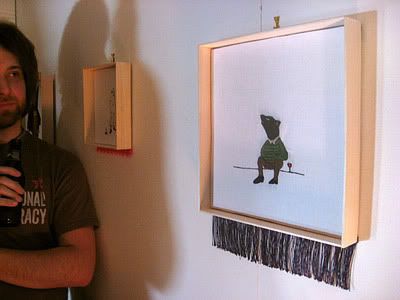 or this whimsical illustration by Jack Wilde: "quadruple amputee Jon Lovitz flying a nose kite"..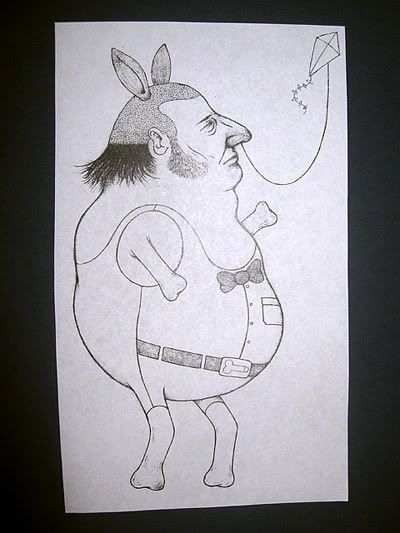 or what about these three prints by Jolan Lisle-Oakley: "Spoz read the Bone Machine catalogue for all of five minutes and now he's just making this shit up as he goes along". Awesome! such wild and whimsical insight! such endless interplay between positive and negative spaces! to be blessed with such captivating wonder!? aaah truly we're living in a renaissance of the arts!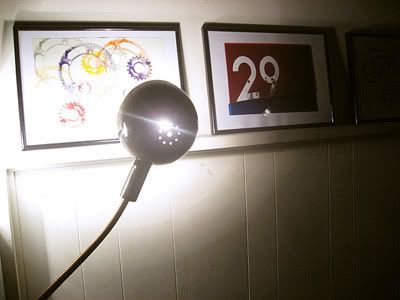 But of clearly I've left the best 'til last, as no coverage of "Bone Machine" would be complete if I didn't make at least a passing mention to this installation by Luke Davey, which is either entitled "100 West 1", or quite possibly "what the fuck is this shit I got stuck up me vacuum cleaner!?"..
Covering close to a quarter of the floor space upstairs in red dirt, rough hewn rock, rows upon rows of plywood houses and sculpture contributions from a wide array of Adelaide's finest, it truly IS the centre piece of the night! Better yet, it's also an interactive piece! As Luke Davey has foolishly provided buckets of textas scattered about the floor so any slackjawed yahoo in attendance can scribble their own junk all over these house and make this work their own!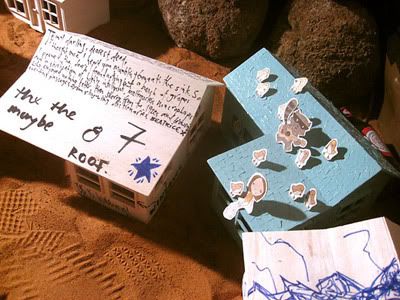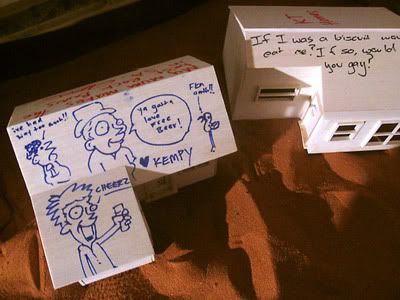 Awesome! there's no way this stunt is going to backfire on all the organisers now, is there?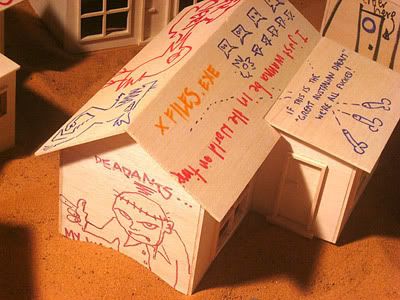 Now you may briefly be wondering WHY I'm covering an event such as this. Could it be possibly I've ditched all the drunks and the low life's and now I'm writing for the art wanks? has Spoz's Rant turned a new leaf? will I be spending all my time from now on sipping lattes and discussing the finer points of Frederick Nietzsche!? FUCK NO! Just like every other yammering baboon packing Urtext upto the ceiling tonight, I'm here for two of three good reasons tonight: (a) they were stupid enough to invited me, (b) FREE ALCOHOL BITCHES!! WOOOOOOO!!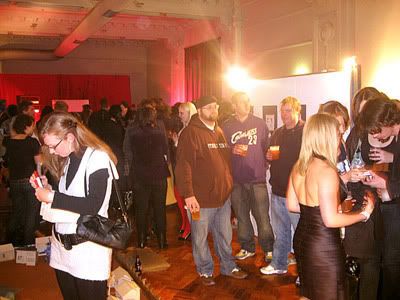 Which may begin to explain all these dribbling idiots (some of them all too familiar) mugging for my camera tonight. As for all the 3D glasses? duuuude fucked if I know.. some gimp was handing them out when I walked in tonight. Although I'm beginning to suspect they may have something to do with series of red/blue artworks housed in lightboxes by Ben Moss (that I was suspiciously incapable of photographing tonight.. ooops!) *cough* hey what's that over there!!? *runs*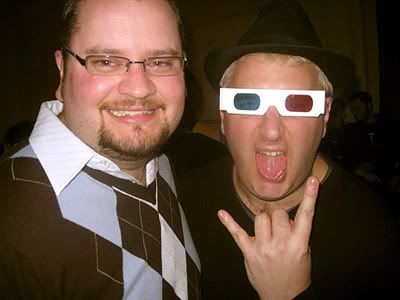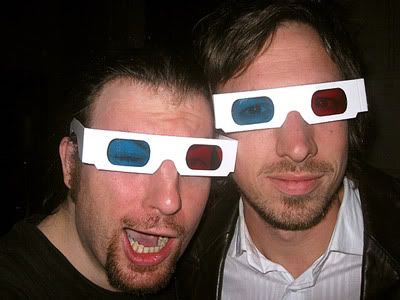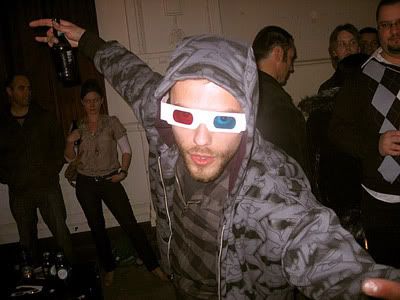 As for the 3rd reason I'm here? obviously this WOULDN'T be Spoz's Rant without me also sampling (c) Adelaide's finest knuckle dragging selection of flannel, math rock, post grunge and 70's retro white trash. Or for those of you NOT fluent in bullshit: motherfucking live bands yo!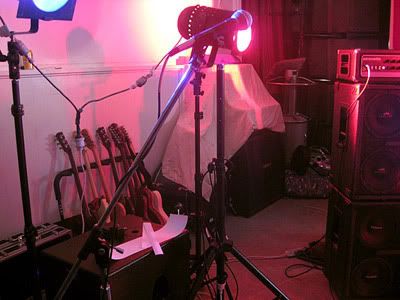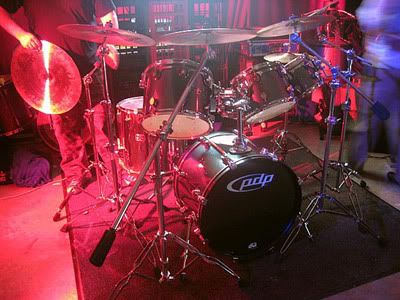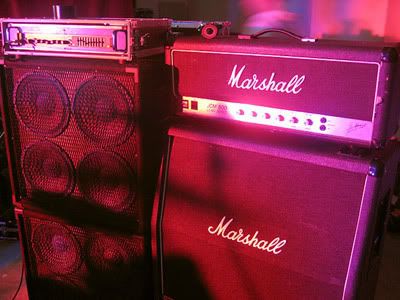 and unlike every OTHER gig ever featured from this human toilet somebody at Urtext Studios; Stan (or quite possibly some other snuffling gimp in a neck beard) has finally ponied up some half decent stage lighting for the stage so I wont be crawling around the floor taking shots of the fucking ceiling all night JUST so I can get something in focus! YEAAS!! With extra bonus points to whoever installed that genius light box above the stage that not only boldy displays the name of all the bands playing tonight, but also manage to fuck up the exposure of every single shot I took if i ever went anywhere near it (aaaaah live band photography, dont'cha just love it? :)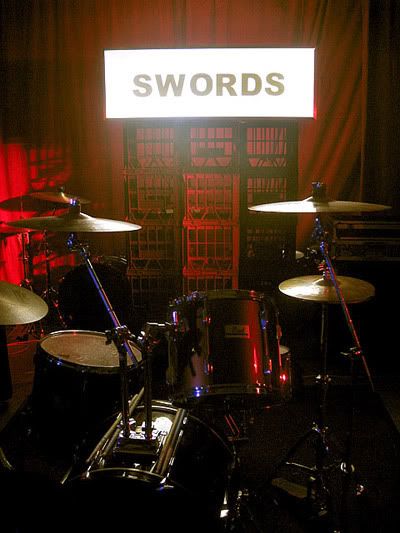 BEFORE THE AFTERMATH
(***1/2)
myspace
::
The first band tonight would've been the awesome side splitting headache that is Bronze Chariot; but since I've only just woke up a few hours ago in a cemetery just south of the Mexican border (wow.. again!?), clawed myself through six feet of compacted dirt, stole me some replacement clothes, had three slices of toast, freshly squeezed orange juice, chilled monkey brains, hijacked a black hawk helicopter only to crash land it into the Advertiser building to get here (pfffft no big loss); I arrived just in time for the second band instead (yeah I know it's a piss poor excuse, but how else do I explain all these weird bruises I got last night!?). Before The Aftermath, otherwise known as "BTA" or "why the FUCK is that dog howling on my roof at 3AM!?" are everything that is awesome about the stoner rock sounds of the 70's, 80's and 90's badly dubbed onto a cassette tape and melting on the dashboard moments before your car flies into that stobe pole. They're the sound of Meatloaf, Iron Maiden, Cold Chisel, AC/DC and the silent screams of all the braincells I've killed so far tonight, just so I could be nearly drunk enough to appreciate the finer points of all their cinderblock guitars and neanderthal screams. And they're the LAST band you'd probably ever expect to see opening an art exhibition.. FUCK YEAAAAAH!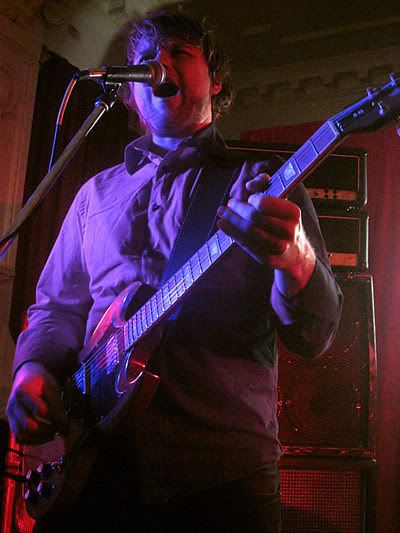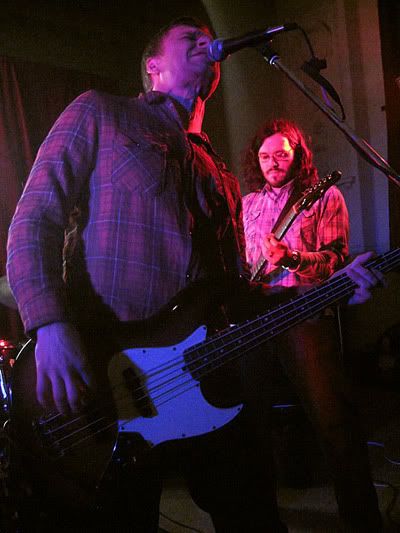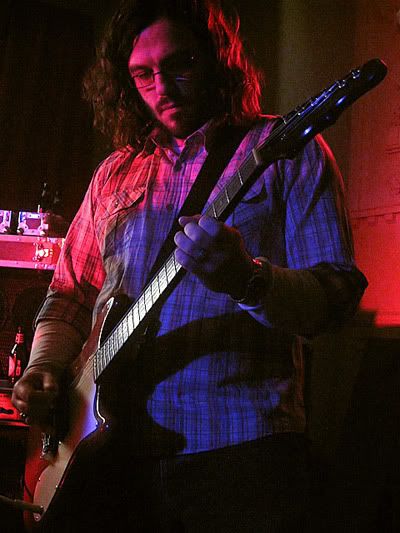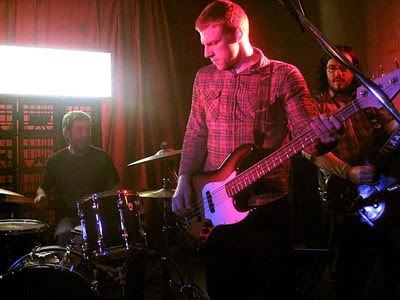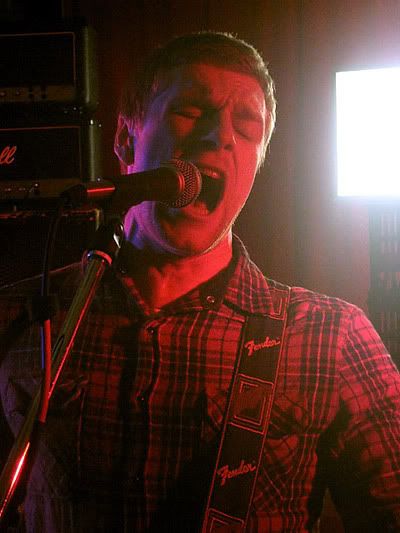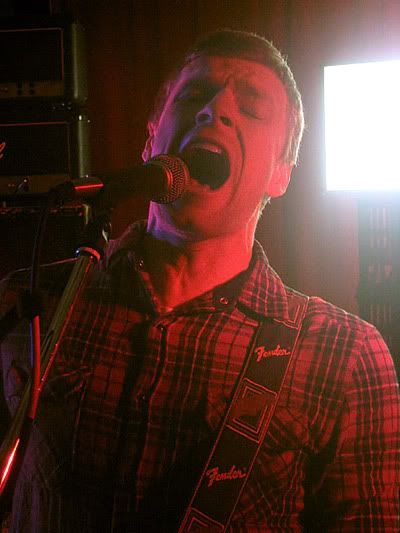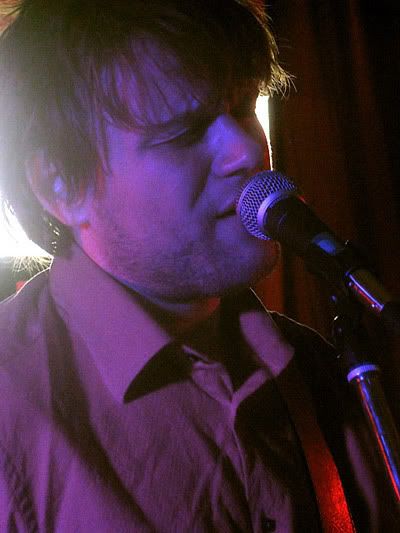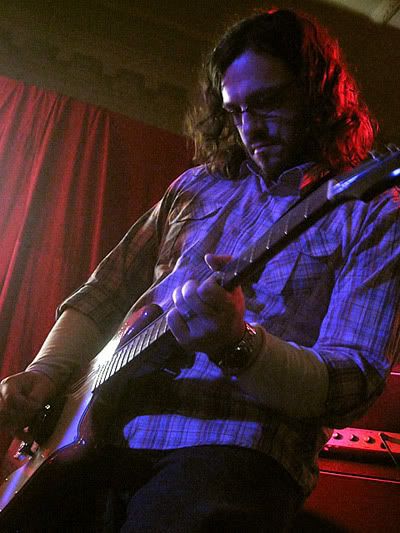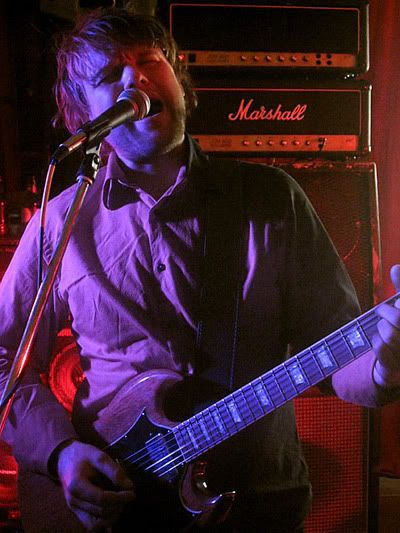 However, instead of blessing us with their usual meat flavour bludgeonings; tonight's set is a much cruiser affair: more suited to the refined art crowd here tonight (ie: the festive swarm of knuckle draggers busily drinking everything in sight that isn't nailed down and maddly scribbling dick 'n balls all over Luke Davey's installation). So smooth, so easy going, so whistfully nostalgic; Before The Aftermath are just the thing for Sunday afternoons by the barbecue, lazy games of backyard footy, starting fires in caravan parks, wife beatings, lynch mobbings, kicking your dog and for doing burnouts with a beaten up old brown Datsun in your supermarket parking lot. And seriously, what more could you ask for out've life? alcoholics unite! we have your anthem!
SWORDS
(***1/2)
myspace
::
Speaking of all things brown (and quite possibly Datsun related): many years ago after a few too many pints of piss (in one of those aimless moments when I'm prone to inventing entirely stupid things that should NEVER come to pass) I came up with a genius concept for a live band: nine bass players, one drummer, aka "The Sounds of Brown": the ULTIMATE fuckoff mad science experiment to all things brown. The brown flavours, the brown smells, and oh yes! the oh so very rich sounds of the brown! "Wait.. you mean nothing but a 5-20Hz bottom end cranked out 10ft tall and a hammering beat to drive it home!?" FUCK YEAAAH! Thankfully I was never batcrazy enough to put this idea to fruition; but like all things awesome in this world, it didn't take too long 'til someone else gave birth to their own steaming monument to brown that could be none other than THIS brown band: Swords. A band so diabolical in its infinite browness that they compacted the nine richters of brown down to the density of two! Jolan on the left, Mark on the right, Steve in the middle!? two tuning forks and a metronome fist punching forth the very beast of brown!? YEAAS! Right from the outset, I knew we were in for something special!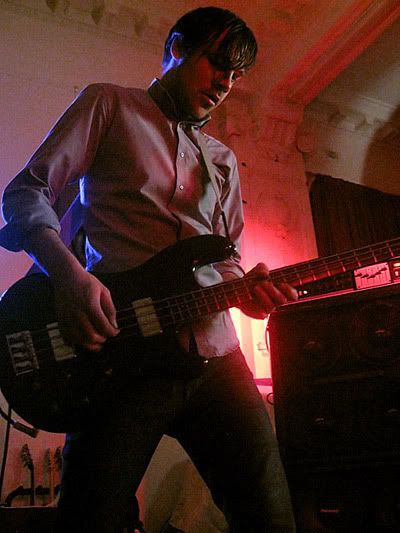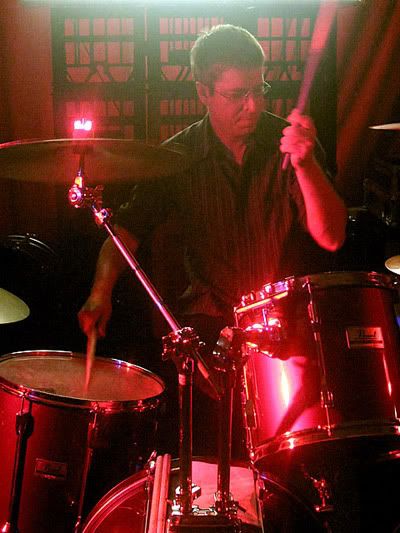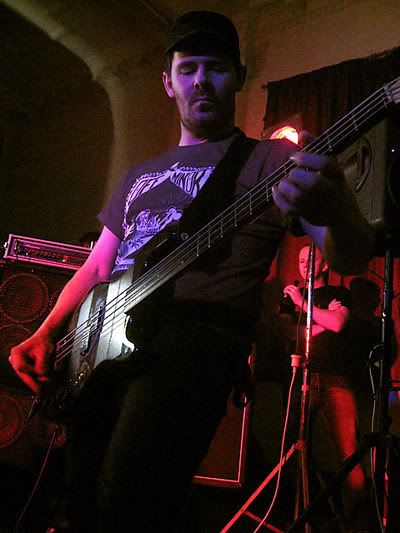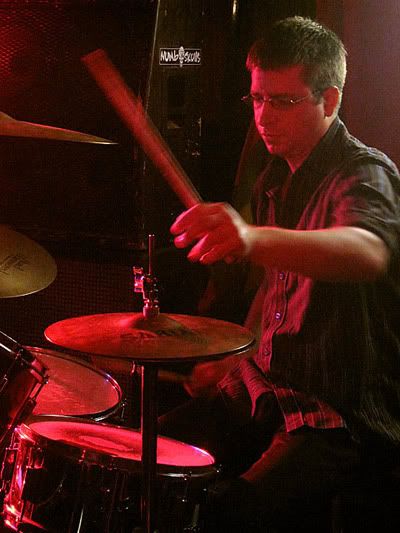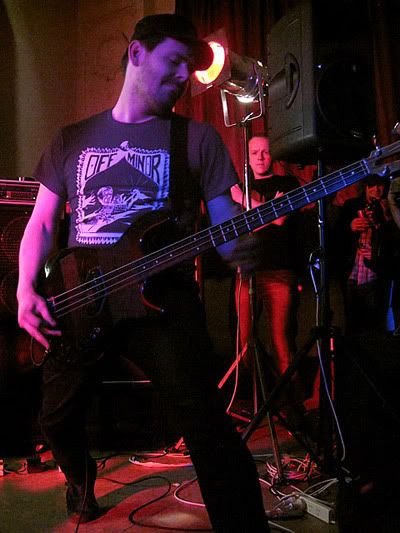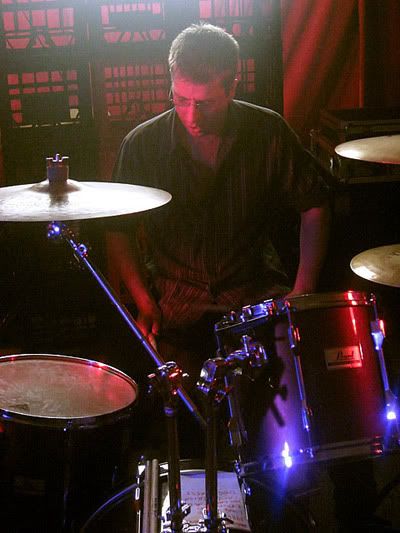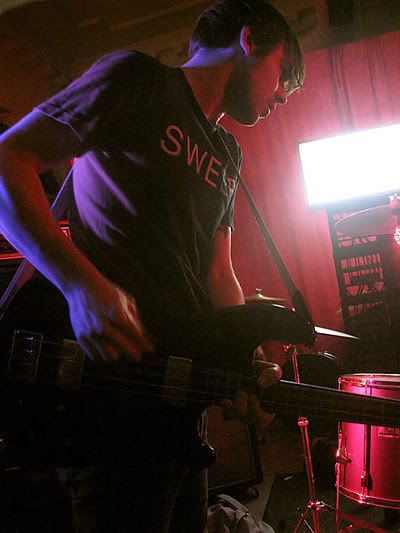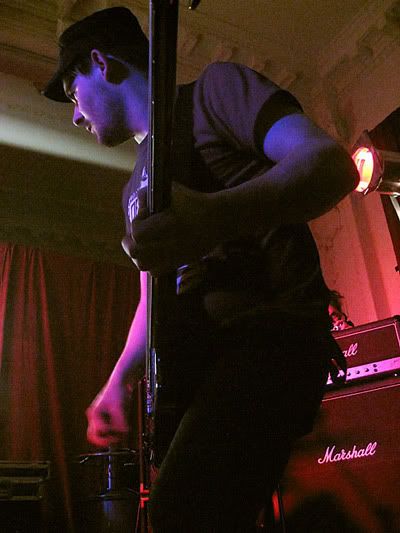 But like all the best doomsday machines, Swords are cursed with one teeny tiny (quite possibly fatal) flaw. For all their awesome brown power, for all the arsenal (hehehe.. arse-nal!), being only two bass players and one drummer on stage, there's only so many sounds you can ever possibly achieve WITH the brown. Yes, crazy I know! for surely this shit is limitless! But such was the challenge faced by Swords tonight as they attempted to broaden the scope of brown, with mixed results. Is this "lightly dappled" brown, "low tar mentholated" brown? "Sonic Youth" brown? or "please for the love of God, stop mentioning the colour" brown!? Hmmmm.. as much as I respect the awesome power of the brown in all its infinite flavours and densities, personally I still prefer when they just beat each other senseless with this shit.. fuckit, what do you think?
DIPLOMAT
(****)
myspace
::
Speaking of acquired tastes, up next we present Adelaide's number one reason to clutch your head screaming, bleed profusely from your eyes and ears, only to be pronounced dead moments after you hit the floor; otherwise known as "Diplomat". Yup, you can always spot a Diplomat fan: they're the one's with dumb grins on their faces whilst everyone else looks like the windswept chipmunk grimace from one of those 1950's G-force simulators. They're the ones walking down the street only to stop every 5 minutes, jam a finger up in their ear, wiggling it about in the vain hope the "phone will stop ringing". They're the ones hugging the speaker stacks at rock concerts, the ones you need to face in conversation. The legally deaf in mismatched shoes, corduroy pants, cardigans and flannel who exclusively work at Big Star. Contrary to popular belief, they didn't get that way through excessive ipod misuse, but through liberal doses of the Diplomat! Oh yes! count yourself lucky to be in their rarefied presence tonight. Not through lack of motivation, but simply through all red tape required just so they can get council approval these days. And if ever you find yourself at a Diplomat gig, and the top of your head is gently tickled by the light snow of falling plaster, there's no need to to run for your life moments before the roof collapses and kills everyone. Oh no! soak it all up with a smile.. death by Diplomat is the ONLY way to go! :)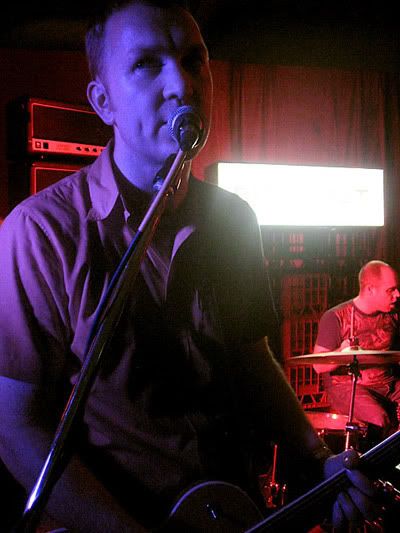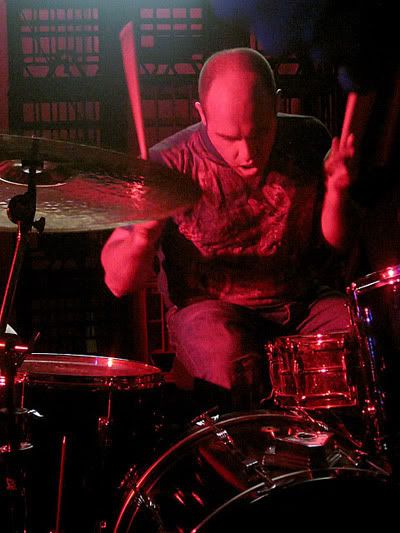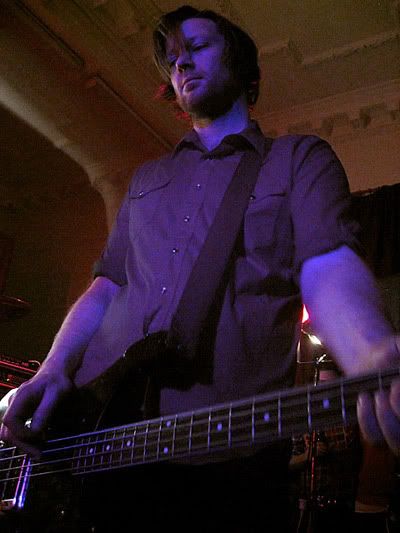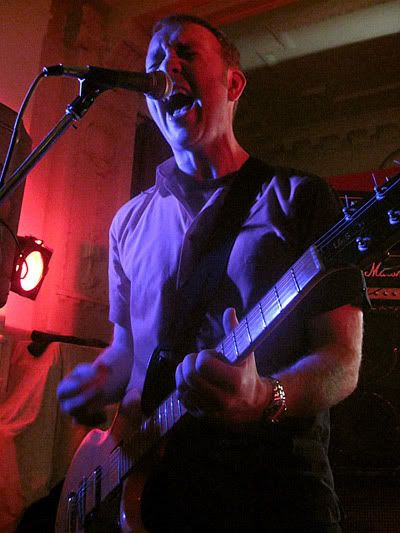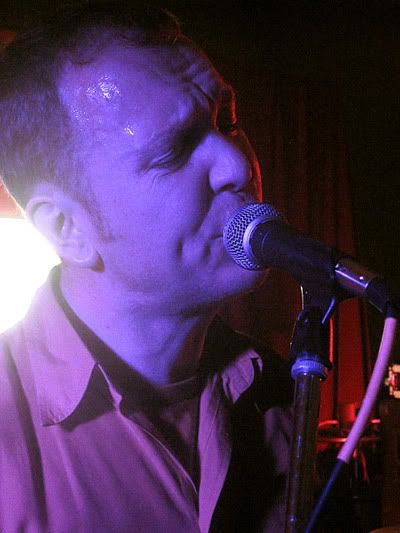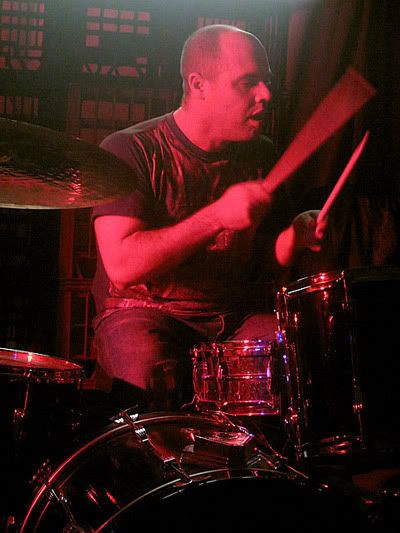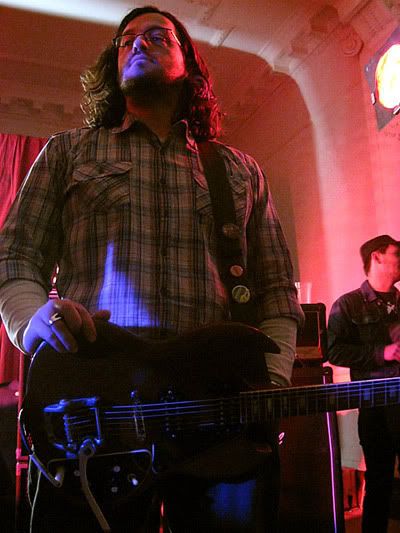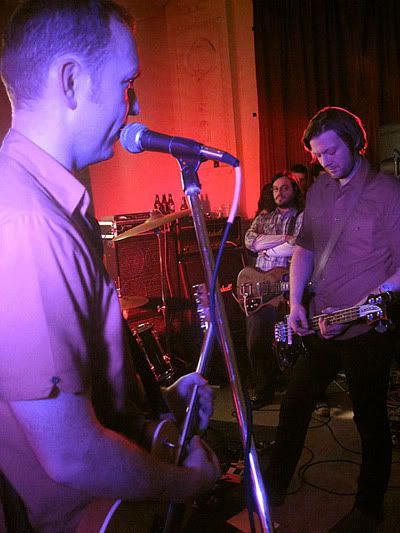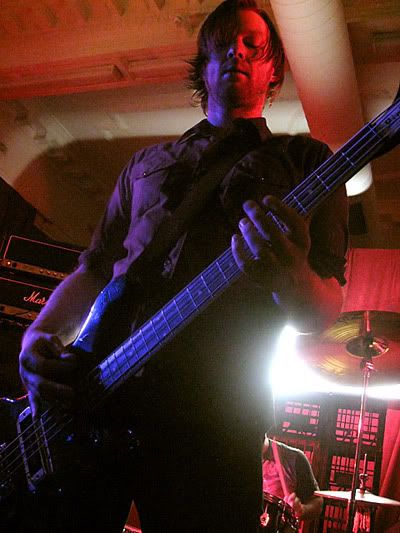 Still, attempting to describe Diplomat in terms that don't border on the bible or apocalyptic can be tricky at best. Maybe it IS true that deep down below all those layers of thrashing sound and psychotic chug there dwells a gentle soul? Maybe they really DO sound like the very best of 90's post grunge and alternative: like a milk and cookies rendition of Something For Kate meets R.E.M. meets the soft loud dynamic of The Pixies and Nirvana, soothing you gently to an eternal sleep. And granted a true aficionado could easily discern such subtle differences falling between the notes: however, attempting to capture it all on a compact camera inches away from stage without your head exploding is a different matter. Try it for yourself: keep cranking the volume knob on this video, and the minute the sky turns purple? baaby you've hit the sweet spot! :)
WHITE RHINO
(***)
myspace
::
Urtext Studios experienced a somewhat lengthy delay before the final act could make its way to the stage tonight. I'm not sure exactly WHAT the holdup was. All I remember is what sounded like sirens, a crack team of structural engineers bursting through those doors in hazmat suits, someone (quite possibly a seismologist) frowning at the walls with a tuning fork, and one weird moment when everyone was required to wear hats made of tinfoil, stand on one leg, the lights were killed, a small tingle of electricity followed by a sharp smell of rotten eggs shot through the air, only to regain consciousness moments later to the sight of THIS band: White Rhino. Few words could possibly hope to describe them, although I hear if you gargle some pigment paint, slap your hand against the wall, spit on it, and then surround it all with mad scribbles of deer, horse and buffalo whilst stick figures attack them with spears; you'd be right on the money! White Rhino, verily they're from a different age: some may say the mid to late 90's, I like to think the Mesolithic. It's all there in their furrowed brows, dredlocks, upright held bass and shit eating grins. It's the sound of 10,000 years of civilisation pissed up the walls, beaten with clubs and burnt to the ground.. and damnit, don't the crowds just go fucking apeshit to it!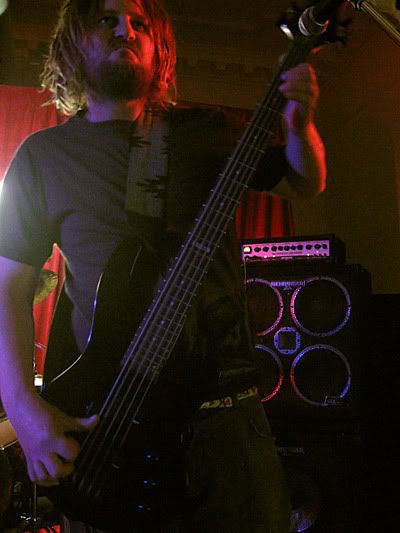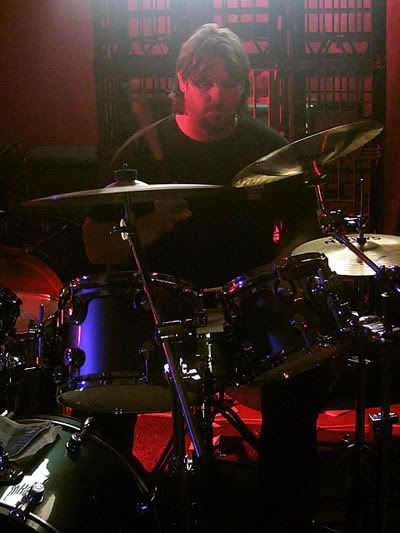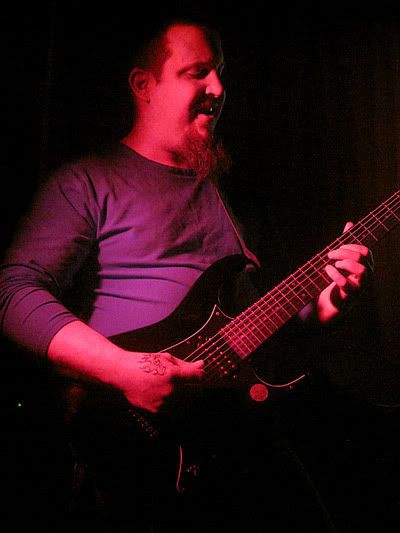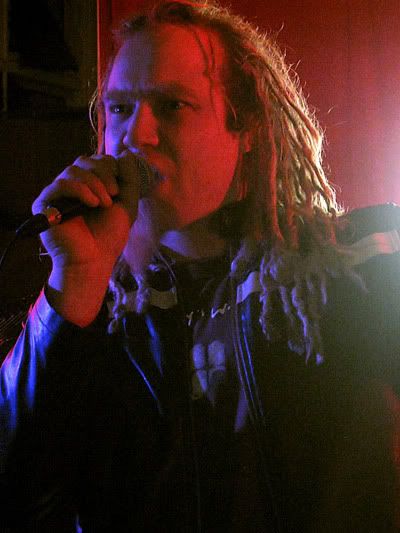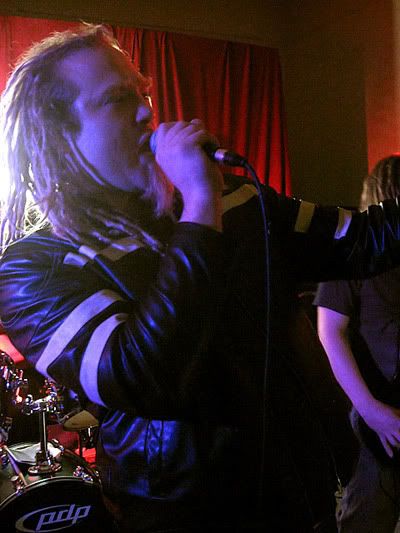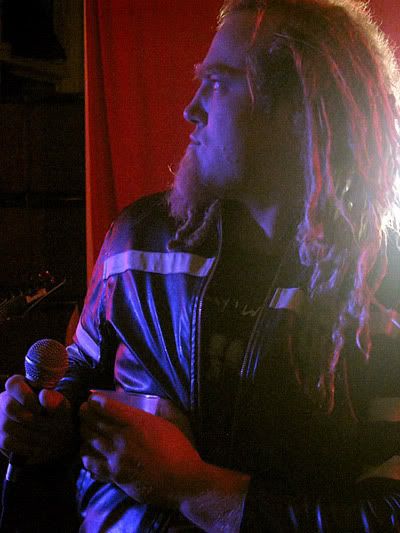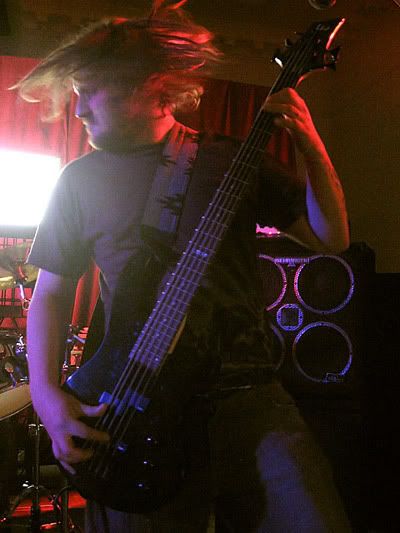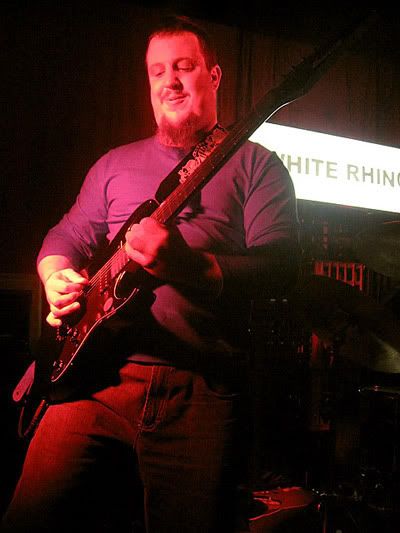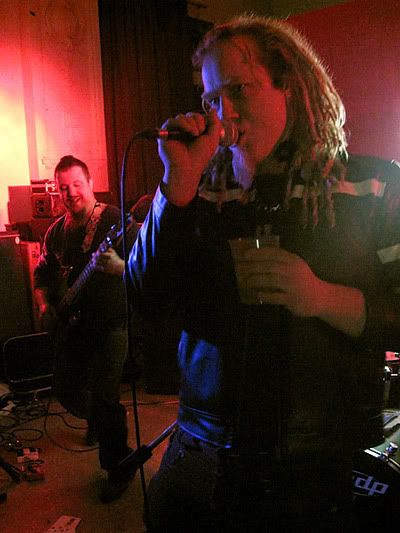 On face value you'd think some knuckle dragging pack of baboons sounding like a bucket bong cross between Monster Magnet and The Doors as performed by a nu-metal knockoff would be the LAST band you'd ever expect to find headline an art exhibition opening. And normally you'd be correct, at least until you consider the 100 cartoons of beer and the 20-30 bottles of wine this crowd's managed to plough through to get here. Sheeiiit! if you think THIS shit looks prehistoric, take a good look around you and you'll see it coming right back at you in droves: in hues of blue, black and grey, shrieking in unison, banging their fist and pissing on the floors whilst from behind comes the gentle showering of splintered plywood of what was once Luke Davey's masterpiece in urban planning!? Yup it ain't rocket science, it ain't even banging rocks, but in some way it's an all too fitting end to "Bone Machine". Even Tom Waits couldn't ask for a better tribute!
1:01AM
- By all accounts the night has been a roaring success. As I speak, packs of wild animals are scurrying madly down the stairwells, knuckle over fist and tagging all the walls, small fires are breaking out amongst the plywood and ceremonial mounds such are these are being hastily erected as humble offering to the gods who blessed us with much good fortune this night..
1:32AM
- And so moments before the helicopters arrive and STAR force troops burst in through the doors and windows to subdue this growing unrest, I take my leave and stumble my drunkarse out those doors and into the night. Oh and in case you missed the launch tonight, be sure to check out the exhibition: "Bone Machine" at Urtext Studios (2nd floor / 14 Grenfell St), it's open from July 26 to August 9th.. bring a chainsaw, fun for the whole family! :)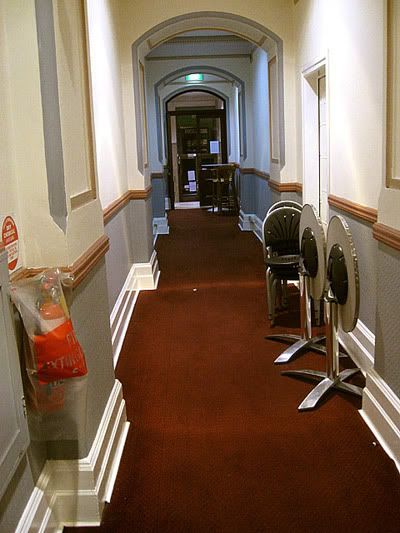 1:42AM
- First stop after Urtext: Producers Bar. I probably could've gotten here much quicker, but for some stupid reason I thought it'd be hilarious to walk the entire length of Grenfell street wearing 3D glasses. Which I'd recommend everyone should try at least once, just as long as you don't mind bashing your head into every street sign and stobie pole along the way..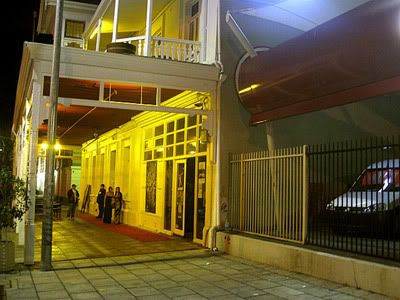 1:59AM
- I probably could also provide a perfectly rational explanation for all this shit too, but we all know "rational" went out the window long ago! It's also the same "rational" you'll see later tonight staggering blindly down the medium strip and pissing into oncoming traffic.. weeeee!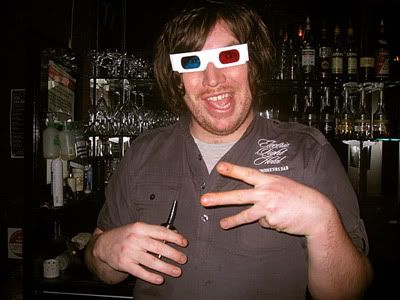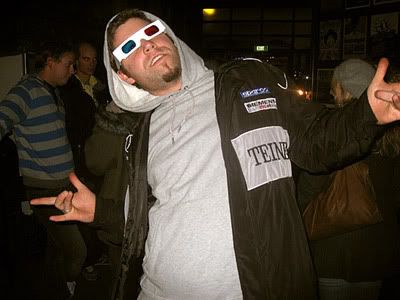 3:11AM
- Whilst the rest of the night is pretty much blown staggering aimlessly from Grenfell to Rundle Street in a drunken stupour, chasing a vapour trail of voicemail and SMS messages..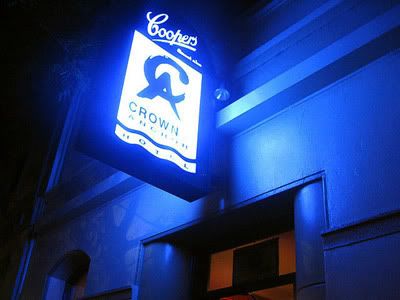 3:26AM
- One of those nights you always get past the 9th, 10th or 20th beer, when you're forever 5 minutes behind or 5 minutes ahead of all the drunks you're trying to catch up with..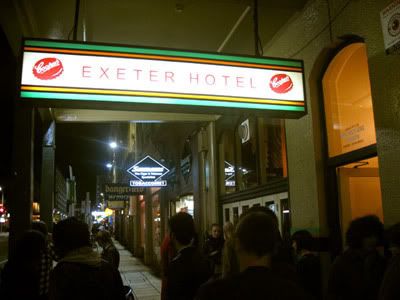 3:39AM
- "whoaa fuck! when the hell did THIS happen!?"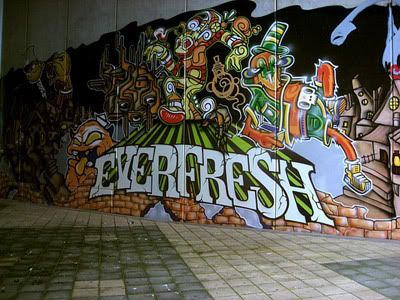 3:52AM
- Followed by that weird interlude in the middle where you end up at Zhivago for no good reason: "hey! what the fuck are YOU doing here!?".. duuuude, I have NO fucking idea..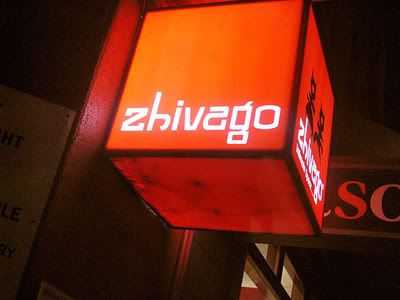 4:11AM
- Only to collapse dead here at Jive (thankfully at the ONE fortnightly episode of "Gosh" in
recent memory
not to feature a needlessly stupid lineup around the block), proceed to bump into a whole bunch of drunks I never planned to bump into, completely lose track of all those other drunks I spent SMS'ing all night trying to track down, laugh myself stupid and then throw my drunkarse into a late night bus home without a fucking clue what to make of it all..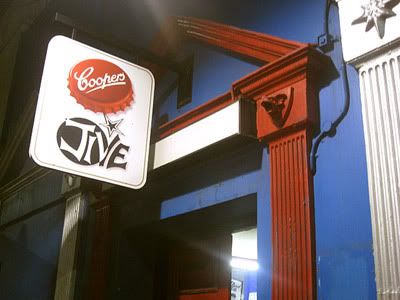 Yup I could probably claim that there's a "master plan" to all this: and years hence people will look back at all this and think "wow this is where it all began!". Maybe I'll even pretend that I'm making some kind of profound statement on the nature of society, humanity and everything in between. Maybe I'll even pretend it's "art". But seriously who are we kidding? we all know I'm just making this shit up as I go along: find a band, find a gig, find the venue, dive head first into those speaker stacks and enjoy the riiiiide!! fuckit.. what more could you ever want? :)
Previously on Spoz's Rant:
Kytes Of Omar + It's Warsaw! + Mayday Fair