DOUBLE HANDED + "BOOTLEG"
LIVE @ CROWN & ANCHOR + PRODUCERS BAR / Saturday June 14th 2008
Looking past all the live photos, the live videos, what I laughingly call "gig reviews": that amount to little more than carefully crafted insults to your intelligent (aaah I love my work!); I think we can all agree that a LOT of the shit I've seen and done for this stinkyarse music blog over the years has been pretty freaking aimless, pointless even. I'm seriously surprised more and more of you idiots are actually reading this junk each week (I think we may actually be upto 3-4 people now, woweeee!). I'm even MORE surprised I'm now getting flooded with all these record labels throwing artists at me wanting a review (hi guys, regretting your decision yet?). I mean fuck; have you actually taken the time to READ this shit!? "Spoz wanders from one venue to another. Spoz insults three to four live bands. Spoz gets hilariously drunk. Spoz laughs it up, forgets what the hell he was here for, collapses dead on the ground and does it all again the next week. Scene.". What the fuck! Not to say it ain't a fuck bucket of fun. Far from it. If this website could teach you ONE thing: it's just how MUCH obscene fun you can actually have if you get off the couch and bug out to this shit; there's a whole world out here maaan! But sometimes I wonder if we're just going around in circles here. What this shit desperately needs is a sense of occassion; not just another CD launch or yet another lame industry showcase (pffft); but an event! YEAAS! And wouldn't you know it, but finally someone is answering the call (that I've only just thought of now) and in the last month or two we've damn near been up to our nipples in it: "Transmision Live", "Wish", bands banding together to throw wild parties the likes we haven't seen in years. And tonight we're not just gifted with one but TWO of these festive fuckpuppets to play with! The first is "Bootleg" here at Producers Bar: presenting the finest indie crap weasels, skeezoid rockers and stinkyarse garage acts you'll ever find circling this side of the toilet bowl..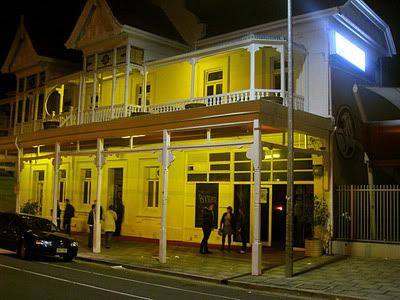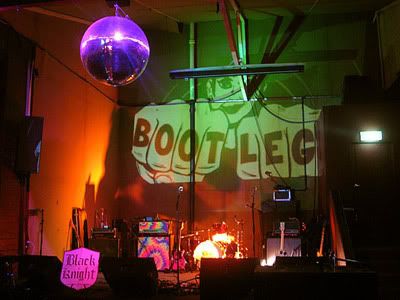 Whilst the second is at everyone's favourite open sewer (speaking of toilets): the Crown & Anchor, for the fateful return of Double Handed! OOOOOH FUCK! Both have gone out of their way to create an "event" that'll go down in history as the most mindblowing shit you'll ever see in the history of this scene (until pretty much until the next one). Both endeavour to show us just how much potential we have for carnage in this ghost town if we just got off our arses and DID something about it. And since there's no possible way I could ever choose between them; yup you guessed it, I'm going to attempt to cover BOTH at the same time... ooooh sheeeiiit!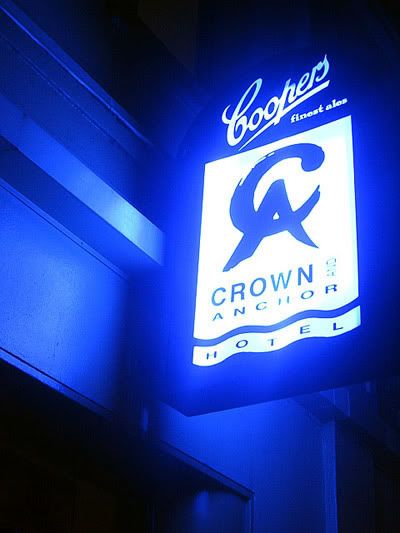 BLACK KNIGHT
(****)
myspace
::
First stop for the night is here at Producers Bar for Bootleg's opening act, Black Knight. Yup, Black Knight. They really ain't dicking around with this shit tonight are they? With a fuckarse insane name like "Black Knight" you think you'd be expecting a pack of hulking psychos on stage: 10ft tall, armor plated, breathing fire and delivering screaming murder to your jugular with the sharp end of a blade. Or perhaps you're simply imagining the Black Knight from Monty Python's "Holy Grail" getting all four of his limb hacked off whilst he taunts "I'll bite your legs off!" and laughing yourself retarded. Instead what we get is all the alcoholism and alienation of early 70's metal in all its authentic bleary eyed fury: Led Zeppelin, Black Sabbath and the occult edge of the Rolling Stones as performed by four pencil neck dweebs with fuckarse insane haircuts who collectively look like they haven't even graduated from high school yet (shit damn this teenage binge drinking epidemic is worse than we thought!). To think bands this authentically fucked up can just spring up like this overnight now? fuuuuck! They must've been training dweebs like these from birth with a broadband connection, a bittorrent, an ipod and the history of rock 'n roll substance abuse from 1955 to 1985. acid, alcohol and a whole host of uppers and downers? Mona Lisa Overdrive, Wylde Throe and now THESE idiots? As much as we have reason to be terrified by this latest development, we should be all the more fortunate too: duuude this shit rocks!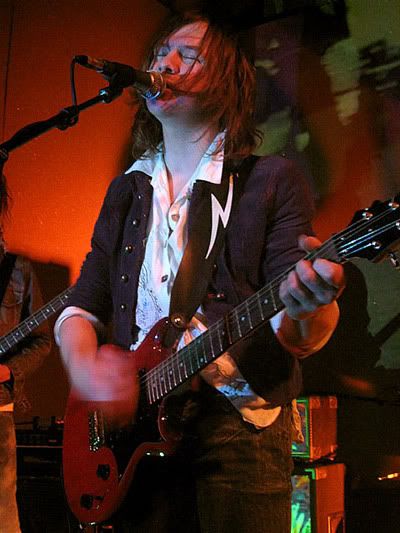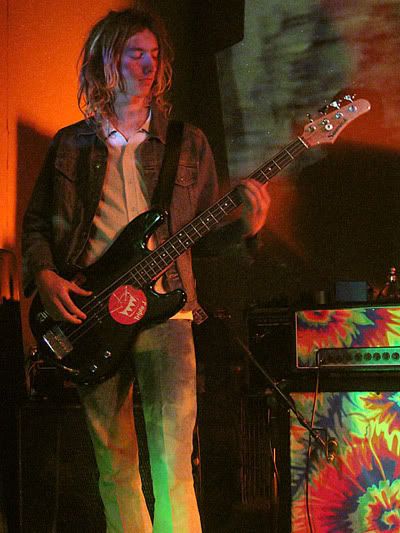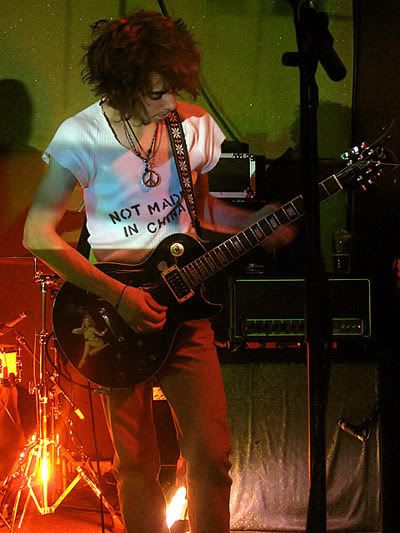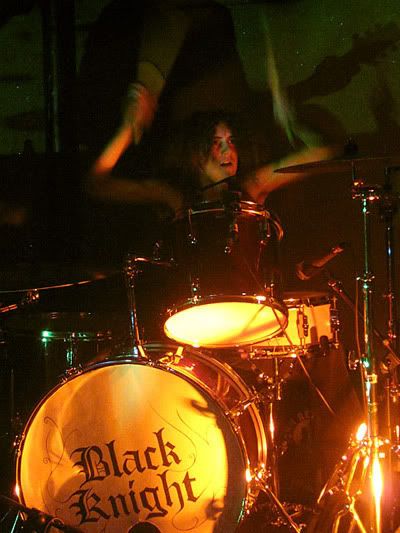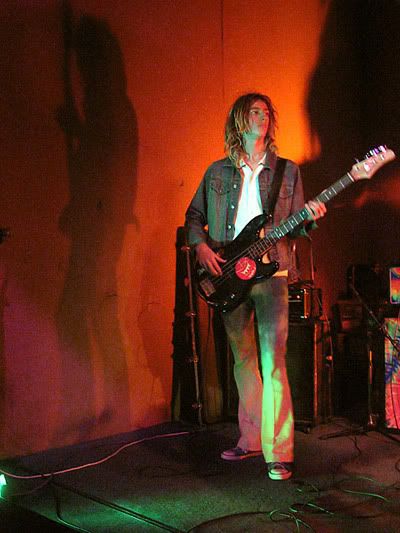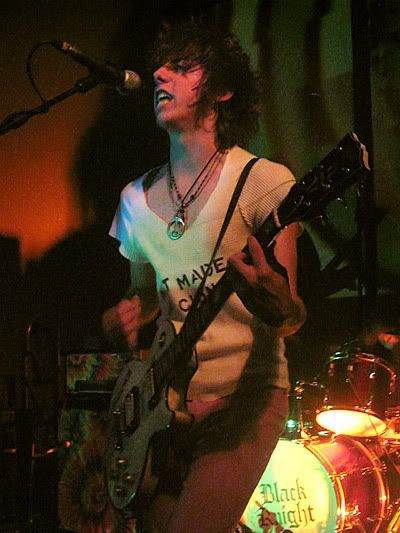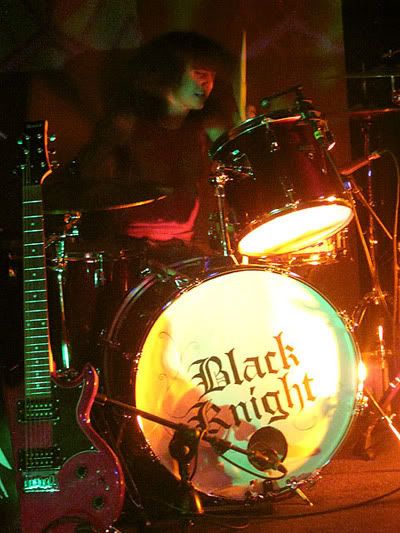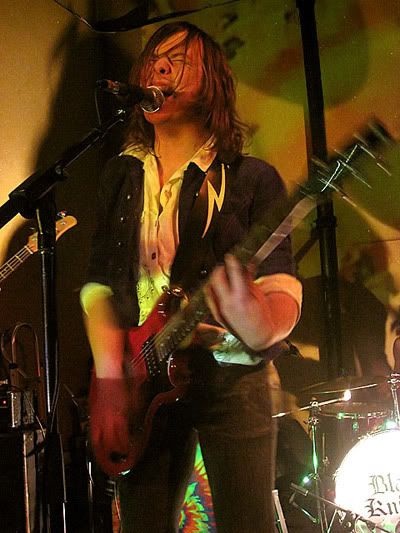 As long as you can get past the sneaking suspicion that we're witnessing the music industry's equivalent to the East German Olympic team; and as long as you can get past just how odd it is to watch four chronological midgets like these sound note for note like a pack of bloating rock 'n roll corpses four times their liver damage. You still can't go wrong with the shredding, thrashing, gunning and howling outbursts of 70's rock anywhere near as fuckoff insane as this!
THE BATTERY KIDS
(***)
myspace
::
Half an hour later and I'm off to the Crown & Anchor for their first act for the evening; The Battery Kids. Watching this band live on stage tonight, is rather akin to watching an entire year's worth of Neighbours or Home And Away episodes, condensed into the space of 45 minutes with all the quiet bits taken out. All the weeping, the gnashing, the howling, the temper tantrums, the hissy fits and the hysteria condensed into a blackhole singularity of woe that no one can ever possibly escape; and here I am without my shotgun? OOOH FUCK! On one of their better days they probably like to think of themselves as Adelaide's answer to Muse without all the guitar solos and the effects pedals. This is partially true (as, credit where credit is due, they DO thrash out one mean operatic onslaught). However, a more accurate description of what it is to survive The Battery Kids would be more akin to stuffing all the insane overwraught theatrics of Panic At the Disco!, My Chemical Romance, Pink Floyd's "The Wall" and The Dresden Dolls into the one room; taking away all their medication and then get Baz Lurhmann to direct it. Or in other words they're just like Silverchair's "Young Modern" with the volume turned waaay up..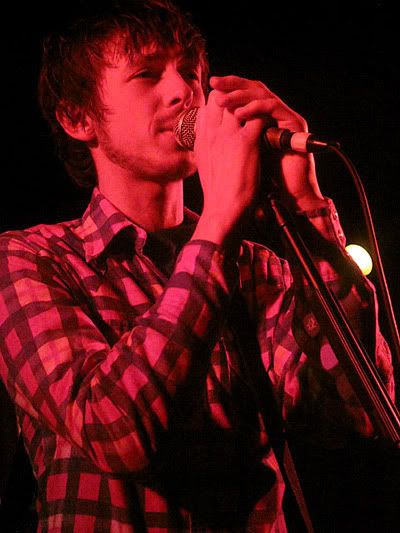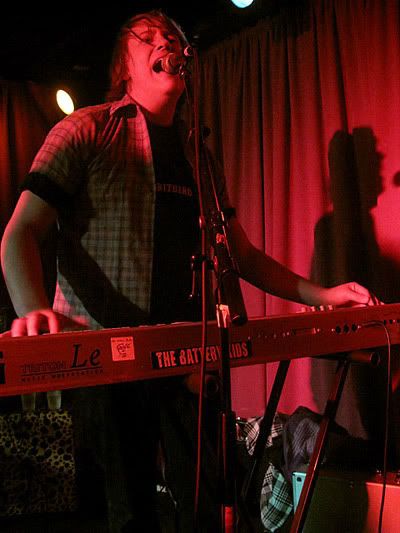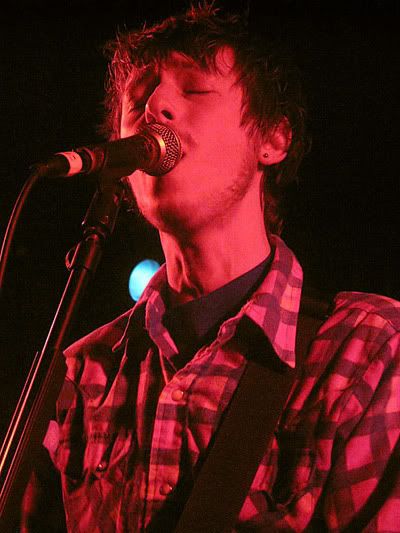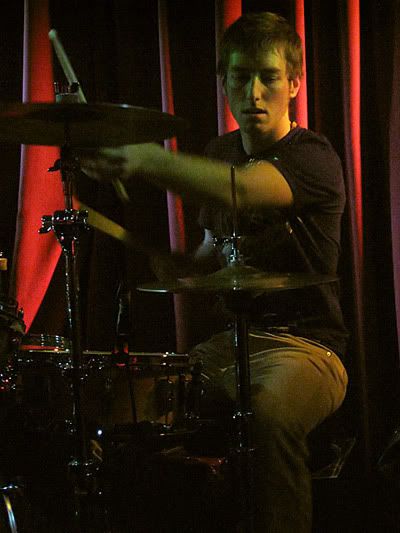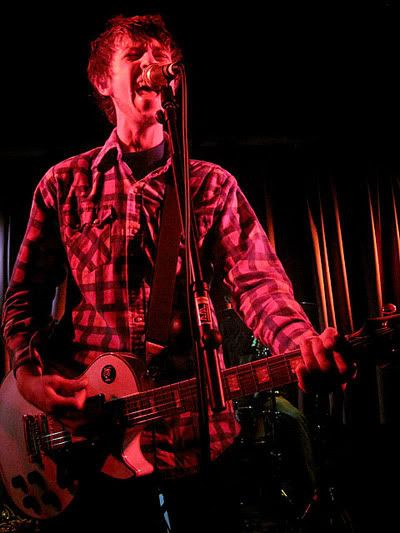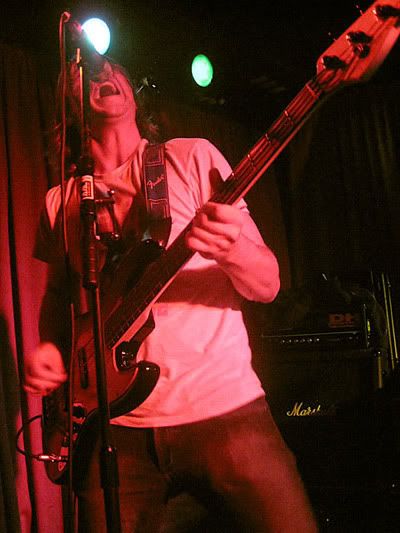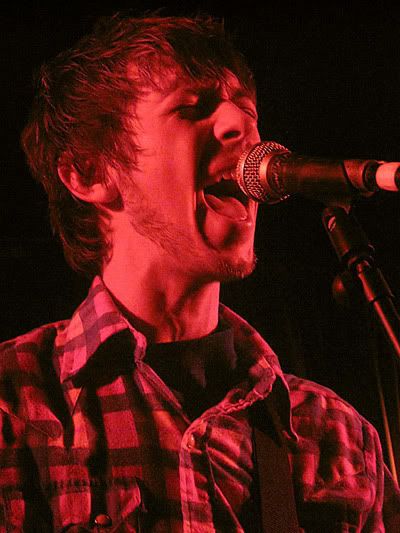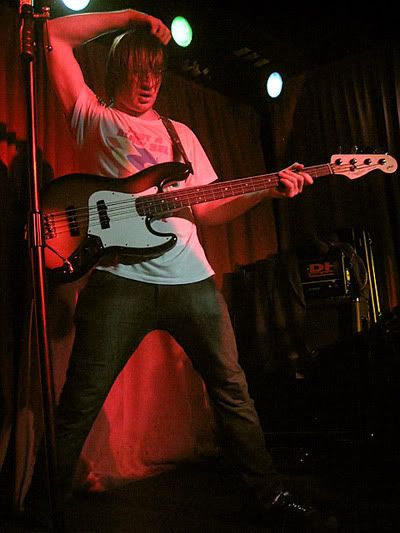 Cue the sounds of fist mashing piano and strings from Bowl Lipson. Lots of weeping, wailing, thrashing guitars and spastic nervous breakdowns from lead singer Shannon Juvan. Watch as their bass player Tom Krieg damn near throws that instrument of his into a wall, into the ceiling and back again accompanied by the exaggerated arm swinging of Shannon Simpson on drums and you may begin to wonder what you did to deserve all this. Nothing with this band is subtle. Even a howling widow at a Sicilian funeral wouldn't make for this much lunacy. I mean shit, the world isn't all that bad is it? there's still hope, riiiight? Yup, if ever the phrase "cheer up emo kid" would apply to any band, followed by a fistful of happy pills; it would be this one.. whooaaa!
TYGER TYGER
(****1/2)
myspace
::
Back to Bootleg at Producers, and up comes these all too familiar freaks to the live stage. Tyger Tyger. Aaaah how could we possibly forget Tyger Tyger? Providing 2008 with more punchlines at the expense of Travis Williamson's demented god complex than any other pisstake I've made at the expense of another live band this year. Just like all those caveman jokes I used to crack at the expense of Jon Walsh from Taught By Animals in 2007, those human statue jokes I dumped on Richard Clift from Tony Font Show in 2006 or all the endless "crazy frog" jokes I threw in the face of Dale Taylor from Munchkin back in 2005. Such is the fate of the serial offender. Some would consider it a badge of honour to be treated with such infamy as this. Some merely chase me with a fire extinguisher or a blunt end of a shovel (I still don't think Richard Clift has forgiven me for all those
GIF animations
). Either way, here we are at it again. Tyger Tyger. You're probably more than familiar with this band by now. Equal parts Arctic Monkeys and Madness? Six too many band members stuffed onto a live stage? A gig review that gets harder and harder to write as I run out've more and more Travis jokes? David Spade? Jodie Foster? Hilary Duff? Macaulay Culkin? puberty? weasels? ferrets? Santa's elves!? FUUUCK! just what DO I do? There's no way I can write an ACTUAL gig review now! Hmmm maybe I could make fun of Tim their bassplayer now. There's gotta be at least five jokes in there somewhere.. weeeeee!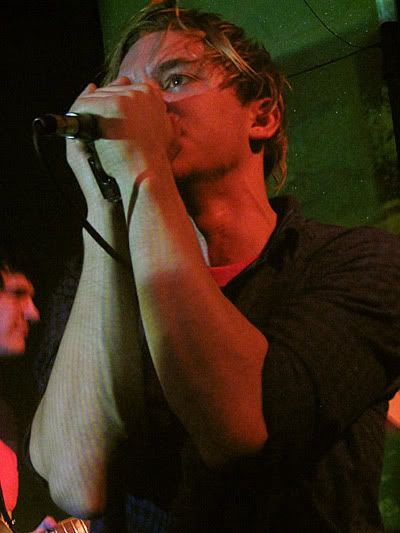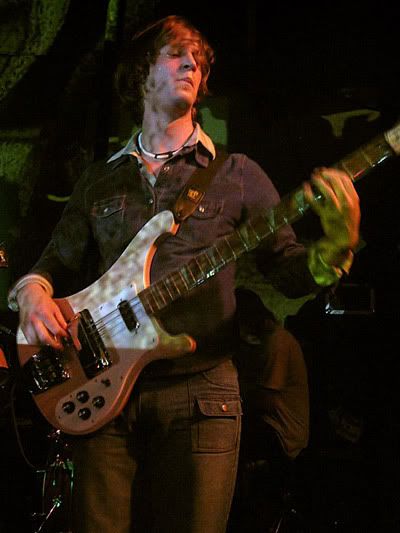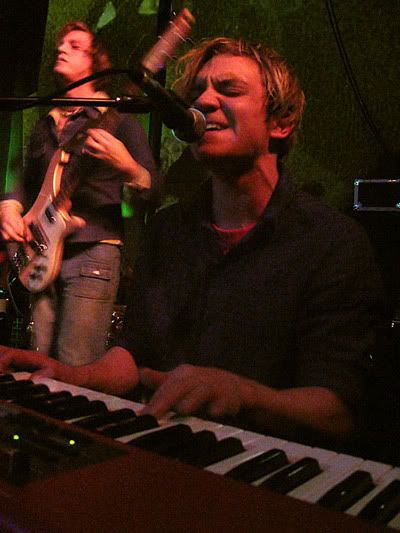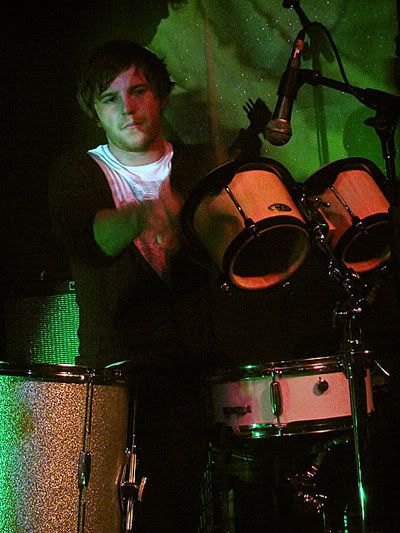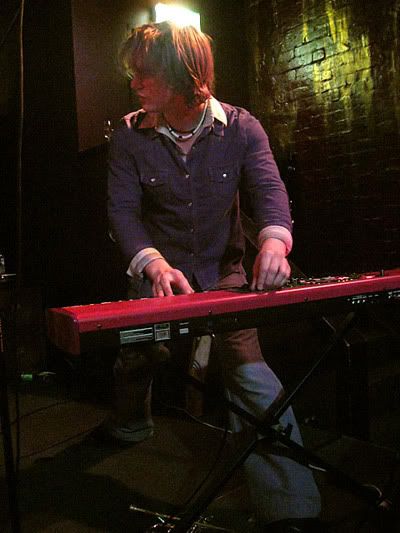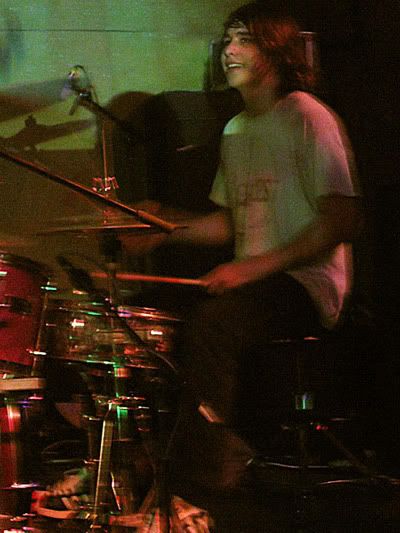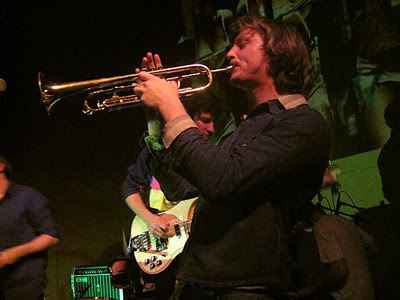 Still to give them credit; there IS a good reason why I keep coming back. Despite (and thanks to) all of Travis' efforts, Tyger Tyger are a band that keeps on getting better and better everytime I see them live. Granted they're a car crash, a dog's breakfast, a howling hilarious circus mess of flailing limbs and far too many people drumming at once; and chances are one of them will likely contract an incurable STD and collapse dead at this rate (gee.. I guess who?). But bit by bit they're proving their potential, and with luck we may very well have a true contender here. Oh yes! Tyger Tyger: trust me, in a year or two (and no thanks to the idiot ramblings from this here website) they'll be freaking huuuge! Go see them now, before they go and fuck it all up!
RUSSIA
(***1/2)
myspace
::
Back at the Crown & Anchor again and I return for the fourth band of the night; Russia from Melbourne. Yeah beats me what the fuck is up with that name too. Russia!? what kind've idiots in their
illbient little minds
ever calls their band a name of a freaking COUNTRY!? (and no, don't go sending me a million and one examples of wildly successful bands that do, I really don't wanna know.. well actually, maybe a little). I could of course continue to make fun of this shit (why else do I write for this website?), but quite frankly there isn't that many more jokes you can make about "Russia" without angering its namesake who's reknown worldwide for being entirely too lax with keeping track of all their nuclear weapons (they also don't have anything to do with botched socialist revolutions, vodka, wacky cossack dancing or state sponsored alcoholism). Damn. They do however sound rather a lot like Black Rebel Motorcycle Club mixed with The Ramones, Billy Idol and that fucked up band you used to hear on Degrassi High that only ever played that ONE song in a loop for 2-3 years straight (seriously what was up with that shit?). Still for what they do, they do exceptionally well and I would have more intelligent gibberish to write about them tonight (perhaps even a compliment) if I hadn't spend the majority of this gig gawking bug eyed at their ridiculously hot female bass player instead. Either way, whoaaa!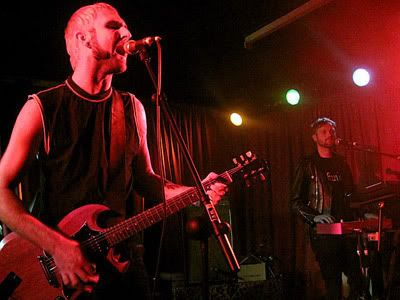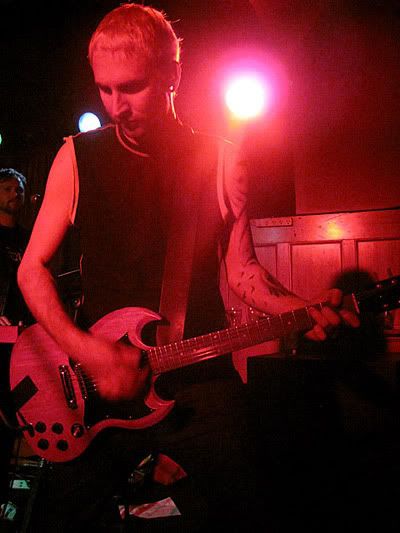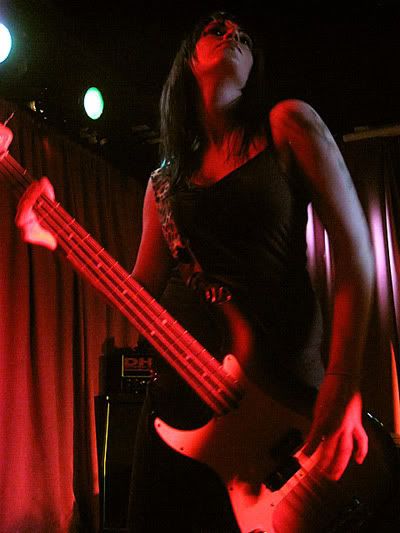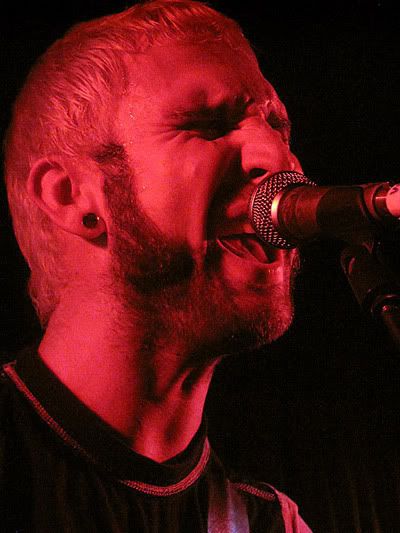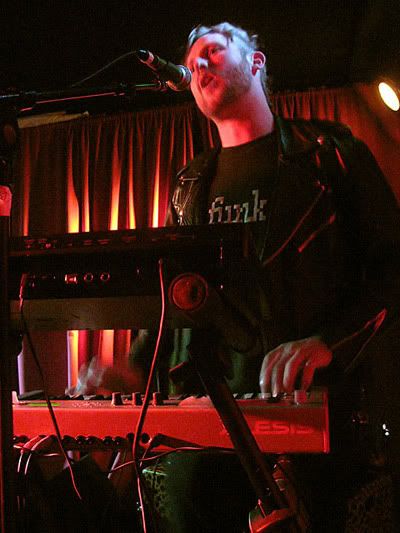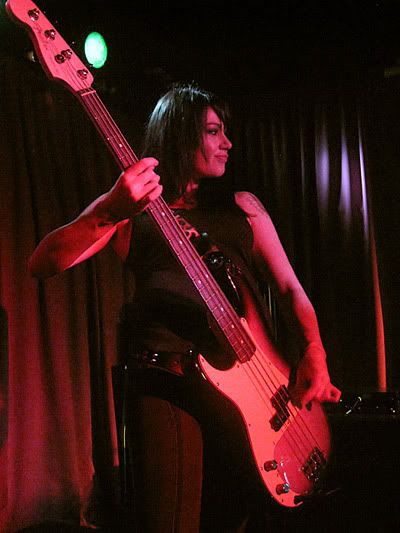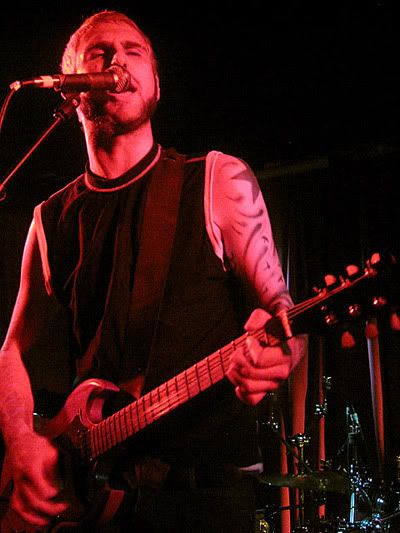 Yup that's Russia. One idiotic punchline followed by one ill advised winter offensive that ends in thousands of needless deaths. One band fuck full of catchy hooks, punk riffing attitude, snarling, sneering, bludgeoning our eardrums with their clanging 4/4 rhythms and their loutish lyrics. Sure, they're not exactly Mensa material, but they still shred shit out in style!
KYTES OF OMAR
(***1/2)
myspace
::
It's at this moment, returning to Bootleg at Producers bar that I'm curiously reminded of a few disturbing memories from my childhood. The sight of that fat nazi guy's face melting at the end of Indiana Jones: Raiders Of The Lost Ark. The theme song to the original series of Dr Who. Me running screaming from my older brother everytime he taunted me with the lyrics to "Careless Whisper" by Wham! (the opening refrains still makes me poop out a square one to this day). Those weird interludes in the Kenny Everett show everytime they used to go all S&M pool party for no good reason. And the sight of Fat Cat or Humphrey B Bear attempting to dance. I don't know why I'm thinking ANY of this shit as clearly the sight of headlining act Kytes Of Omar, their pulsating logo, and the sounds of their lead singer Anthony howling and shrieking baboon echo delays of his own voice around him like a torture victim is nothing but THE most blissfully tranquil experience you could EVER submit your ears to. Or maybe I'm just suffering a nose bleed and I'm inches from blacking out cold. Either way, Kytes Of Omar? FUCK YEAAH!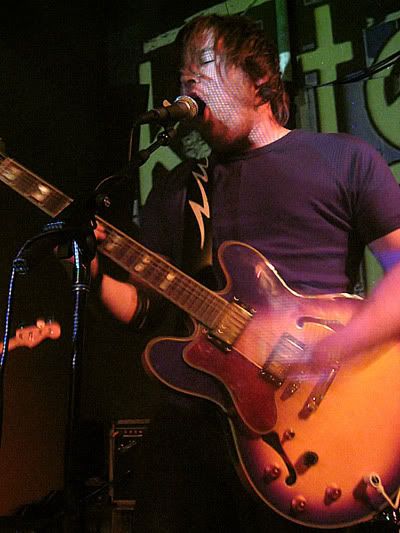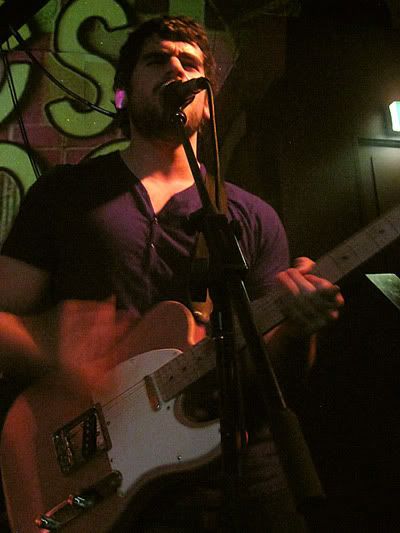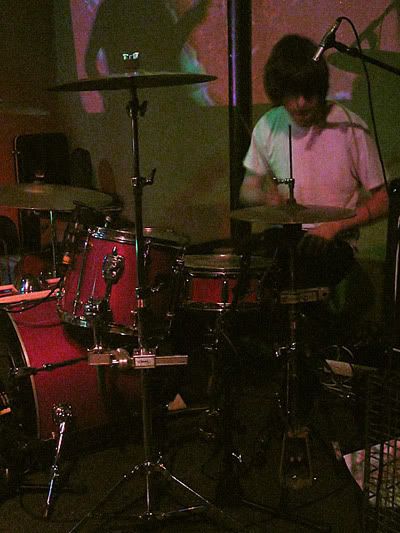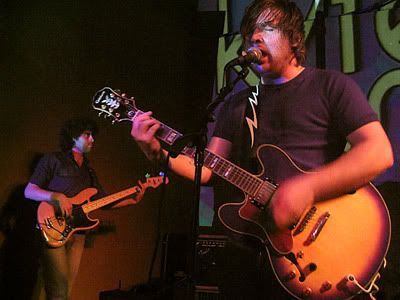 For those of you otherwise unfamiliar with Kytes Of Omar; they could be described as all the insane Nick Oliveri extremes of Queens Of The Stone Age as fronted by Frank Black from The Pixies. The Strokes mixed in with The Kings Of Leon, crossed with T-Rex and collapsing drunk in the gutter. The opening scenes of 2001 Space Odyssey with all the apes going apeshit. Or a sound very much akin to watching a walrus give birth to a howler monkey live on stage, only with more guitars. They're a mongrel breed to be sure, not just in how much their lead singer Anthony resembles a slobbering pitbull with a bad case of rabies, or in the prehistoric way he and his neanderthal bandmates knuckle drag around the stage, but in how they somehow manage to sound like fifty other bands and yet sound like none of them at all. Batshit crazy doesn't even BEGIN to cover this shit, but they do bug out one sweetarse jam!
DOUBLE HANDED
(*****)
myspace
::
And now we're back at the Crown & Anchor for the final headlining "event" that hype, hyperbole and ridiculously overblown light and laser spectaculars were born to take the piss out of: Double Handed. Few may remember this band from so long ago (as clearly no one's attention span ever extends beyond six months in this ritalin wasteland) but back in the day they were actually a mildly successful (if ridiculously heavily self promoted) prog metal band. Oh yes! Ever since they made the tactical blunder of bombarding my inbox with all their junkmail back mid 2006: so ambitious, so enthuiastic, so wide-eyed, earnest and blissfully naive with all their street team promo and delusions of grandeur; I've been giving them hell for it. Still over the years, despite (and perhaps thanks to) me making them the butt of my jokes they gained a large and faithful following and weirder yet, despite being yet ANOTHER band influenced by Tool and A Perfect Circle (oh shit, don't get me started on THIS again!), they actually managed to masterfully not blow goats on a live stage! Wow! I'd almost dare say they were (almost) worth seeing! But then late 2007 (just after their lead singer Shaun Holton mysteriously buggered off to the Middle East to join the Taliban) they lost their way and since disappeared off the map again. Or did they?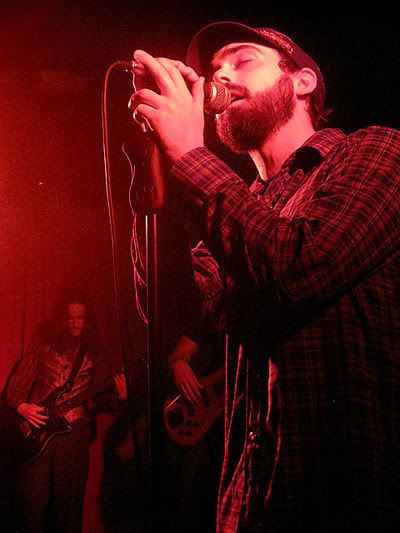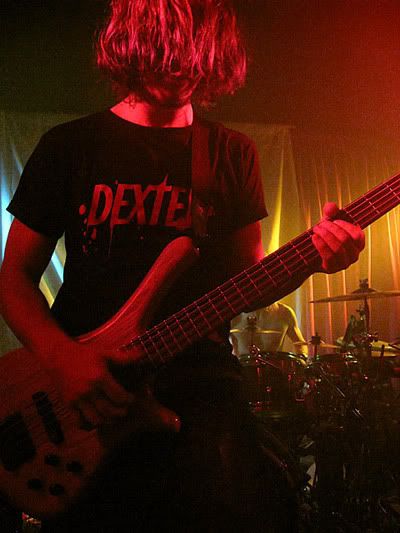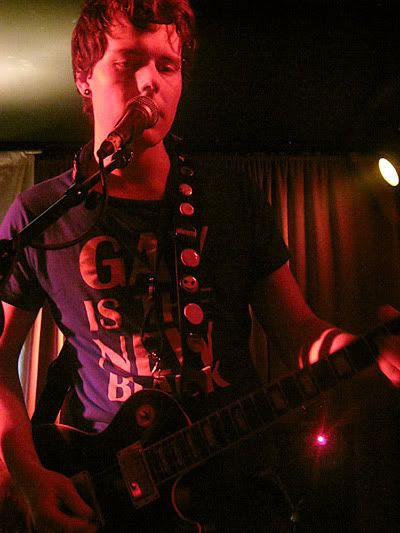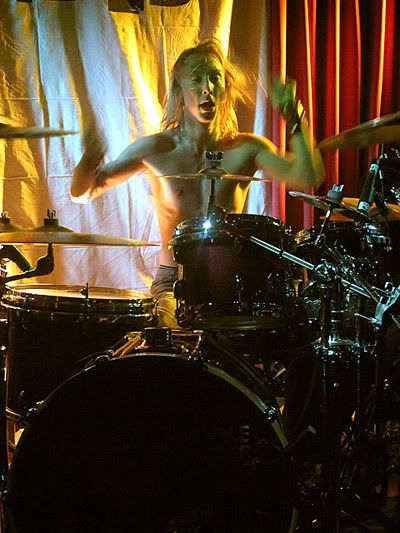 Yup it appears they're back worse than ever! And better yet, thanks to a genius bit of stunt casting they've brought in Nick Russell to do lead vocals. Yup, Nick Russell. You probably don't know what the fuck I'm on about here, but for those of you with even SHORTER attention spans you may recognise this hillbilly twizzle stick as (a) that flailing blur in shittyarse live photography you always see playing the drums at the back of Soft White Machine and Delusions of Grandma, (b) that idiot who occassionally makes drunken
appearances
on this blog, (c) that bearded loon who lives down the street and eats babies, or (d) the main reason you'll be changing your locks tonight. We all know he's a master in bashing shit with sticks, but would he be any good at out front of a live stage!? Surprisingly yes! Thanks to his utter disregard for personal grooming and hygiene; gone is the cheesingly naive Double Handed of old, and in it's place is an infinitely more bohemian Double Handed; with a sound more akin to the sublime madness of The Mars Volta than any of the shit you'd ever find providing an emo montage for Home And Away..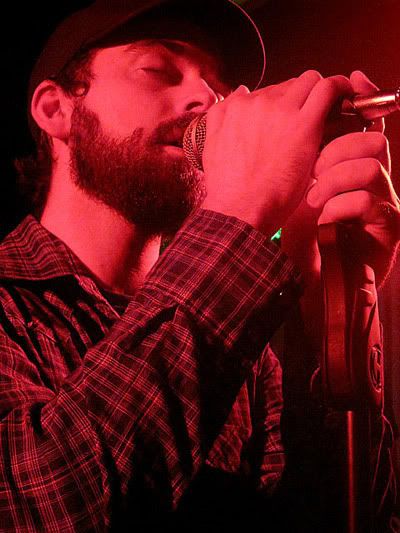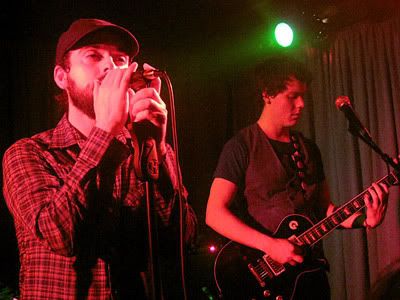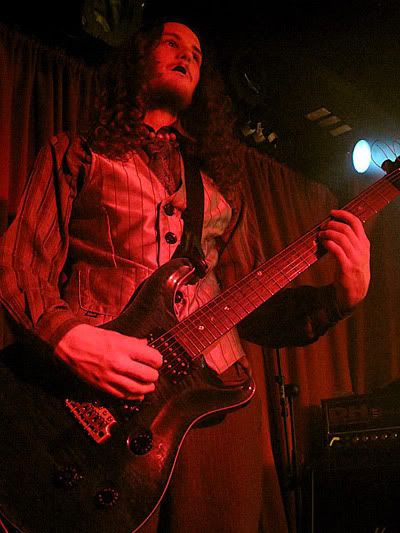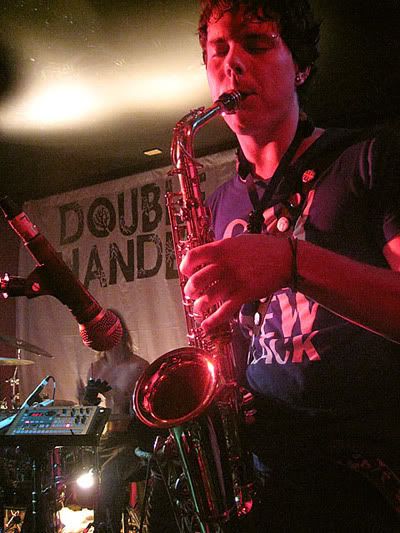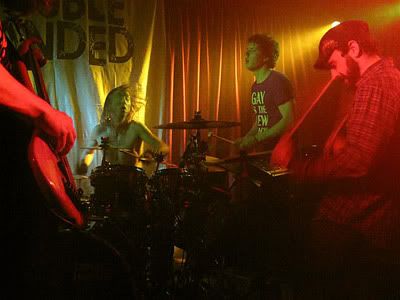 Throw in an ecclectic mix of soaring vocals, buzzing guitars, saxaphone, circus midgets on drums, bongos, twin percussive meltdowns and a wailing psychosis in ridiculously overblown crescendos that sounds like all Four Horseman of the Apocalypse and one Omar Rodríguez-López shitting in a brown paper bag and delivering it flaming to your doorstep; and you're in for one hell of wild ride tonight. Yup I don't know whether I really should give a band screaming for THIS much attention, this much hyperbole (or this much gibberish in review that'll likely get misquoted on their myspace for years to come.. weeeee!): but this set of theirs tonight may very well be the singularly most awesome shit to happen to the Crown & Anchor all year. Oh yes! for one shining moment, Double Handed almost made this toilet stain on Union Street feel like the Thebarton Theatre crammed into a shoebox. Sure, I may continue to make fun of Double Handed for years to come, but you can't deny that they threw one fuck of an insane party tonight..
1:17AM
- Double Handed close up the set to an avalanche of applause: there they are, out the front lapping it up in spades. What a night! It's been a triumph! A victory against all the insane odds stacked up against them! almost a defining moment in history for us all..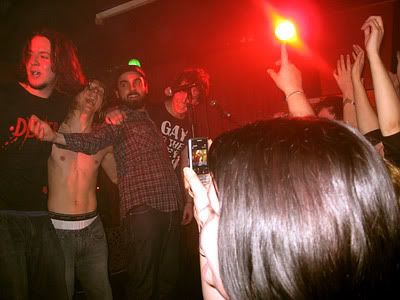 And then Fox Faehrmann on drums goes and fucks it all up again with what may very well be the singularly most disturbing thing I've captured on camera since the "
cheese platter
" incident back in May and his
crowd surfing stunt
back in September. Oh yes ladies, this one's for YOU! (oh gawd! it's looking right at me, run! run for yer freaking lives! WAAAAUUGHH!!)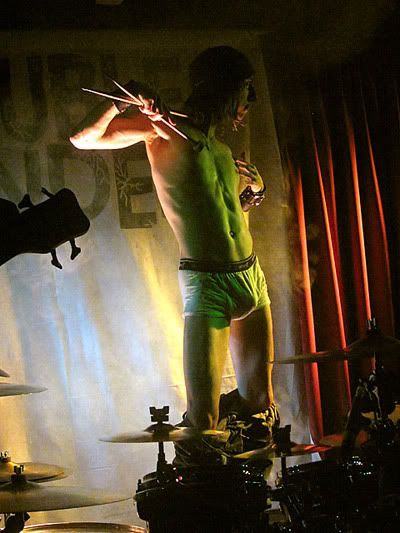 1:24AM
- Moments later the bar staff witness a stampede of the traumitised and the terrified flooding them with endless requests to blind them with alcohol to obliterate the memory of what just happened. Yup, if ever there was a reason for a so-called binge drinking "epidemic", it would be moments just like these. Oh the horror, the humanity! Who's gonna think of the children!!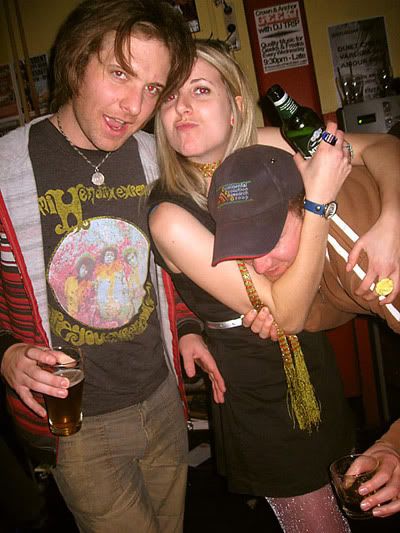 1:27AM
- The reaction amongst some of the female members of the audience however was a little different. Take Wenna here for instance: brain long since gone, a smoking skull cavity, all fired up, lashing out her pent up aggression on us hapless fools instead.. yeeouch!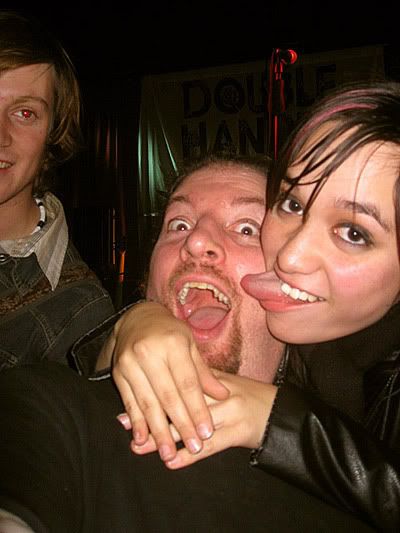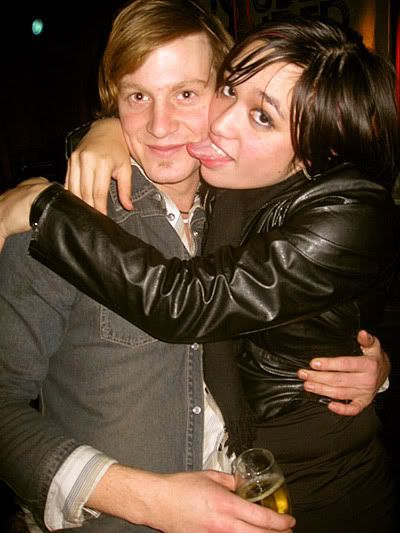 1:55AM
- Whilst, here's the rest of us left scattering at the bar. Bug-eyed and dumbstruck by the littany of destruction; braincells fried and burnt out retinas. Audience and band members alike. Yet another in a long list of casualties to the madness that is Fox Faehrmann..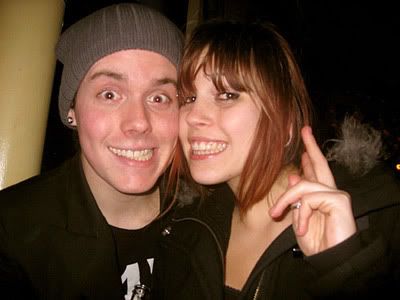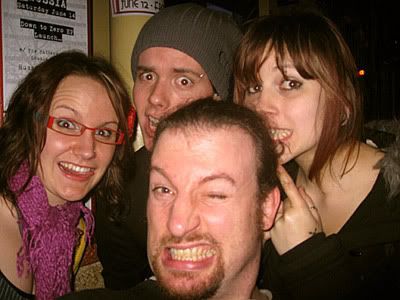 2:20AM
- As unwanted attention soon turns to this ever mysterious NEW member of Double Handed. Hmmmm.. I wonder if Nick is starting to regret his decision now? weeeeeeeee! :)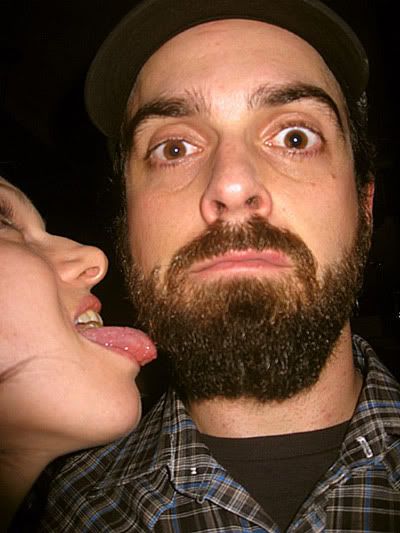 2:25AM
- Almost forgetting there was a whole OTHER party still raging across the road at Producers Bar, I return moments to late to realise they've packed it all in for another night..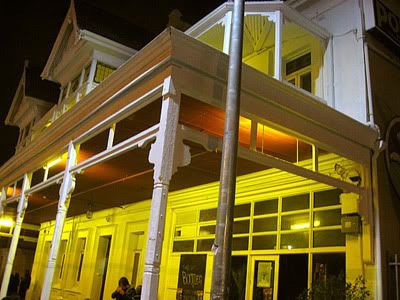 2:32AM
- So instead, I merely ducked across the great divide to visit its schizophrenic half brother The Electric Light in continuation of my mad quest to drink myself retarded.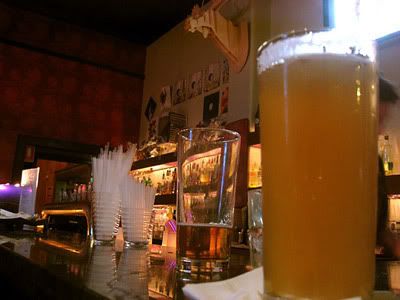 2:42AM
- It is here that I'm ambushed by the usual drunkarse suspects; such as Sophie here, lying in wait for yet another chance to make an absolute twit of themself on camera (and quite possibly regretting it later when they see it on this blog a few days later.. weeeeee!).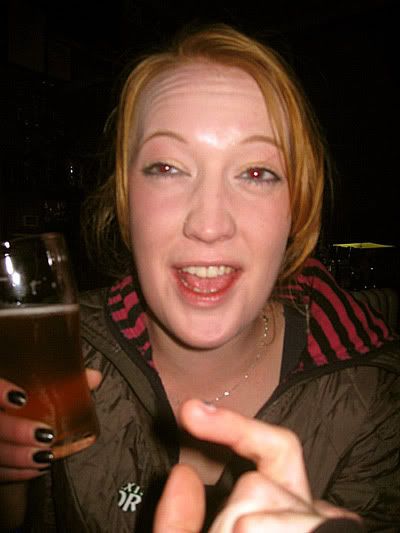 2:52AM
- Only to be joined from Bec all the way down from The Ed Castle, as clearly no episode of Spoz's Rant is ever complete this year without name dropping that fartarse venue AGAIN for the six billionth time on record *cough* (I swear I'm not on their payroll.. oooh crap no!).
And no, I don't know why I'm doing this whole "staring off into the distance" shit either..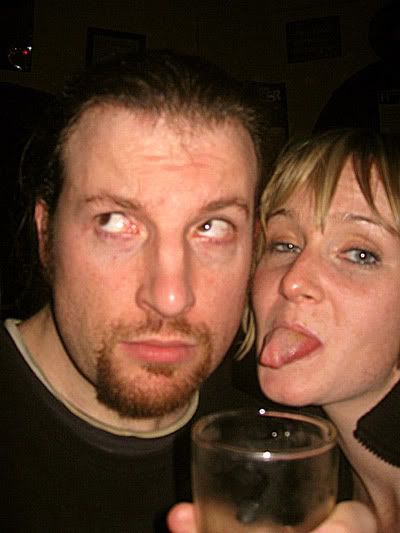 3:25AM
- Being the raging social alcoholic that I am (and followed in tow by a whole pack of drunkarse bartenders and entourage who all should probably know better, but thankfully don't); the senseless festivities kick on back at the Crown & Anchor right up until closing..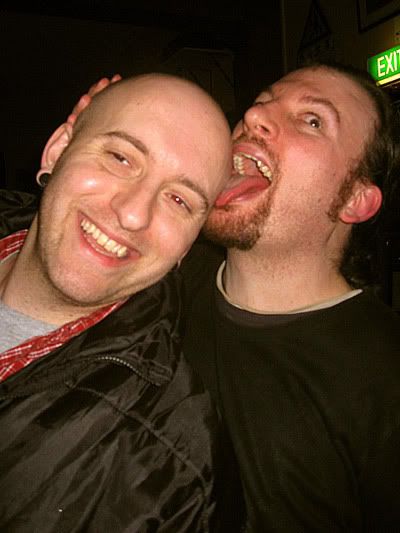 4:13AM
- Only to make matters worse by continuing down at Zhivagos on Light Square.
And as much as I would love to explain any of the following sequence (and my utter inability to line up a shot properly at the end of it all), once again; duuude, your guess is as good as mine..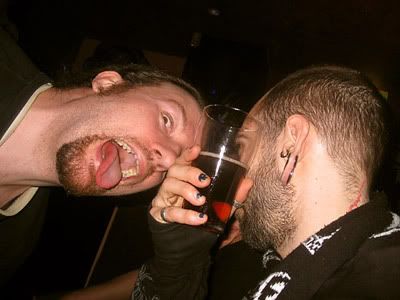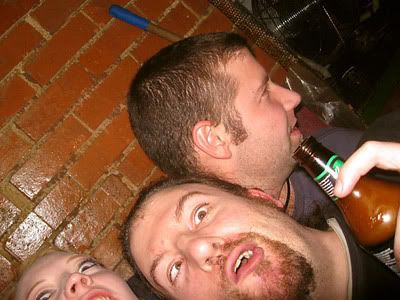 4:26AM
- And so, as the house lights slowly set over this Bloody Mary with the ridiculously oversized stick of celery (which Tully from the Crown & Anchor actually thought was a smart move at this hour), we bid fond farewell to yet another Saturday night, and all the braincells in between. Thanks for the memories; we won't be needing them anymore where we're going!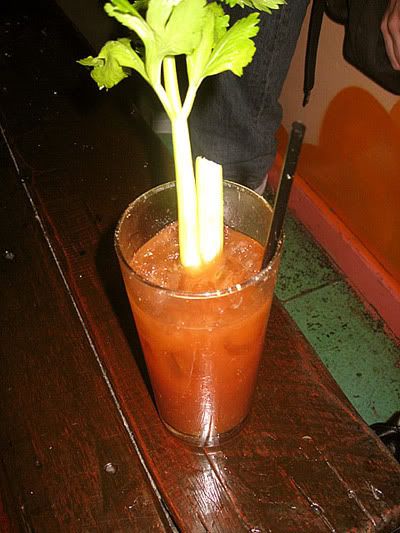 And there we have it: probably the biggest night the east end ghetto has seen all year (short of all that needless stupidity with the "Fringe" back in February and March); and all thanks in no small part to those chance few idiots crazy enough to host all these mad events and parties to make a difference in this shit hole. I mean sure, I admit it, this night doesn't make a fuck more sense than the usual drivel you see written on this page, but just think of the potential!! YES!! WE CAN DO IT ADELAIDE! WE CAN MAKE OUR CITY (slightly) LESS LAME!! WOOOO!!
Previously on Spoz's Rant:
Cog + Sleep Parade + The Vampire Project