TONY FONT SHOW + SUPERBEE + SOFT WHITE MACHINE
LIVE @ JIVE / Thursday February 28th 2008
Late February to mid March, feeding time in the Adelaide zoo. As to who's doing the feeding and who's the food is the question I dare not answer as I face the swarm hitting me from all angles: so many to choose from, so little time to recover. Two nights before I was at
Interpol
, three to four I was in the thick of Fringe Festival opening night and then
Laneway
. Bullets whizz past my ears. It was just like this last year, I gotta keep reminding myself: I'm just one person and attempting this is a suicide mission. Fuck, did I just miss Sonic Youth!? I am fucking exhausted. Tonight it's the Fuse Festival and every music venue in Adelaide is calling my name. Half of me dares to battle them all, the other just wants to run and hide. I am fucking retarded. Love the life that kills me, aim and shoot, another weekend is just around the corner.. weeee! :)
Fuse Festival: that name alone gives me nightmares. Adelaide's answer to Austin's "South By Southwest" only much smaller and punching me in the balls over and over like a toddler huffing crack at Disneyland, conveniently coinciding with every OTHER music and arts festival cause clearly this city wants me dead from the overdose. Two days of music industry talks, master classes and seminars intermixed with two nights events with such friendly titles as "Explode" and "Ignition": 60 bands, 30 venues, me huddled foetal to a corner and whimpering. Fuckit, I have to make a choice: Russian roulette this revolver spins, I pull that trigger and Jive it is!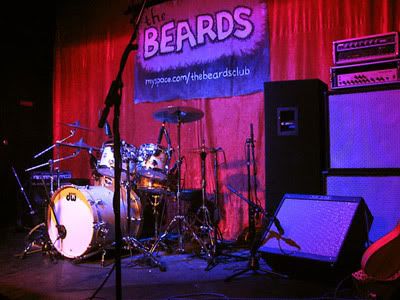 THE BEARDS
(***1/2)
myspace
::
Beard (bîrd) n. 1) The hair on a man's chin, cheeks, and throat. 2) A hairy or hairlike growth such as that on or near the face of certain mammals. 3) A tuft or group of hairs or bristles on certain plants, such as barley and wheat. 4) One who serves to divert suspicion or attention from another. 5) Printing. The raised slope on a piece of type between the shoulder or counter and the face. Also called neck. 6) Fu manchu, horseshoe, shenandoah, bull-buffer, balcarottas, billingsley garibaldi, french fork, franz josef, libertador, hulihee, imperial, iron jaw, van dyck, verdi, casey eaton, neck dred, tragus, wing chow, walrus, bush ranger and chin curtain. 7) Adelaide band that should never be confused with
The Dairy Brothers
. 8) What you're growing right now.
"How womanly it is for one who is a man to comb himself and shave himself with a razor, for the sake of fine effect, and to arrange his hair at the mirror, shave his cheeks, pluck hairs out of them, and smooth them!…For God wished women to be smooth and to rejoice in their locks alone growing spontaneously, as a horse in his mane. But He adorned man like the lions, with a beard, and endowed him as an attribute of manhood, with a hairy chest - a sign of strength and rule." - St. Clement of Alexandria, famous for having a beard. *cough* Any more questions?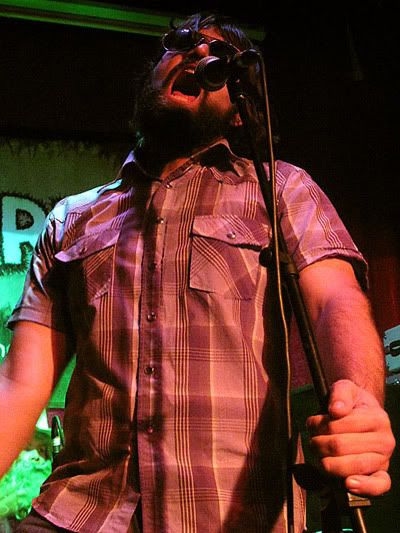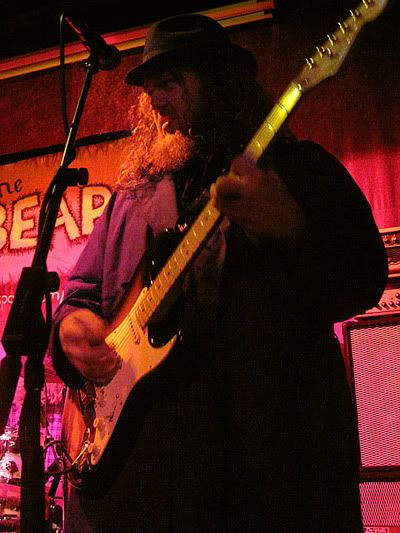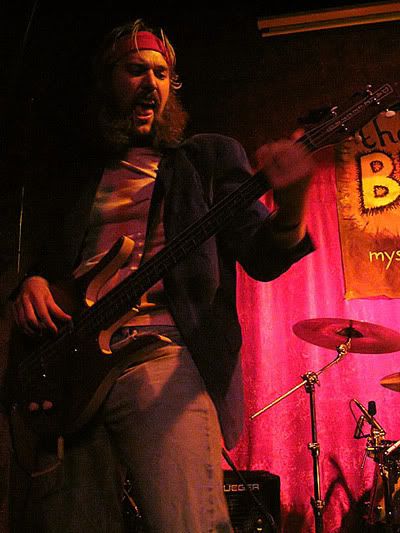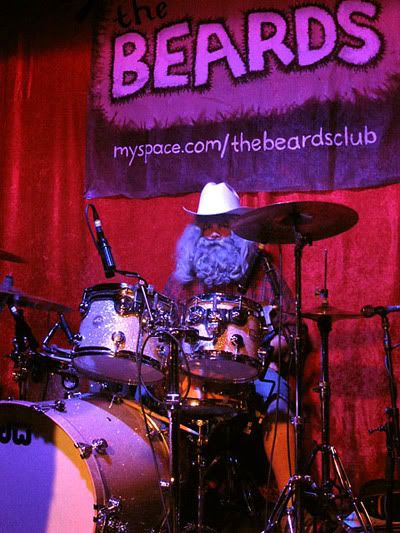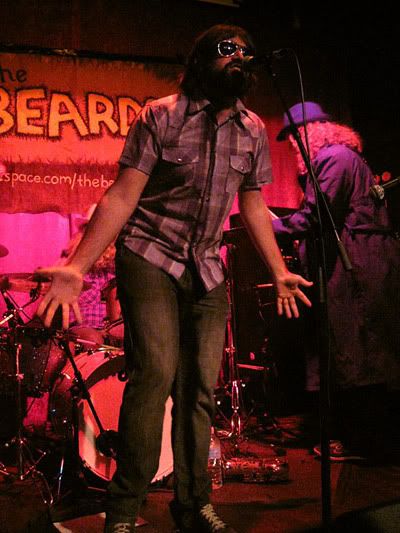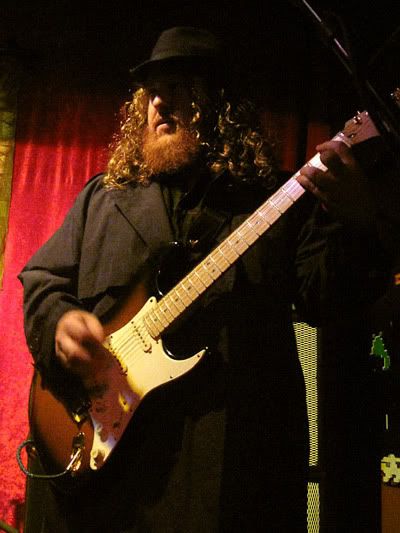 SOFT WHITE MACHINE
(****1/2)
myspace
::
Thriving as a live band in the Adelaide scene is by no mean feat: pokies, poverty, smoking bans, noise complaints, new rave,
fuckwit bloggers
; we all know they're out there to destroy you. So I always hold high with the utmost respect and admiration, those talented few who eat THIS shit weekly and still come out laughing. It's not life and death, it's a fucking sense of humour! Soft White Machine: watch this, and you could never accuse them of falling short in either..
Most notable to Soft White Machine tonight (besides lead singer Karl subjecting us to his ever drying comedic wit) is how much this goofyarse Adelaide band has grown in sonic stature to that of a stadium act that serves 30000, here stuffed and folded into a teeny tiny box clawing to capacity with little over 300. Is this the sound of the four horseman of the apocalypse playing pingpong to our feeble minds? The sound of Muse, Interpol and A Perfect Circle butting heads in a 1930's Chicago bootlegger's brawl? A million guitars dancing on the head of a pin, spun to the singular density of a blackhole? Theologians, scholars and proctologists alike will argue entire lifetimes in the semantics, but the fact remains: this was one fuck of a live set!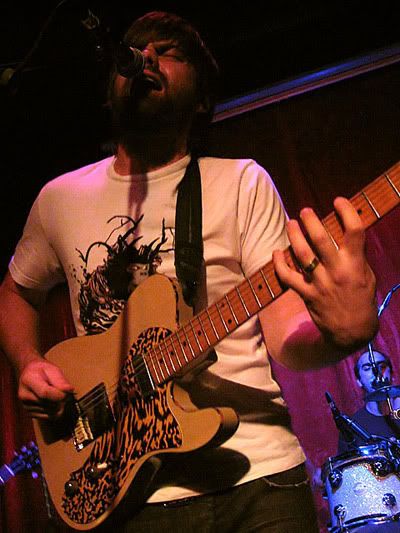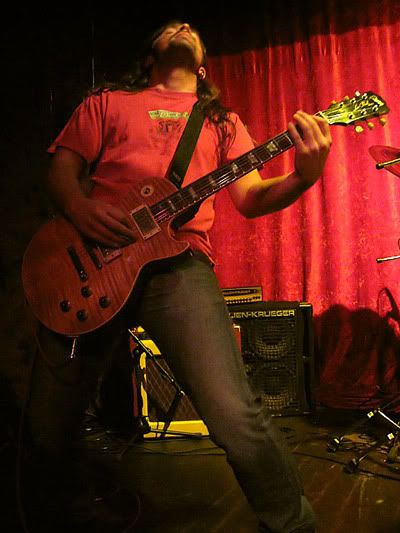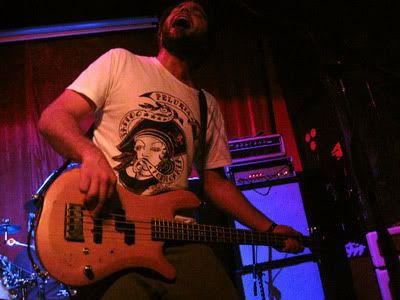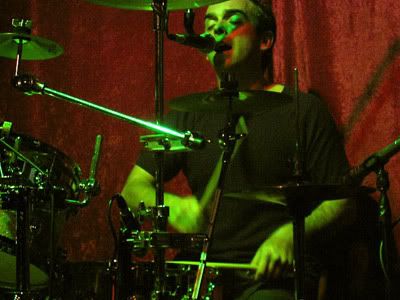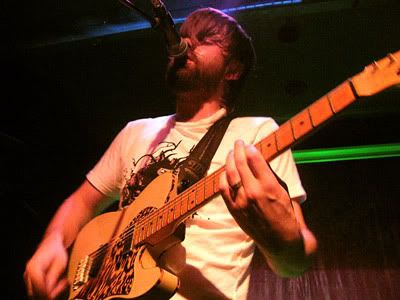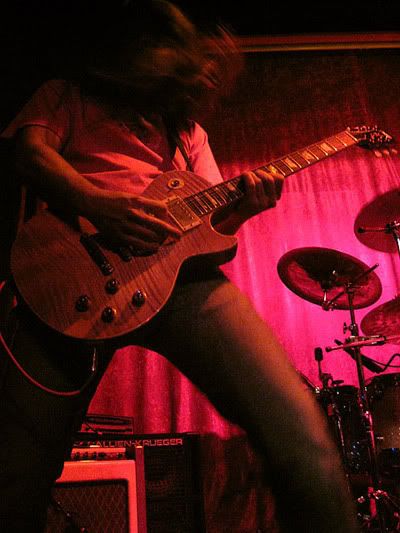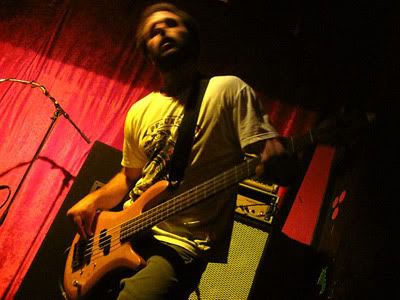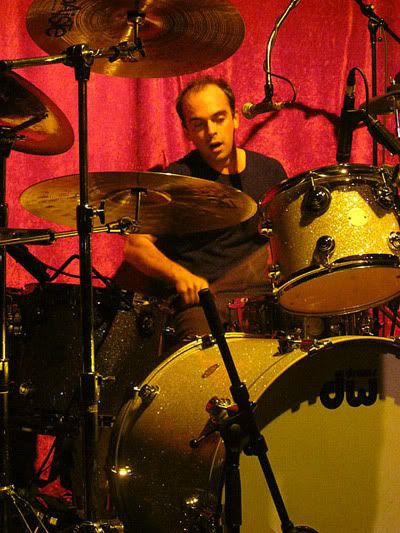 SUPERBEE
(***)
myspace
::
To quote
wikipedia
: "Sonic and ultrasonic weapons (USW) are weapons of various types that use sound to injure, incapacitate, or kill an opponent. Some sonic weapons are currently in limited use or in research and development by military and police forces. Others exist only in the realm of science fiction. Some of these weapons have been described as sonic bullets, sonic grenades, sonic mines, or sonic cannons. Some make a focused beam of sound or ultrasound; some make an area field of sound. Some are called Superbee (see Jive, February 28th 2008)." If only I had an active membership, I'd add that final line. Reminiscent to chainsaws cutting, Dresden bombs dropping, microwave to my insides, me screaming to get out. Oh the pain! THE PAAAIN!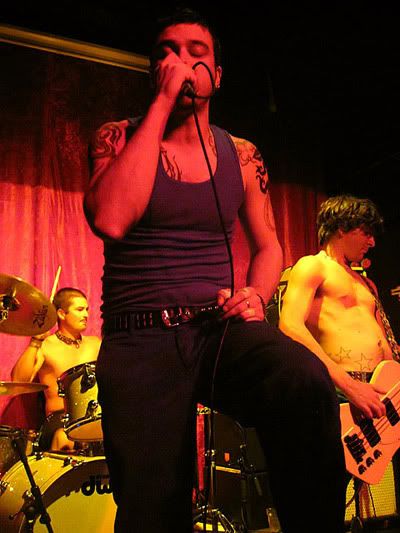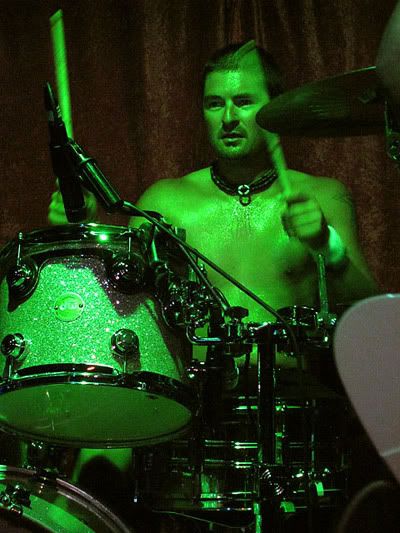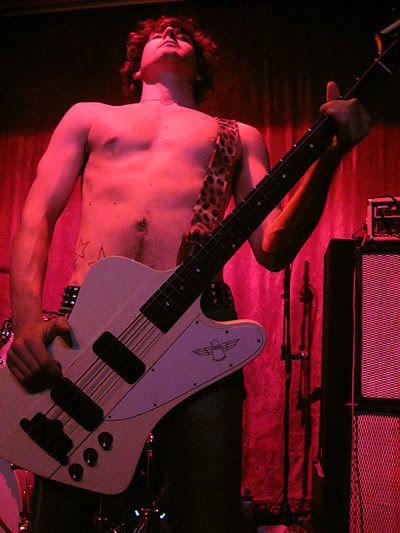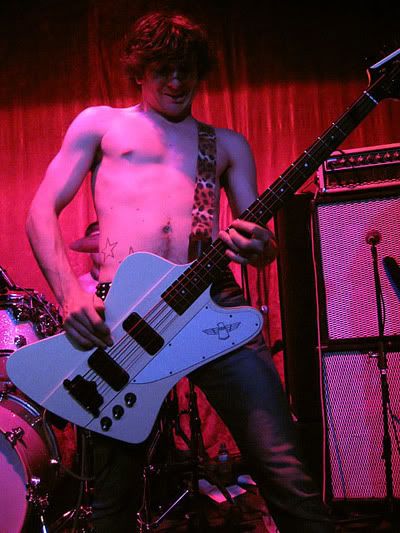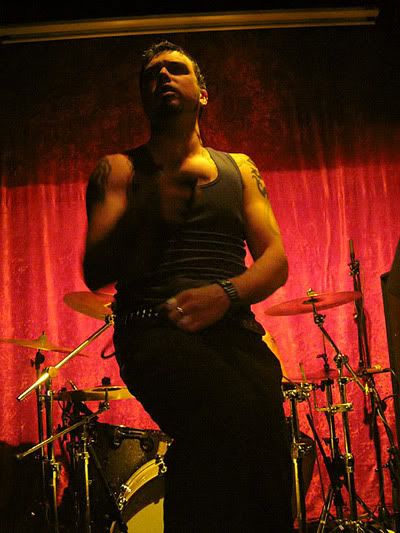 To add further to the dilemma faced by many of our clutching heads; the music still wasn't half that bad. No one dared leave, but no one was willing to die from it. Many solutions were sought (both ingenious and idiotic): such as here with Joe Blogs' sound proof collision barrier..
Stalker Miss Moira, and her double density human head protector..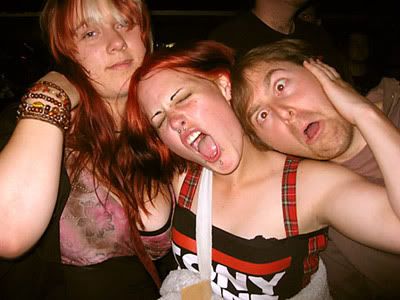 The Beards' ever "growing" fan base (excuse the pun) employed the old "hair helmet" defense..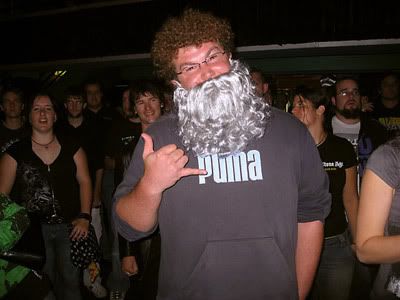 whilst these two (weirdly familiar) idiots Tibor and Chris fresh from the Melbourne badlands, were all but immune to the 140+ dB onslaught; for as they say: "no brain.. NO PAAAAAIN!"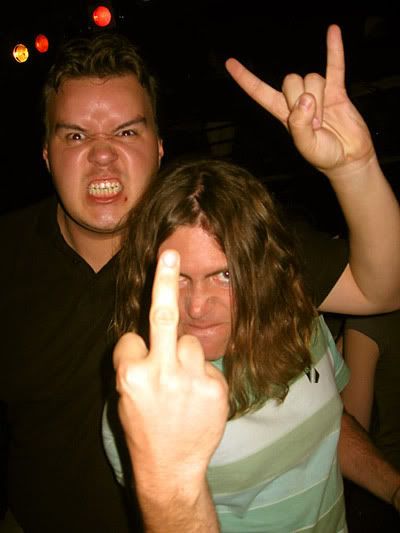 Moments later I awake to the sight of Andreas from Soft White Machine slapping me silly with the butt of his guitar. Needless to say covering myself head to toe in white paint, wrapping my head in tinfoil, putting a frying pan over my gnads and ducking under the nearest available sofa cushion availed to nothing more than a chorus of unanswered phones and an odd burning sensation curling out've my left nostril. Superbee: don't try this shit at home!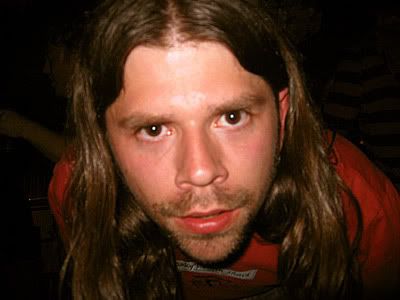 TONY FONT SHOW
(****)
myspace
::
As much as I've since used up every single cheap shot, dumb punchline and thinly veiled comedic insult in service to this band for over the last 2 years (95% of which directed at their exanimate guitarist Richard Clift till the "Tin Man" armistice of December 2006), it's good to see they still throw me the occassional freebie, such as whatever the fuck up just and died on Lee's shoulders tonight. Is this something new to throw our eyes off his ever pouffier poodle perm? Subtle reference to his Neatherthal ancestry? a novel form of male contraceptive?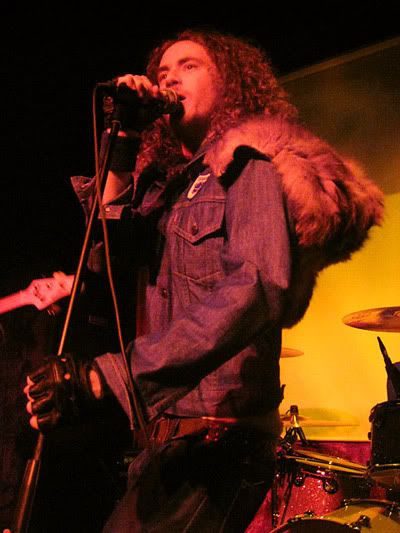 Who the fuck knows? either way when Joy Sparkes turns up in THIS outfit, you hit the jackpot!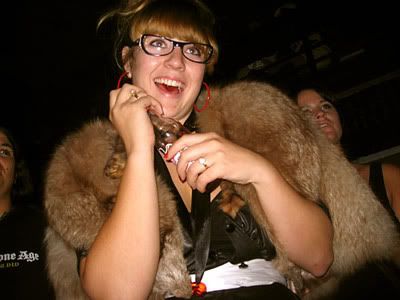 Which is just as well, because as we all know, I've got next to nothing left to write about this band that you haven't already read a million times before. They're Tony Font Show. If you have yet to discover you're the illegitimate love child of Lee Cowan and snuffling ungulate indigenious to the highlands of Scotland, count yourself lucky. Damn, who knew I had another joke in me?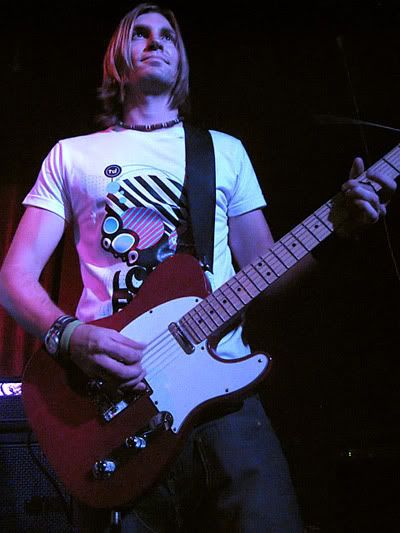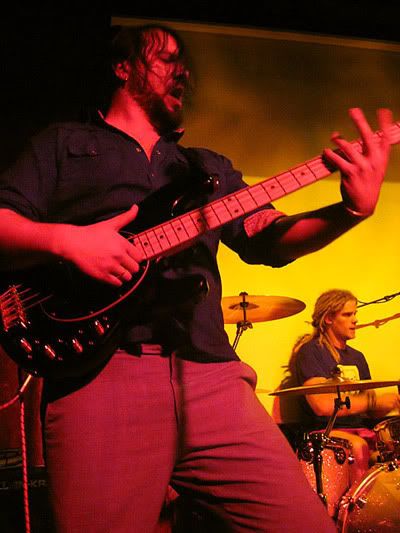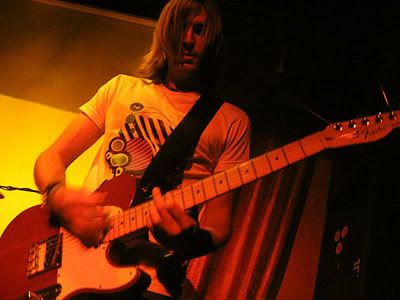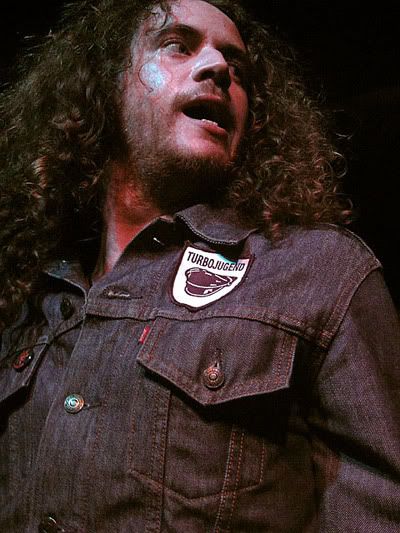 Short of getting Karl to ghost write all the punchlines for my reviews from now on, it's good to see their crowds are getting no less fuckoff bizarre. Indeed, if ever proof was needed that evolution can go backwards and downhill, look no further than these first few rows..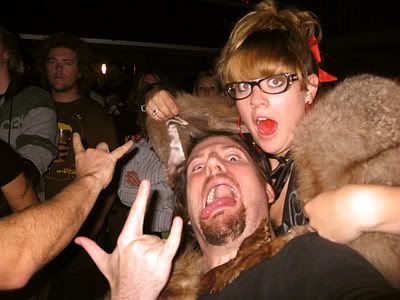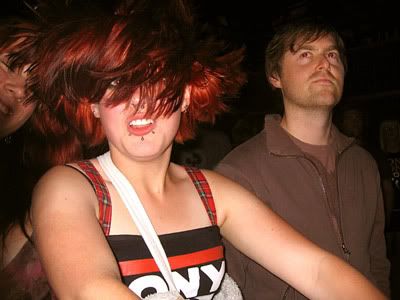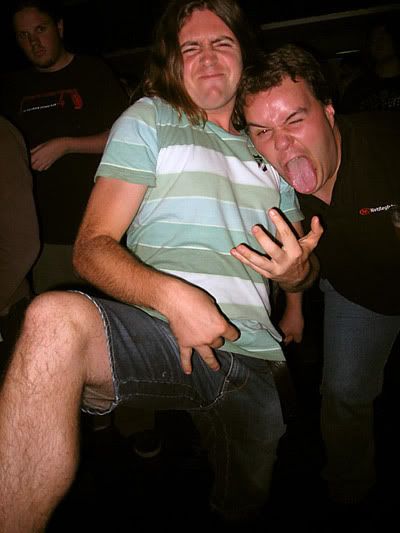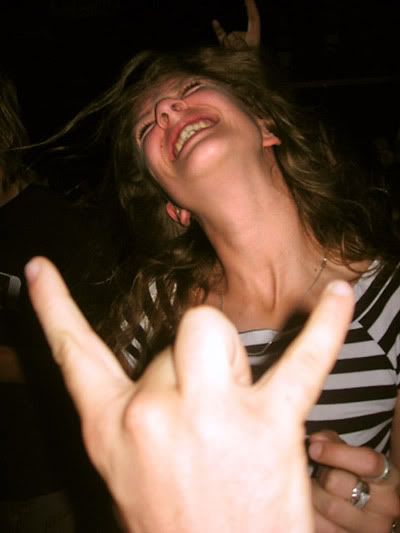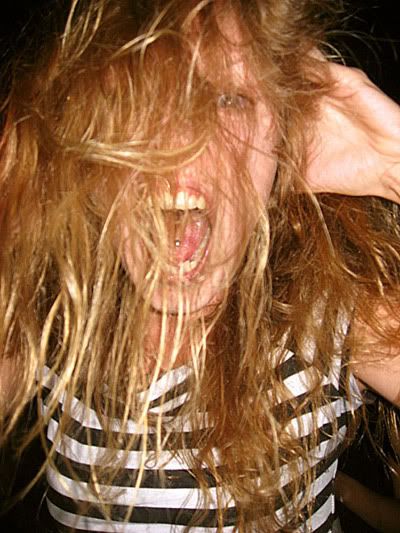 Yes.. I know. I die a little inside too.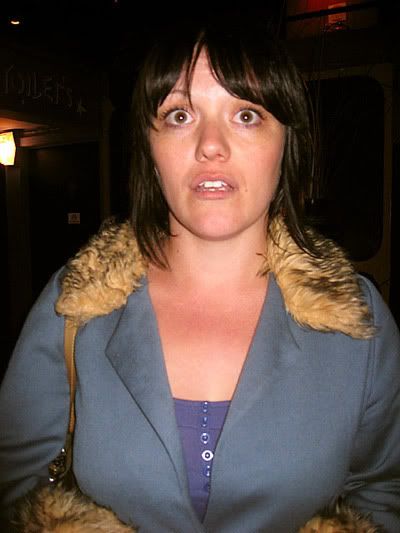 And there we have it, Adelaide's Fuse Festival: one a-grade way to fuck yourself stupid on a Thursday night short of a freeway pile up between two semi trailers on class A drugs.. YES!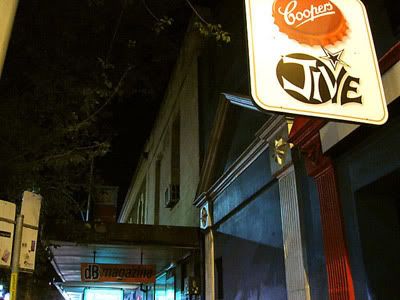 30 venues and 60 live bands, and to think I collapsed dead on the sidewalk outside Jive after JUST 4 of them? Damn! my weekend has only just began and I'm already long gone.
Previously on Spoz's Rant:
Interpol + Leader Cheetah