SPANK ROCK + FEMME FATALES + FIRE! SANTA ROSA FIRE!

LIVE @ ROCKET BAR / Wednesday January 9th 2008
If ever there's a night that's damn near kryptonite for the Adelaide music scene (short of dragging your entire bar staff out into the fray on a Monday night in winter) it's the Wednesday night gig. Nobody in their right mind attempts to do battle on a night like this and ever expects to win. Give us our Tuesdays, our Thursdays, even a Sunday night limping on crutches with half our heads missing; anything but a Wednesday! This is no-man's land. The speed "hump" between weekends. Caught behind enemies lines, huddled in foetal positions, suffering under flickering fluorescents and through to the early mornings, the caffeine, the insomnia, the mad twitching between hits? Why dammit!? WHY!? Why must every international touring act under the sun always chooses this ONE night of the week to attack? Yoooou sadistic baaastards!
Originally this untimely midweek demise was planned for the Governor Hindmarsh's back room: packing it to the four walls and forming a steaming funeral pyre in the beer garden, but since that clearly wasn't sadistic enough on a 40C degree night like this, as it was then relocated to the upstairs sweat box that is Rocket Bar on Hindley St: tickets on sale at 9PM. Expecting a stampede of windowlickers outside clamouring for tickets, I was all too shocked to find myself front of the firing line a few minutes shy to the hour. Hmmm.. was I really THIS eager to see some fartarse Baltimore USA hiphop/electro/grime act I'd barely heard a fleeting duck whistle from? Was this really MY "scene"? Who the fuck knows!? Sometimes I make some truly fucked up spur-of-the-moment decisions for the sake of this blog. Yup, tonight could go either way.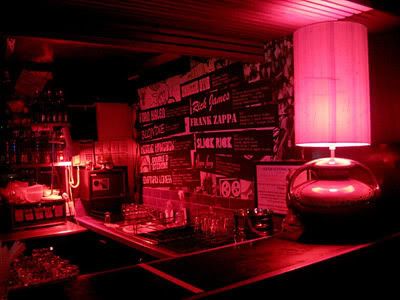 FIRE SANTA ROSA FIRE
(***)
myspace
::
Case in point with the opening act: Fire Santa Rosa Fire. When it's not nearly insane enough to cram 5 people on stage hammering a violent Japanime interpretation of the Wiggles, moments before their set, Dave their fearless leader goes all Marcel Marceau on them with a monster case of laryngitis. Damn! and so, caught without their vocalist, they enlisted two more than capable assassins into the fray, Caitlin and Celeste to cover for him (hmmm, I swear there's a million jokes I could make at the expense of Dave's testicles, but naaah too easy!). And if this wasn't nearly enough? We're also treated to their manager Matt Hayward playing space invaders with the lighting rig (I swear I'd have more luck poking my head through a speeding ceiling fan over and over than getting a clear shot of this!). *cough* Still, the show must go on and despite (and thanks in part to the novelty of) all this mad experimentalism and interpretive jamming, these scenster stickfigures punched way above their bantam weight and came up a winner. Rock!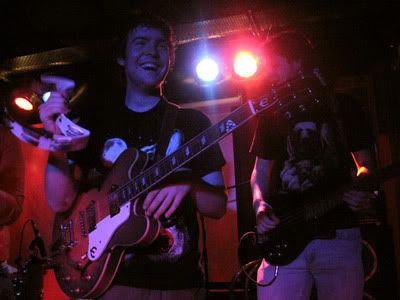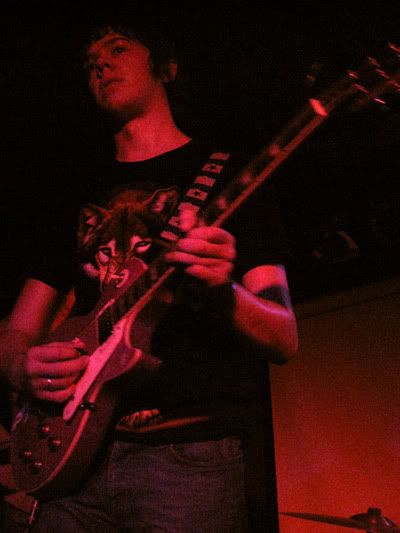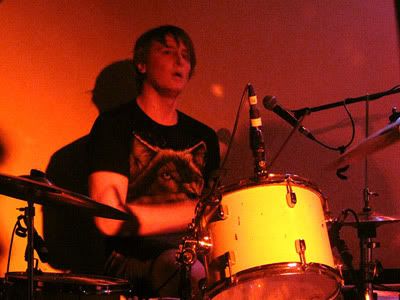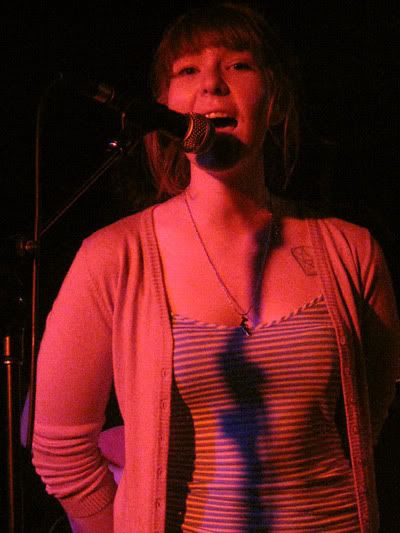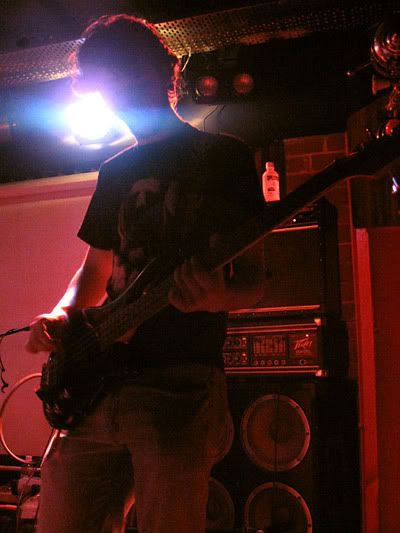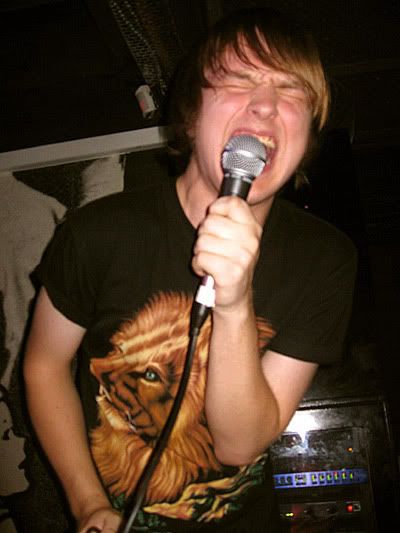 FEMME FATALES
(***1/2)
myspace
::
These exciteable new rave windowlickers have come a long way since their 1st gig back in
September last year
(with a prize support spot for touring acts Teenagersintokyo and Cut Off Your Hands) and as much as I would love to continue making them this blog's honourary piñata with a baseball bat, they're actually pretty fucking half decent now. Granted they're still at it, hammering those factory presets on the keyboards to a techno stomping 4/4 mess, but coupled with some increasingly fuckoff squealing guitar work, slamming drumming breakdowns and paranoid shrieking vocals it's becoming a near lethal combination. Picture the distorted vocal shred of Damn Arms mixed with the propulsive rhythms of The Dardanelles by way of the electro tech stomp of Digitalism. Or Soulwax's "Nite Versions" thrashed to death on a cheap 80's Casio keyboard. Or to be less blitheringly obscure: Imagine the Klaxons vs Kraftwerk on a howling meth binge. Dumb, loud and furious as fuck but increasingly all the better for it!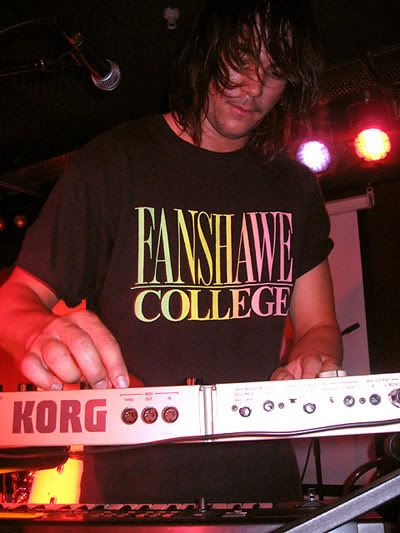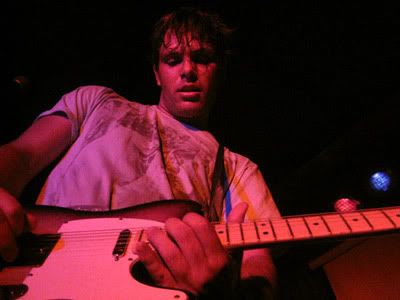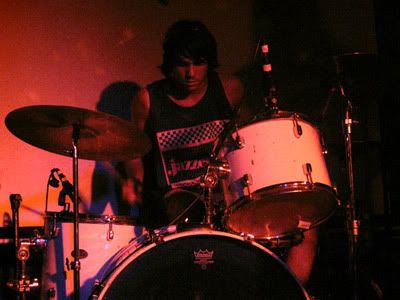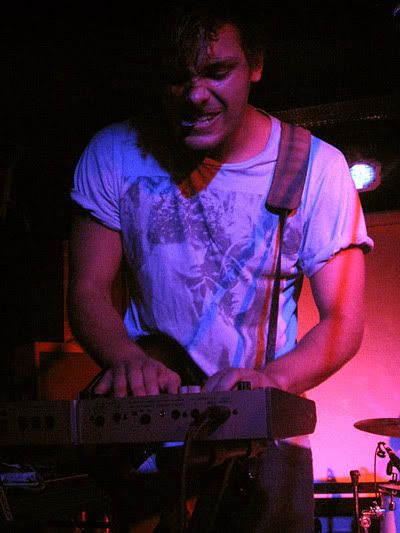 Like 90% of the rest of you reading this right now I didn't know the first fucking thing about MC Naeem Juwan or touring headliner Spank Rock from Baltimore USA. Save for one or two half forgotten songs butchered to death on Triple J and a vague misguided belief (from the poster) that this twit was some kinda cheap clone of Dizzee Rascal (which probably explains why tonight's lineup got relocated to this laughable sweatbox to pack all their "fans" in *cough*) I didn't have the first fucking clue where to begin. Still, thanks to everyone's favourite cheatsheet
youtube
and
wikipedia
, even the most slackarse gig reviewer like me can pretend he knows infinitely more than you do (which lets face it, really isn't all that much!). And so, with a few lazy moments to spare yesterday afternoon, I sifted through a whole bunch of shittyarse live videos to present you this: Spank Rock's jamming ghetto mashup to their song "Rick Rubin"..
SPANK ROCK
(****1/2)
myspace
::
Yup, as much as I could half arse prepare, this was barely the raised frosty nipple in the iceberg of what I was about to witness. Covering this act in the flesh tonight was the equivalent of standing up against the full fury of Indonesia's Boxing Day tsunami with nothing but a novelty "thumb" surfboard and a birthday suit flapping in the breeze to ride out the wave. Granted I've done more than my share of this suicidal shit before, I've stared down death countless times (and then some) and have the misfiring neurons and shellshock to prove it, but there's something about a hiphop gig, especially one mashed up to this illbient extent that has you well and truly shitting a four story building. Imagine 2ManyDJ's mashing up Africa Bambaataa's "Planet Rock" with Chemical Brother's acid terrorist grind "Electrobank", imagine Sir Mixalot, Dizzee Rascal and M.I.A. banging out a 130dB block party jam in an elevator shaft during a blackout. Imagine your not alone. Imagine you're surrounded by hundreds of blood thirsty zombies all scrambling for the same air. This is Spank Rock and we're all going to fucking die! :)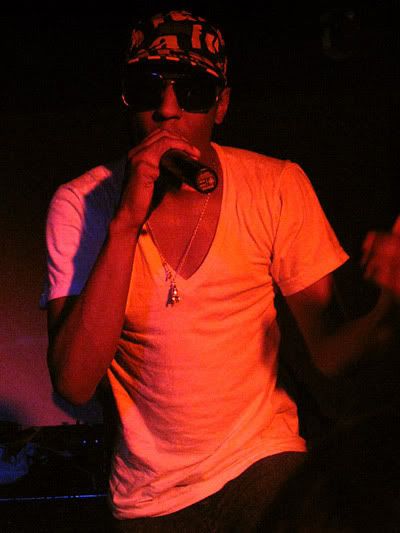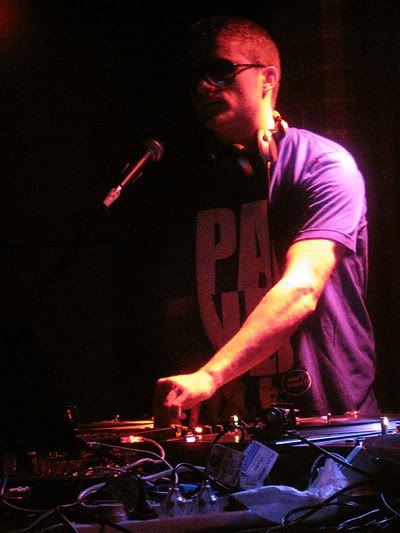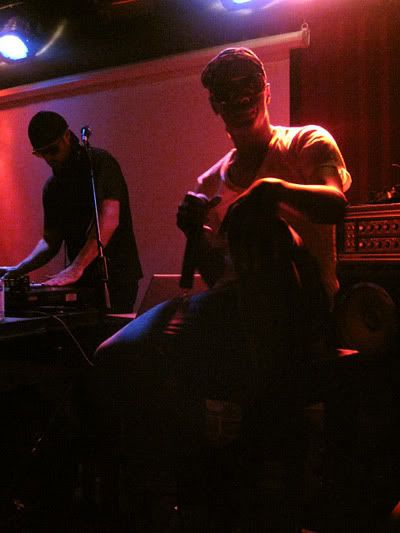 This is not gig photography. I don't think any of tonight's laughable attempt could hope to be called "gig photography". No, this is me forming a Roschart inkblot stain all over the walls again and again to a psychological meltdown. This is me fighting through arms, legs, cats and dogs and raining toads everywhere all swinging to the same frequency of howling 808's, 909's, bleeps, squeals, bumps, grinds, triggering schisms and handclaps. This is Spank Rock shooting cannon balls, hand grenades and chinese firecrackers into department store mannequins. The body count was immeasurable and gravity was reversing between every kick and snare..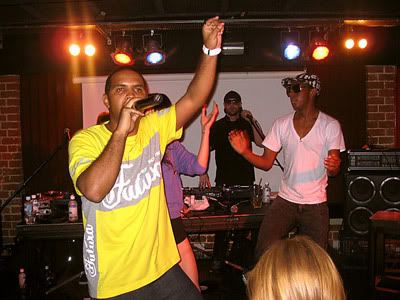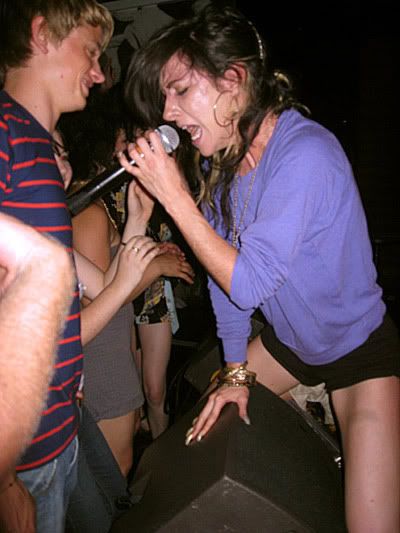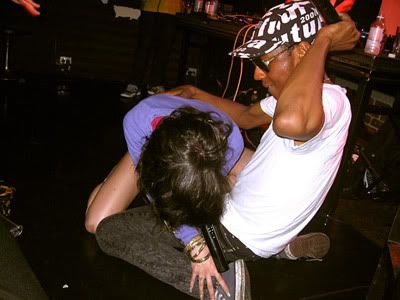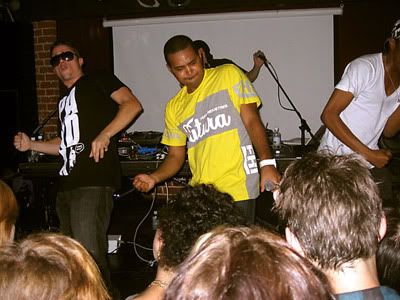 By the end of the set MC Naeem Juwan had free reign of the crowd, firing round after round of artillery into the front lines and beyond screaming for more, whilst half of the audience in their mad dash for air invaded the stage enmasse like rats off a sinking ship. There was no encore to this set, no defining climax, no dividing lines between predator and prey, he simply left the stage and the remaining MC's and DJ's kept the party going into the wee hours of the morning..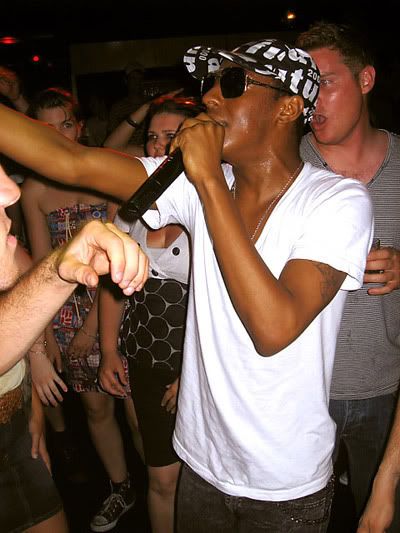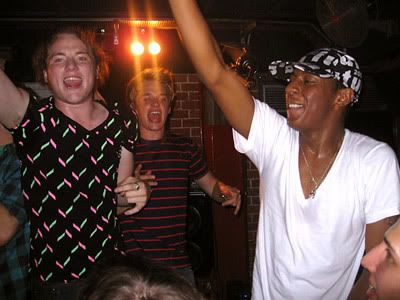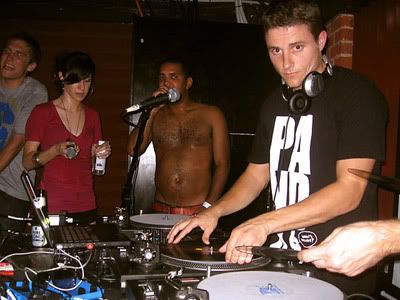 Maybe it's still going, maybe I'll return tonight and find them still going hard at it, maybe the riot police were finally called in, maybe all of Hindley street has been blocked off to contain and quarantine the rising pandemic? Fuck! either way, I'm just happy to make it out've here alive!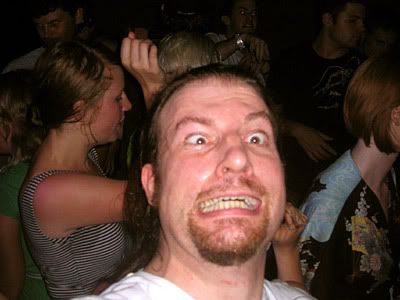 All in all not half bad for a fucked up Wednesday night out, aye?
Previously on Spoz's Rant:
Swords + Thunderclaw