TONY FONT SHOW + SOMMNIUM + THE TEMPS
LIVE @ THE GOVERNOR HINDMARSH / Friday October 19th 2007
*sigh* here we are at it yet again. Yet another Friday night out on the piss pissing the last of my life away, facing yet another lineup of arseclowns to photograph in increasingly life threatening conditions, spending yet another Monday night tearing my hair out trying to get this published on time and all for the vicarious thrill of the less than 2-3 people out there (hi mum!) who still consider this worthy entertainment? Fuck maan! What the FUCK am I still doing!? I mean shit, didn't all you tragic fashionista's adopt lawn bowls, croquet, bingo nights and knitting clubs to get away from this suicide pact yeaaars ago? and yet here I am still killing myself stupid at the one place where rock the refuses to ever die: The Governor Hindmarsh. This honking anachronism of our time. 160 years at it and STILL going strong? OOOOOH THE FUCK YEAH! :)
Tonight this monolith of rock is playing host to a pissy little all-ages gig. So obviously by arriving at the all too ridiculous hour of 9PM (doors at 8PM!? damn you underagers! DAMN YOU ALL TO HELL!!) I've already missed out on all the action and should just fuckoff home. Which it appears The Steady On's, the first band of the night have gone and done already. Damn. Bet it's all milk and cookies and lights out for them now huh? (pfffft.. pussies!) Still, word on the street tells me that I missed one helluva show. So perhaps some further investigation is in order?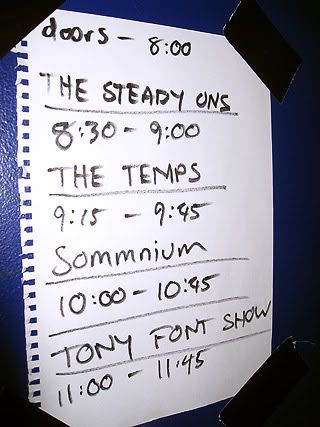 THE TEMPS
and so my attention turns instead to this awkward flock of geese by the name of The Temps. Hmmmmm. Another more appropriate title for them could easily be "The Ensign Red-Shirts" as they appear to resemble the kind've ankle biting acne disasters that would quickly get obliterated in any given cannon fodder stampede at the Big Day Out (ouch!), although clearly I'm jumping to conclusions waaay too early here as looks appear to be very much deceiving. Despite barely being able to combine ages to reach a Rolling Stone, their brilliantly crafted guitar shred sounds years beyond their time. Imagine all the beer chugging brutality of AC/DC vs the stadium rock swagger of Oasis, or all the pop hooks you used to love about Jet (before they became high rotation wankers on Nova FM) combined with all the self destructive stupidity you used to love about The Vines (before they medicated all the fun out've Craig Nicholls) and you'd only have the half of it. They may mere be midgets, but oh FUCK do they know how to rock!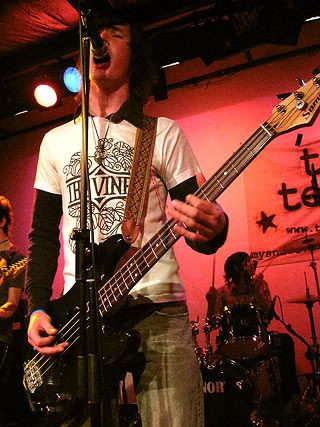 More disturbing than the kids running amok on stage however is the stampede of murderous toddlers and infants tearing it up OFF the stage. Sure, I know this is meant to be an all ages gig, but seriously, freaking 10 year olds!? don't you kids have PARENTS!!?? (and waaait.. doesn't that make ME old enough to be their parent? FUCK!). Worse still, with no purple dinosaur or pirates to stop them, yup, there goes the crowd control.. weeeeee! :)
SOMMNIUM
It's gonna take one helluva follow up act to beat this. So instead of that *cough* it appears we're being treated to none other than
Hamish Blake
of comedy duo Hamish and Andy giving his all with a fartarse Australian Idol audition butchering of Maynard James Keenan by way of Incubus. Damn. We really must be scraping the bottom of the barrel if THIS is what I'm dishing up for my live music blog these days. 30 Odd Foot Of Grunt? Dogstar? 60 Seconds To Mars? dare I mention.. the freaking Rogue Traders? haven't we all learnt our lesson by now? can the bleeding of my ears stop for FUCK SAKE!!? Oh wait it's actually a brand new local band by the name of Sommnium.. oops, my mistake! (damn, I really should stop while I'm digging my own grave shouldn't I? woohehehaha!). Still to be fair, these guys DO have their moments. They have five fingers on each hand, most of their teeth, their instruments appear to be working and lets face it, there's not nearly enough bands ripping off Tool these days; duuuude, the sky's the limit! Trust me. Six month's time they're gonna be huge. You heard it here first! YEAAAS!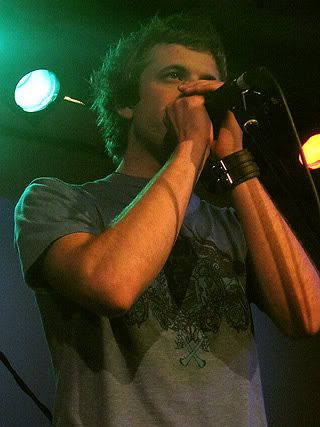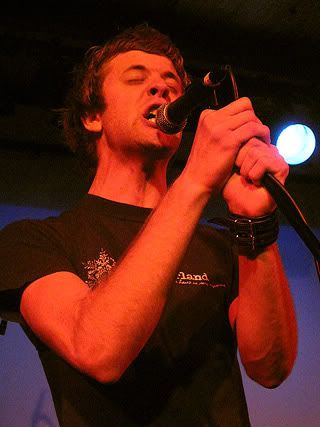 TONY FONT SHOW
and now with THAT awkward moment over with (can anyone say "Spoz is gagging for a drive-by shooting"?) it's time for the band that every knuckle dragging ape in a 90km radius has been drinking themselves retarded for: Tony (fucking) Font Show. Since I've clearly giving them waaay too much air time over the last 18 months (journalistic bias? me? pfffft.. never!), here's a quick rundown of all the shit you missed if you slept through THIS one..
This is their setlist. Note the new songs: "Selfish In Bed", "Bullhorny", "What's Love Got To Do With Touching You" and a mysterious (and as yet untitled) "New Song". They sound just like everything Rage Against The Machine should've been writing for the last seven years..
This is their predictably well behaved crowd, so chances are my live photos are gonna suck..
these are those all too sucky live photos. Mmmmm yes! taste the many flavours of suck!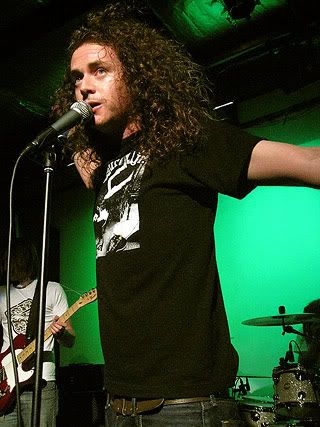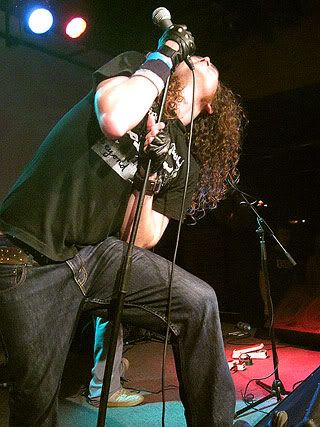 and this is me regaining conciousness many hours later, after being knocked out cold by that aforementioned "well behaved crowd". Damn, I just keep missing all the action tonight aye?
in effort to pick up the pieces I take a brief trip to the Cranka to pick up my mail, feed the hunchback and get myself a much needed liver transplant (am I upto my 5th or 6th by now? gosh darn I lose count with all the fun I have around here) before crash landing at Rocket Bar..
Why I always end up in this grinning toilet of debauchery these day is anyone's guess? Clearly it ain't for all the intelligent conversation. Lose all brain cells, ye who enter here! GAME OVER!
Previously on Spoz's Rant:
Regurgitator + New Pants + I Heart Hiroshima